Additional comments
Pretty good sounding recording. One of the first 1992 European concerts, right after Dire Straits' US and Canadian tour. Great to hear another 1992 version of Planet of New Orleans and it seems that Your latest trick became part of the standard setlist from this month on. Also including a good version of You and your friend. Complete concert.

Note: I have a DVD of this concert aswell: First night in Paris 1992 . In the beginning of that DVD, the recording date is shown in the picture, see screenshot: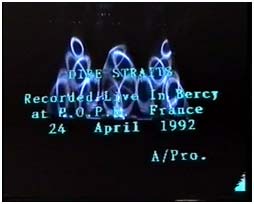 So, this DVD must indeed be from the 24th April 1992. Since this DVD contains the song Iron hand and this audio bootleg does not, the recording date of the audio bootleg must be different from the 24th. Since I got this audio bootleg with the comment that it is from the 24th, I put it in my list like that, but that is actually incorrect. Since I don't know what the correct date has to be, I just left it this way. So be aware: this audio is (most likely) from one of the other Paris 1992 concerts. If anybody can confirm what the correct date has to be, please let me know and I will correct it on this page.