ISRAEL 1985

Ride across the river: recorded in Sultanpool, Jerusalem, Israel, 30th April 1985.
Additional comments:
A home-made Video-CD containing a recording from Dire Straits in Israel. Very nice with interviews with Mark Knopfler, Guy Fletcher, John Illsley, Jack Sonni and Ed Bicknell. The band can also be seen on stage in Israel playback some songs (So far away, Walk of life, Brothers in arms) and also live on stage with a large part of Ride across the river, great version! Funny anecdotes and believe it or not: Mark Knopfler riding a donkey, see picture below. I believe the very start of this special is missing, but the rest is interesting to see. Total track time is about 29 minutes, picture quality is pretty good. Available on one CD-R.
Video-CD's can be played on DVD players or normal CD-ROM players using Windows Media Player. I can play this Video-CD on my external Sony DVD player (DVP-NS705V) without any problem. Note however that some DVD players have problems with Video-CD's. So I can only guarantee that they work on your PC CD-ROM drive!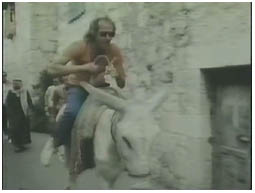 Mark Knopfler riding a donkey!