Article taken from 'Mojo', February 1995
Mark Knopfler:

I'd seen pictures of National Steel guitars in my teens, but it was only when I started going to blues clubs that I saw people like Steve Phillips actually playing them. I got to know Steve and started really studying country blues as a result. His little house in Leeds was like a university of the country blues. Around 1969 I saw an advert for one in Wales, and I just borrowed the money and a car and drove all the way there as fast as I could. I got it for, I think, 85 pounds. It was a Tricone 1928 National Steel Guitar, which I still have. Steve and I then got a duet thing going, which we called the Duolian String Pickers - Duolian being the name of a cheaper model made by The National String Instrument Corporation.

A few years later, I bought Steve's Style "O", the one with the palm trees on the front that we put on the front cover of Brothers in arms. He charged me 120 pounds, and it's probably worth a little bit more than that now. The National has always been magical to me; the very word is magical. The surprising thing is that I've found there's a place for the National on lots of things you wouldn't expect it to be on. A lot of people give up on them and get rid of them, but they've got a colour and a quality that works very well on a lot of music besides country blues. Having said which, the three artists who immediately come to mind when I think about the instrument are Son House, who I saw at Leeds University, Bukka White, and Blind Boy Fuller. Steve and I then went on to Western Swing and other music, even as far as playing Hawaiian music, and the National seemed to figure in some capacity in all of it.

The thing of my own which I'm proudest of that features the National Steel is probably Romeo and Juliet. I like it on that song because it's different. It's being used in a different way, but it still doesn't sound the same as, say, a flat-top would. It just kind of worked.

I am not sure where this picture is taken from, but it features MK (far left) with the National Tricone: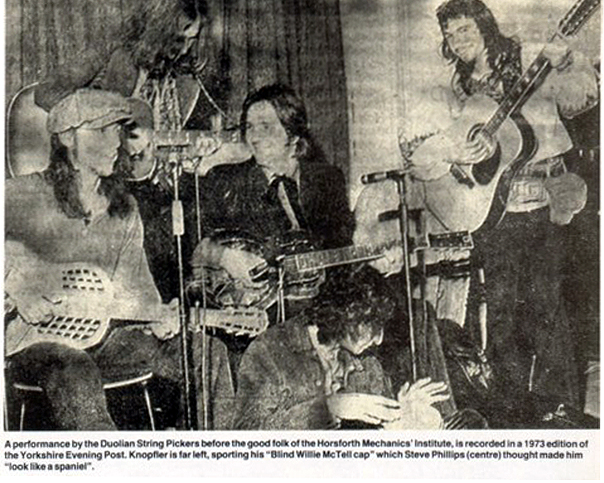 And here another photograph of The Duolian String Pickers - Steve and Mark - in action, February 1970: