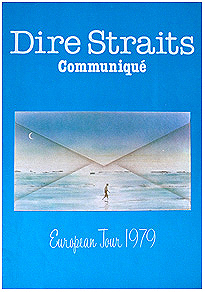 Tour line-up:
Mark Knopfler

Guitar, vocals
David Knopfler

Guitar, vocals

John Illsley

Bass, vocals

Pick Withers

Drums

In December 1978 and January 1979, Dire Straits recorded their second album Communiqué. The band rehearsed at Whood Wharf (Greenwich, London) between 30th January and 4th February 1979, did some promotional work and then went on tour again.

On several shows in the USA, Dire Straits played two concerts a day! This can also be seen on Paul Cummins' (manager of the tour) copy of the itinerary that John Illsley revealed on his Facebook on 7th November 2018. No official releases appeared of the various soundboard recordings that were made, the San Fransisco show was only issued as a promo LP by Warner Brothers. Click here for a picture of Mark Knopfler early in the tour, 26th February 1979 and here for a great band picture taken in the summer of 1979.

On 20th and/or 21st June 1979, Talking Heads were special guests during the show of Dire Straits at the Hammersmith Odeon, London. Click here for a picture of Chris Frantz (drums) and Tina Weymouth (bass/guitar?) on stage with Dire Straits.

On 20th and/or 21st December 1979, Phil Lynott was a guest player with Dire Straits at the Rainbow Thearte, London. See two pictures here and here. The following year, Phil Lynott released a single featuring Mark Knopfler called King's Call.

Click here for a nice advertisement of the last part of the tour.
Advertisement poster for the tour: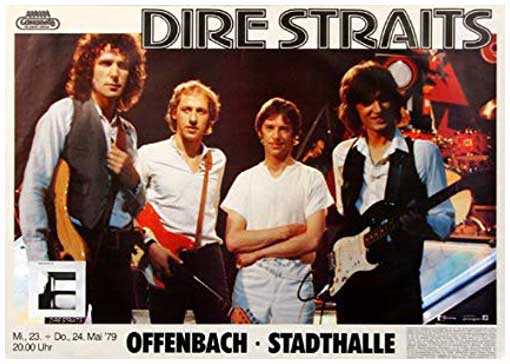 Official recordings made during this tour

| | | |
| --- | --- | --- |
| Concert | Bootleg release | Official release |
| Cologne (17.02.1979) | | |
| Philadelphia (06.03.1979) | | |
| San Fransisco (31.03.1979) | | |
| Pinkpop (04.06.1979) | | |
| Boston (08.09.1979) | | |

| | | |
| --- | --- | --- |
| Concert | Bootleg release | Official release |
| Cologne (16.02.1979) | | |
| Los Angeles (28 & 29.03.1979) | | |
| London (20 & 21.12.1979) | | |


► Total concerts played: 133



February 1979



11.02.1979 De Doelen Rotterdam The Netherlands


12.02.1979 Niedersachsenhalle Hanover Germany


13.02.1979 Philipshalle Dusseldorf Germany


14.02.1979 Rosengarten Manheim Germany


15.02.1979 Stadthalle Stolberg Germany


16.02.1979 Studio-L Cologne Germany


17.02.1979 Grossen Sendersaal Cologne Germany


18.02.1979 Stadthalle Bremen Germany


23.02.1979 Paradise Theatre Boston USA (two shows)


24.02.1979 Paradise Theatre Boston USA (two shows)


25.02.1979 Brown University Providence USA


26.02.1979 Shaboo Inn Williamantic USA


28.02.1979 Hullabaloo Albany USA



March 1979



02.03.1979 Bottom Line New York USA (two shows)


03.03.1979 Bottom Line New York USA (two shows)


05.03.1979 Tower Theatre Philadelphia USA (two shows)


06.03.1979 Tower Theatre Philadelphia USA (two shows)


08.03.1979 Bayou Washington USA (two shows)


09.03.1979 Bayou Washington USA (two shows)


11.03.1979 After Dark Buffalo USA


12.03.1979 Agora Ballroom Cleveland USA


13.03.1979 University of Toronto Toronto Canada


14.03.1979 Plateau Auditorium Montreal Canada


15.03.1979 Centerstage Detroit USA


16.03.1979 Park West Chicago USA


17.03.1979 Palms Milwaukee USA


19.03.1979 Memorial Hall Kansas USA


21.03.1979 Texas Opry House Houston USA


22.03.1979 Austin Opry House Austin USA


23.03.1979 Palladium Dallas USA


25.03.1979 Regis College Denver USA


27.03.1979 Roxy San Diego USA (two shows)


28.03.1979 Roxy Los Angeles USA (two shows)


29.03.1979 Roxy Los Angeles USA (two shows)


31.03.1979 Old Waldorf San Francisco USA (two shows)



April 1979



01.04.1979 Old Waldorf San Francisco USA (two shows)


02.04.1979 University of California Davis USA (two shows)



May 1979



23.05.1979 Stadthalle Offenbach Germany


24.05.1979 Stadthalle Offenbach Germany


25.05.1979 Sporthalle Stuttgart Germany


26.05.1979 Kürnachtalhalle Würzburg-Lengfeld Germany


27.05.1979 Stadthalle Wettingen near Zurich Switserland


29.05.1979 Circus Krone Munich Germany


30.05.1979 Hemmerleinhalle Neunkirchen-am-Brand near Nuremberg Germany


31.05.1979 Rhein-Neckar-Halle Eppelheim near Heidelberg Germany



June 1979



01.06.1979 Circus Krone Munich Germany


02.06.1979 Stadthalle Freiberg Germany


04.06.1979 Burgemeester-Damen Sportpark Geleen The Netherlands (Pink Pop Festival)


05.06.1979 Palais des Sports Paris France


08.06.1979 Empire Theatre Liverpool UK


09.06.1979 Apollo Glasgow Scotland


10.06.1979 Odeon Edinburgh Scotland


11.06.1979 City Hall Sheffield UK


13.06.1979 Odeon Birmingham UK


14.06.1979 City Hall Newcastle upon Tyne UK


15.06.1979 Apollo Manchester UK


16.06.1979 Colston Hall Bristol UK


17.06.1979 Hammersmith Odeon London UK


18.06.1979 The Dome Brighton UK


20.06.1979 Hammersmith Odeon London UK


21.06.1979 Hammersmith Odeon London UK


23.06.1979 Freilichtbühne Loreley Bornich near Frankfurt Germany (British Rock Meeting '79)


24.06.1979 Westfahlenhalle Dortmund Germany (British Rock Meeting '79)


29.06.1979 Deutschlandhalle Berlin Germany (British Rock Meeting '79)


July 1979



01.07.1979 Olympiastadion (Festival) Munich Germany


07.07.1979 Festival Torhout Belgium


08.07.1979 Werchter Festival Brussels Belgium



September 1979



08.09.1979 Orpheum Boston USA


09.09.1979 Ocean State Theater Providence USA


10.09.1979 Calderone Concert Hall New York USA


11.09.1979 Palladium New York USA


13.09.1979 Capitol Theater Passaic USA


14.09.1979 Tower Theatre Philadelphia USA


15.09.1979 Smith Center Washington USA


17.09.1979 Chrysler Hall Norfolk USA


18.09.1979 Coliseum Greensboro USA


20.09.1979 Park Center Charlotte USA


21.09.1979 Fox Theater Atlanta USA


23.09.1979 Civic Auditorium Jacksonville USA


24.09.1979 Curtis Hixon Tampa USA


25.09.1979 Jai Alai Miami USA


28.09.1979 Orpheum Boston USA


28.09.1979 Township Columbia USA


29.09.1979 Coliseum Knoxville USA



October 1979



01.10.1979 Gardens Louisville USA


02.10.1979 Bogarts Cincinnati USA


03.10.1979 Palace Theatre Cleveland USA


04.10.1979 Centerstage Detroit USA


06.10.1979 Kiel Opera House St. Louis USA


07.10.1979 Uptown Theater Chicago USA



November 1979



01.11.1979 Ahoy Rotterdam The Netherlands


02.11.1979 Vereeniging Nijmegen The Netherlands


03.11.1979 Vereeniging Nijmegen The Netherlands


04.11.1979 Carré Theatre Amsterdam The Netherlands


05.11.1979 Carré Theatre Amsterdam The Netherlands


07.11.1979 Ijsselhal Zwolle The Netherlands


08.11.1979 Grugahalle Essen Germany


09.11.1979 Meseehalle Cologne Germany


11.11.1979 Halle Münsterland Münster Germany


12.11.1979 Stadthalle Braunschweig Germany


13.11.1979 CCH Hamburg Germany


14.11.1979 Ostseehalle Kiel Germany


16.11.1979 Idraettenshus Vejle Denmark


17.11.1979 Olympen Lund Sweden


18.11.1979 Tivoli Theatre Copenhagen Denmark


19.11.1979 Tivoli Theatre Copenhagen Denmark


20.11.1979 Scandinavia Gothenburg Sweden


21.11.1979 Ekeberg Idrettshall Oslo Norway


23.11.1979 Johanneshov Stockholm Sweden


26.11.1979 Weser-Erns-Halle Oldenburg Germany


27.11.1979 Forest National Brussels Belgium



December 1979



11.12.1979 National Stadium Dublin Ireland


12.12.1979 National Stadium Dublin Ireland


13.12.1979 Whitla Hall Belfast Northern Ireland


14.12.1979 Whitla Hall Belfast Northern Ireland


18.12.1979 Lewisham Odeon London UK


19.12.1979 Lewisham Odeon London UK


20.12.1979 Rainbow Theatre London UK


21.12.1979 Rainbow Theatre London UK


▲ Back to index