LOVE OVER GOLD TOUR 1982 - 1983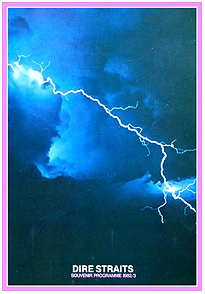 Tour line-up:
Mark Knopfler

Guitar, vocals
John Illsley

Bass, vocals

Hal Lindes

Guitar, vocals

Alan Clark

Keyboards / piano

Tommy Mandel

Keyboards

Terry Williams

Drums

Mel Collins

Saxophone

On 24th September 1982, Dire Straits released their fourth album Love over gold. See a few pictures of Mark Knopfler in the studio here (1, 2, 3). One of the songs Mark Knopfler wrote was Private Dancer and Dire Straits actually ran through it during the recording sessions according to Hal Lindes. Mark thought it did not fit well with the rest of the songs and decided to give the song to Tina Turner who released it on her 1984 album called Private Dancer. It became a worldwide commercial success for Tina. In between the release of the Love over gold album and the tour, Dire Straits recorded an EP in just three days at Jam Studios, London. The EP featured three new songs and Badges, posters, stickers, T-shirts, the B-side from the Private investigations single. Click here for a picture of Mark Knopfler at Jam Studios.

For the upcoming tour, a few changes were made in de line-up again; Pick Withers left the and was replaced by Terry Williams. Additional to the previous line-up are Tommy Mandel and Mel Collins. At the start of the tour, there as actually no saxophone player at all. Mel Collins started at the Wembley shows in December 1982. In Australia, New Zealand and Japan 1983, it was Paul Williamson who played the saxophone. Mel Collins joined the band again for the rest of the tour. They rehearsed between 3rd and 28th November 1982 at Whood Wharf (Greenwich, London) to start their world tour two days later. On 20th July, Dire Straits played a concert in aid for the Prince's Trust where they also met Princess Diana and Prince Charles. I read somewhere that Hank B. Marvin appeared as a guest player on that charity show, but the information is unconfirmed. In an interview with Hal Lindes, he talks about playing for the Prince's Trust and meeting the royal couple. Hank B. Marvin and Bruce Welch were special guests on Going home on 22nd July 1983. By that time, Dire Straits was Diana's favourite band.

The last two shows from the tour were recorded and resulted in the live album Alchemy which was released on 16th March 1984. The LP went gold in the UK within five days, and the video entered the UK Music-video charts at number 1.

Click here to listen to a fragment of an interview (1984) with Mark Knopfler in which he reveals that the Love over Gold tour actually costed 10.000 Pounds a day just to play.
Advertisement poster for the tour: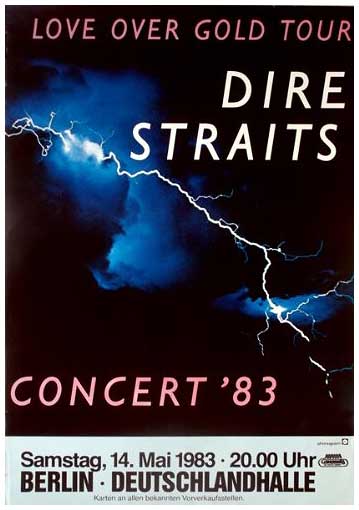 Official recordings made during this tour

| | | |
| --- | --- | --- |
| Concert | Bootleg release | Official release |
| London (22 & 23.07.1983) | | |

| | | |
| --- | --- | --- |
| Concert | Bootleg release | Official release |
| London (22 & 23.07.1983) | | |

► Total concerts played: 93



November 1982



30.11.1982 Civic Hall Guildford UK



December 1982



01.12.1982 City Hall Sheffield UK


02.12.1982 City Hall Sheffield UK


03.12.1982 Spa Royal Hall Bridlington UK


04.12.1982 Leisure Centre Deeside UK


05.12.1982 Apollo Glasgow Scotland


06.12.1982 Playhouse Edinburgh Scotland


07.12.1982 Playhouse Edinburgh Scotland


08.12.1982 City Hall Newcastle UK


09.12.1982 City Hall Newcastle UK


10.12.1982 Apollo Manchester UK


11.12.1982 Apollo Manchester UK


12.12.1982 Gaumont Theatre Ipswich UK


13.12.1982 De Montfort Hall Leicester UK


14.12.1982 National Exhibition Centre Birmingham UK


15.12.1982 The Centre Brighton UK


16.12.1982 The Centre Brighton UK


17.12.1982 National Exhibition Centre Birmingham UK


18.12.1982 Wembley Arena London UK


19.12.1982 Wembley Arena London UK


20.12.1982 Wembley Arena London UK


21.12.1982 Wembley Arena London UK



March 1983



04.03.1983 Hordern Pavilion Sydney Australia


05.03.1983 Hordern Pavilion Sydney Australia


06.03.1983 Hordern Pavilion Sydney Australia (two shows see afternoon time printed on this ticket for the first of two shows!)


07.03.1983 Hordern Pavilion Sydney Australia


08.03.1983 Hordern Pavilion Sydney Australia


09.03.1983 Hordern Pavilion Sydney Australia


11.03.1983 Festival Hall Brisbane Australia


12.03.1983 Festival Hall Brisbane Australia


13.03.1983 Festival Hall Brisbane Australia


15.03.1983 Indoor Sports Centre Camberra Australia


17.03.1983 Memorial Drive Tennis Stadium Adelaide Australia


18.03.1983 Memorial Drive Tennis Stadium Adelaide Australia


19.03.1983 Festival Hall Melbourne Australia


20.03.1983 Festival Hall Melbourne Australia


21.03.1983 Festival Hall Melbourne Australia


22.03.1983 Festival Hall Melbourne Australia


24.03.1983 Entertainment Centre Perth Australia


26.03.1983 Western Springs Auckland New Zealand


29.03.1983 Athletic Park Wellington New Zealand



April 1983



02.04.1983 Seineken Hall Tokyo Japan


03.04.1983 Seineken Hall Tokyo Japan


04.04.1983 Seineken Hall Tokyo Japan


05.04.1983 Expo Hall Osaka Japan



May 1983



11.05.1983 Ernst Merck-Halle Hamburg Germany


12.05.1983 Broendbyhalle Copenhagen Denmark


14.05.1983 Deutschlandhalle Berlin Germany


15.05.1983 Eissporthalle Kassel Germany


16.05.1983 Sporthalle Cologne Germany


18.05.1983 Stadthalle Vienna Austria


19.05.1983 Stadthalle Linz Austria


20.05.1983 Olympiahalle Munich Germany


21.05.1983 Festhalle Frankfurt Germany


22.05.1983 Eisstadion Mannheim Germany


23.05.1983 Hallenstadion Zürich Switserland


24.05.1983 Hallenstadion Zürich Switserland


25.05.1983 Patinoire des Vernets Geneva Switserland


26.05.1983 Patinoire des Vernets Geneva Switserland


27.05.1983 Palais des Sports Grenoble France


28.05.1983 St. Jakob Sporthalle Basel Switserland


29.05.1983 Renhus Strasbourg France


30.05.1983 Centre Sportif Differdange Luxembourg


31.05.1983 Forest National Brussels Belgium



June 1983



01.06.1983 Forest National Brussels Belgium


12.06.1983 Ijsselhal Zwolle The Netherlands


13.06.1983 Maasport Den Bosch The Netherlands


14.06.1983 Jaap Edenhal Amsterdam The Netherlands


16.06.1983 Ahoy Rotterdam The Netherlands


17.06.1983 Rodahal Kerkrade The Netherlands


18.06.1983 Parc des Expositions Lille France


19.06.1983 Palais des Sports Paris France


20.06.1983 Palais des Sports Paris France


21.06.1983 Palais des Sports Paris France


22.06.1983 Palais des Sports Paris France


23.06.1983 Palais des Sports Paris France


24.06.1983 La Beaujoire Nantes France


26.06.1983 Les Arènes Bayonne France


28.06.1983 Estadio Roman Valero Madrid Spain


30.06.1983 Levante Futbol Estadio Valencia Spain



July 1983



01.07.1983 Estadio Municipal Narcis Sala Barcelona Spain


03.07.1983 Les Arènes Béziers France


05.07.1983 Stadio Comunale Novara Italy


06.07.1983 Stadio Comunale Ferrara Italy


07.07.1983 Stadio Comunale Prato (Florence) Italy


08.07.1983 Le Capannelle Rome Italy


09.07.1983 Stadio Comunale Cava Dei Tirenni (Naples) Italy


12.07.1983 Maksimir Stadium Zagreb Coatia


17.07.1983 Punches Town Race Course Naas Ireland


20.07.1983 Prince's Trust Rock Gala, Dominion Theatre London UK


22.07.1983 Hammersmith Odeon London UK


23.07.1983 Hammersmith Odeon London UK