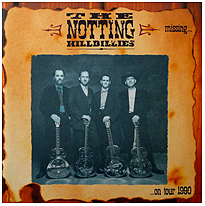 Tour line-up:
Mark Knopfler

Guitar, vocals
Steve Phillips

Guitar, vocals

Brendan Croker

Guitar, vocals

Guy Fletcher

Keyboards, vocals

Paul Franklin

Pedal steel guitar

Marcus Cliffe

Bass

Ed Bicknell

Drums

The roots of The Notting Hillbillies lie in The Grove pub in Leeds, May 1986. In front of a packed house three old friends - Steve Phillips, Brendan Croker and Mark Knopfler - ran through some blues classics and had a few drinks. At the end of the evening, they split the £1-per-head ticket money three ways - just £22 each. It was the first time the three had played together, but it wasn't to be the last. A couple of years on, and with Dire Straits on ice, Phillips asked Knopfler to produce an album he was making with Croker. Knopfler drafted in Dire Straits' Guy Fletcher to help with the production, and the four-way collaboration slowly blossomed into a full-term project. Taking their name from the location of Knopfler's home studio, The Notting Hillbillies were born. The record deal, album, promotional video and 1990 tour followed quickly after. Before the start of the tour, the band rehearsed for six weeks at Nomis rehearsal studios, UK. Dire Straits manager Ed Bicknell was behind the drums, Paul Franklin joined the band on pedal steel guitar and on several shows in May 1990, Chris White was a guest musician on a couple of songs.

The concert in Lockerbie was a chairty concert. It was organised on behalf of the "Lockerbie Gala & Riding of the Marches" committee for the benefit of the local gala. The 500 tickets sold out straightaway. This concert was deliberately kept low key and not included on any official itinerary so that it could be "sold exclusively to the people of Lockerbie". The show on 17th April was moved from Verbeer Manor to Plaza Leisure Centre in Exeter.

See here for a picture of the band just before their very first show on 2nd April 1990.

Click here, here and here for some great photos of Mark Knopfler during the show in Edinburgh on 26th April 1990. And here another nice picture with his red Schecter Tele.
Advertisement for the tour: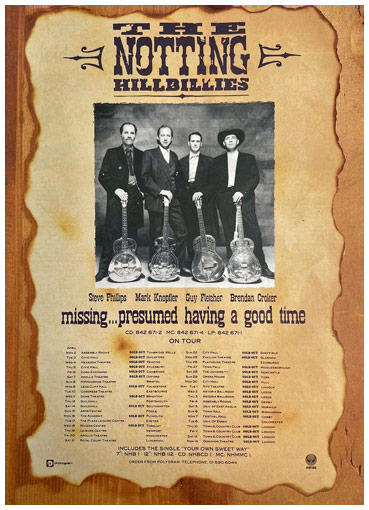 Official recordings made during this tour

Concert
Bootleg release
Official release

Glasgow

(25.04.1990)

| | | |
| --- | --- | --- |
| Concert | Bootleg release | Official release |
| Snape (15.05.1990) | | |


► Total concerts played: 42



April 1990



02.04.1990 Assembly Rooms Tunbridge Wells UK


03.04.1990 Civic Hall Guildford UK


04.04.1990 Hexagon Theatre Reading UK


05.04.1990 Civic Hall Aylesbury UK


06.04.1990 Corn Exchange Cambridge UK


07.04.1990 Apollo Theatre Oxford UK


08.04.1990 Hippodrome Theatre Bristol UK


09.04.1990 Leas Cliff Hall Folkestone UK


10.04.1990 Congress Theatre Eastbourne UK


11.04.1990 Dome Theatre Brighton UK


12.04.1990 Guildhall Portsmouth UK


14.04.1990 Guildhall Southampton UK


15.04.1990 Arts Centre Poole UK


16.04.1990 The Academy Plymouth UK


17.04.1990 Plaza Leisure Centre Exeter UK


18.04.1990 Riviera Centre Torquay UK


19.04.1990 Leisure Centre Newport UK


20.04.1990 Apollo Theatre Manchester UK


21.04.1990 Royal Court Theatre Liverpool UK


22.04.1990 City Hall Sheffield UK


24.04.1990 The Rex Cinema Lockerbie Scotland


25.04.1990 Pavilion Theatre Glasgow Scotland


26.04.1990 Playhouse Theatre Edinburgh Scotland


27.04.1990 Town Hall Middlesbrough UK


28.04.1990 University Newcastle UK


29.04.1990 Opera House York UK


30.04.1990 City Hall Hull UK



May 1990



01.05.1990 Ritz Theatre Lincoln UK


02.05.1990 Astoria Ballroom Leeds UK


03.05.1990 Astoria Ballroom Leeds UK


04.05.1990 Assembly Rooms Derby UK


05.05.1990 University Of East Anglia Norwich UK


06.05.1990 Town Hall Birmingham UK


07.05.1990 Festival Hall Corby UK


08.05.1990 University Of Essex Colchester UK


09.05.1990 Mean Fiddler London UK


10.05.1990 Town & Country Club London UK


11.05.1990 Town & Country Club London UK


12.05.1990 Town & Country Club London UK


13.05.1990 Dominion Theatre London UK


14.05.1990 Dominion Theatre London UK


15.05.1990 The Maltings Snape UK


▲ Back to index