SAILING TO PHILADELPHIA TOUR 2001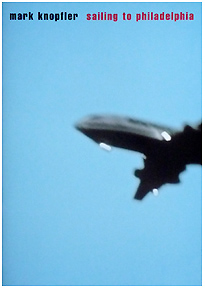 Tour line-up:
Mark Knopfler

Guitar, vocals
Guy Fletcher

Keyboards, vocals

Richard Bennett

Guitar

Glenn Worf

Bass, vocals

Chad Cromwell

Drums

Geraint Watkins

Piano, accordion

Mike Henderson

Guitar, mandolin,
violin, harmonica

Four years after his first solo album, Mark Knopfler released his second solo album Sailing to Philadelphia on 25th September 2000. Between September and December 2000, Mark did a lot of promotion work on radio and TV. In March 2001, the Sailing to Philadelphia world tour started in Mexico. A small change in the line-up compared to the band from 1996, also known as the '96'ers: Jim Cox could not join the band this time due to a painful inner-ear condition which rendered him terra-firma-bound. This meant he couldn't fly to the UK or tour with the rest of the band on the plane. Therefor he was replaced by Geraint Watkins. And Mike Henderson was added to the band for additional guitar, mandolin, violin and harmonica. Several guest players appeared during the tour: James Taylor, William Topley, Sonny Landreth, Bonnie Raitt, Jackson Browne, Paul Franklin, Emmylou Harris, Gillian Welch and David Rawlings.

The band did record some of the shows for a possible live release. Recorded shows were Madrid (also filmed), Bilbao, Glasgow and Newcastle. Guy Fletcher mentioned this in his tour diaries. Sadly, Mark decided not to release it on CD or DVD after all.

Click here for a picture of Mark Knopfler's guitar gear used during the Sailing to Philadelphia tour.

After the tour, the official MK News site published:
"Thanks to everybody for your fantastic support - I hope you had as good a trip as we did. Everyone did a great job on the tour, band, crew and drivers. Many thanks to all. We'll see you the next time and see if we can do it all again." Mark Knopfler

Click here for a nice picture of the complete crew from the Sailing to Philadelphia tour.

Advertisement poster for the tour: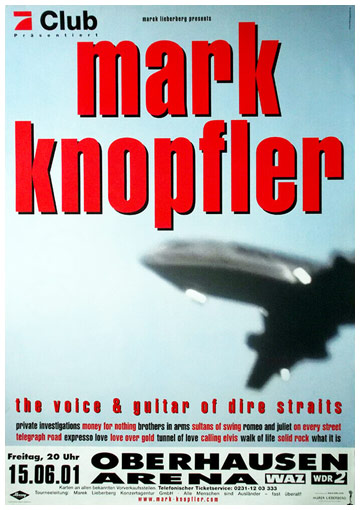 Official recordings made during this tour

Concert
Bootleg release
Official release

Toronto

(03.05.2001)

San Fransisco

(18.05.2001)

Hamburg

(16.06.2001)

Lucca

(07.07.2001)

Concert
Bootleg release
Official release

Madrid

(02.07.2001)


► Total concerts played: 80



March 2001



27.03.2001 National Auditorium Mexico City Mexico


28.03.2001 National Auditorium Mexico City, Mexico


31.03.2001 Luna Park Buenos Aires Argentina



April 2001



01.04.2001 Luna Park Buenos Aires Argentina


02.04.2001 Teatro de Verano Montevideo Uraguay


04.04.2001 Gigantinho Porto Alegre Brazil


05.04.2001 ATL Hall Rio de Janerio Brazil


06.04.2001 Credicard Hall Sao Paulo Brazil


07.04.2001 Credicard Hall Sao Paulo Brazil


08.04.2001 Credicard Hall Sao Paulo Brazil


23.04.2001 Orpheum Boston USA


24.04.2001 Oakdale Theatre Wallingford USA


25.04.2001 Constitution Hall Washington USA


26.04.2001 Tower Theatre Philadelphia USA


27.04.2001 Tower Theatre Philadelphia USA


28.04.2001 Performing Arts Centre Newark USA


29.04.2001 Beacon Theatre New York USA


30.04.2001 Beacon Theatre New York USA



May 2001



02.05.2001 Wordperfect Theatre Ottawa Canada


03.05.2001 Massey Hall Toronto Canada


04.05.2001 Fox Theatre Detroit USA


05.05.2001 Rosemont Theatre Chicago USA


06.05.2001 Riverside Theatre Milwaukee USA


07.05.2001 Orpheum Theatre Minneapolis USA


12.05.2001 Red Rocks Ampitheatre Denver USA


14.05.2001 Benaroya Hall Seattle USA


15.05.2001 Queen Elizabeth Theatre Vancouver Canada


16.05.2001 Arlene Schnitzer Portland USA


17.05.2001 Berkeley Community Centre San Francisco USA


18.05.2001 Berkeley Community Centre San Francisco USA


19.05.2001 The Joint Las Vegas USA


20.05.2001 The Greek Theatre Los Angeles USA


21.05.2001 Copley Symphony Hall San Diego USA


23.05.2001 Bronco Bowl Dallas USA


24.05.2001 Saenger Theatre New Orleans USA


25.05.2001 Alabama Theatre, Birmingham USA


26.05.2001 Chastain Park, Atlanta USA


27.05.2001 Ryman Auditorium Nashville USA


June 2001



03.06.2001 Royal Albert Hall London UK


04.06.2001 Royal Albert Hall London UK


05.06.2001 Royal Albert Hall London UK


07.06.2001 Festhalle Frankfurt Germany


08.06.2001 Schleyerhalle Stuttgart Germany


09.06.2001 Stadthalle Vienna Austria


10.06.2001 Sala Kongresowa Warsaw Poland


11.06.2001 ICC Berlin Germany


13.06.2001 Olympiahalle Munich Germany


14.06.2001 Messehalle Erfurt Germany


15.06.2001 Arena Oberhausen Germany


16.06.2001 Stadtpark Hamburg Germany


17.06.2001 Heineken Music Hall Amsterdam The Netherlands


18.06.2001 Heineken Music Hall Amsterdam The Netherlands


19.06.2001 Heineken Music Hall Amsterdam The Netherlands


23.06.2001 Forest National Brussels Belgium


24.06.2001 Forest National Brussels Belgium


25.06.2001 Zenith Paris France


26.06.2001 Zenith Paris France


27.06.2001 Tony Garnier Hall Lyon France


28.06.2001 Antigue Arena Nimes France


29.06.2001 Pavello Olimpic Badalona (Barcelona) Spain



July 2001



01.07.2001 Atlantico Lisbon Portugal


02.07.2001 Plaza de Toros de Las Ventas Madrid Spain


03.07.2001 Plaza de Toros Vista Alegre Bilbao Spain


05.07.2001 Hallenstadion Zurich Switserland


06.07.2001 Piazza Duomo Brescia Italy


07.07.2001 Piazza San Martino Lucca Italy


08.07.2001 Centralino del Foro Italico Rome Italy


09.07.2001 Castello Udine Italy


17.07.2001 NEC Birmingham UK


18.07.2001 Brighton Centre Brighton UK


19.07.2001 MEN Arena Manchester UK


20.07.2001 Clyde Auditorium Glasgow UK


21.07.2001 City Hall Newcastle UK


23.07.2001 Koln Arena Cologne Germany


25.07.2001 Forum Copenhagen Denmark


26.07.2001 Spektrum Oslo Norway


27.07.2001 Globe Theatre Stockholm Sweden


29.07.2001 Hartwall Arena Helsinki Finland


30.07.2001 Octyabrsky Concert Centre St Petersburg Russia


31.07.2001 Olympisky Arena Moscow Russia