MARK KNOPFLER AND FRIENDS 2002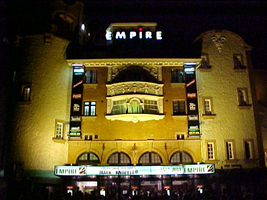 Tour line-up:
Mark Knopfler

Guitar, vocals
Steve Phillips

Guitar, vocals

Brendan Croker

Guitar, vocals

Guy Fletcher

Keyboards, vocals

Marcus Cliffe

Bass

Danny Cummings

Drums

Bobby Valentino

Violin, mandolin

John Illsley

Bass

Geraint Watkins

Keyboards

Robbie McIntosh

Guitar

Chris White

Saxophone, flute, clarinet

Jools Holland

Piano

Jimmy Nail

Support vocals




In July 2002, four charity concerts were given in aid of Save the baby (23rd July), Teenage Cancer Trust (24th July), Leuka 2000 (25th July) and Countryside Education Trust (28th July). Announced as "Mark Knopfler and friends", Mark played with The Notting Hillbillies in the first half of the show and with virtually Dire Straits (including John Illsley and Chris White) in the second half. Jimmy Nail came on stage for backing vocals on Why aye man, Money for nothing and So far away. Jools Holland was a special guest on the 24th July on Run me down and Setting me up. The concerts included new songs Quality shoe and Why aye man from The ragpicker's dream album which was released two months after the charity shows.
Official recordings made during this tour

Concert
Bootleg release
Official release

London

(24.07.2002)

London

(25.07.2002)

Concert
Bootleg release
Official release

London

(24.07.2002)


► Total concerts played: 4



July 2002



23.07.2002 Shepherd's Bush Empire London UK


24.07.2002 Shepherd's Bush Empire London UK


25.07.2002 Shepherd's Bush Empire London UK


28.07.2002 Palace House Beaulieu UK



▲ Back to index