SHANGRI-LA TOUR 2005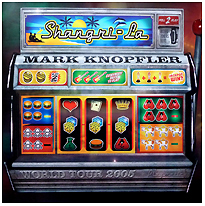 Tour line-up:
Mark Knopfler

Guitar, vocals
Guy Fletcher

Keyboards, vocals

Richard Bennett

Guitar

Glenn Worf

Bass, vocals

Chad Cromwell

Drums

Danny Cummings

Drums
Matt Rollings

Keyboards, accordion

After the recovery of Mark's motorcycle accident, it was time for a new album and Mark wrote new songs for his fourth solo album Shangri-La. Recordings took place at the Shangri-La Studios in Los Angeles in February and March 2004. See a nice picture here at the recording studio. Shangri-La was officially released on 27th September 2004 and after promotional work between September and December 2004, Mark started the big Shangri-La tour in South Africa on 28th February 2005. The band rehearsed for about three weeks, the last week on a soundstage to do lights and get the set together. A small change in the line-up compared to the band from 2001: Geraint Watkins was replaced by Matt Rollings and Mike Henderson left. On 1st April 2005, just after the start of the tour, Chad Cromwell had to leave the band for personal matters. He was replaced by Danny Cummings, former percussionist from the On every street tour. The show in Nashville (13th July 2005) was in aid of the Chet Atkins Music Education Fund. On a couple of tunes that evening, Mark and Richard used two of guitars which belonged to Chet. These came out of the Hall of Fame for the evening.

On 16th June, right after the European leg of the tour, the band did a corporate gig for the Deutsche Bank in London. It was a private show with just 500 people. Guy Fletcher did mention it in his tour diaries back then. Remarkable is that this show was not listed in the official tour itinerary. Guy mentioned at the end of the 2005 tour diary that the band travelled 61.377 miles and played to an audience of 705.687 people.


On this tour, 14 complete audio soundboard recordings were made by Passalong / Crowfly which could be bought as digital downloads on their website. Two of the tracks from New York 2005 appeared as bonus tracks on some of the downloads and three tracks were distributed by Guy Fletcher. Within 24 hours of Knopfler's show, recordings of the event were available. Crowfly Digital Entertainment partnered with technology firm PassAlong Networks to provide the core technology for this revolutionary service.

Advertisement poster for the tour: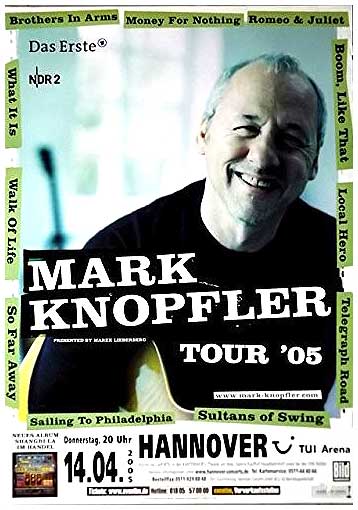 Official recordings made during this tour

Concert
Bootleg release
Official release

Rome

(13.06.2005)

Concert
Bootleg release
Official release

Passalong / Crowfly recordings

(14x)



► Total concerts played: 105



February 2005



28.02.2005 Carnival City Johannesburg South Africa



March 2005



01.03.2005 Carnival City Johannesburg South Africa


03.03.2005 Media City Dubai United Arab Emirates


05.03.2005 Bandra Kurla Complex Mumbai India


07.03.2005 Palace Grounds Bangalore India


10.03.2005 Burswood Dome Perth Australia


12.03.2005 Rod Laver Arena Melbourne Australia


13.03.2005 Entertainment Centre Adelaide Australia


15.03.2005 Enmore Theatre Sydney Australia


16.03.2005 Entertainment Centre Sydney Australia


17.03.2005 Entertainment Centre Brisbane Australia


19.03.2005 Bowl of Brooklands New Plymouth New Zealand


21.03.2005 Westpac Center Christchurch New Zealand



April 2005



01.04.2005 Atlantic Pavillion Lisboa Portugal


02.04.2005 Palacio de los Deportes Madrid Spain


03.04.2005 Pabellon Principe Felipe Zaragoza Spain


04.04.2005 La Patinoire Bordeaux France


05.04.2005 Halle Tony Garnier Lyon France


06.04.2005 Le Dome Marseille France


07.04.2005 Palau Sant Jordi Barcelona Spain


09.04.2005 St Jakobshalle Basel Switzerland


10.04.2005 Schleyerhalle Stuttgart Germany


11.04.2005 Olympiahalle Munich Germany


12.04.2005 Stadthalle Vienna Austria


14.04.2005 Preussag Arena Hannover Germany


15.04.2005 Heineken Music Hall Amsterdam The Netherlands


16.04.2005 Heineken Music Hall Amsterdam The Netherlands


17.04.2005 Ahoy Rotterdam The Netherlands


18.04.2005 Ahoy Rotterdam The Netherlands


19.04.2005 Palais Omnisport de Paris Bercy Paris France


21.04.2005 Messehalle Erfurt Germany


22.04.2005 Festhalle Frankfurt Germany


23.04.2005 Color Line Arena Hamburg Germany


24.04.2005 Westfalenhalle Dortmund Germany


25.04.2005 Sports Paleis Antwerpen Belgium


27.04.2005 State Kremlin Palace Moscow Russia


28.04.2005 New Ice Arena St Petersburg Russia



May 2005



03.05.2005 Hala Tivoli Ljubljana Slovenia


04.05.2005 Papp László Sportaréna Budapest Hungary


05.05.2005 T-Mobile Arena Prague Czech Republic


06.05.2005 Spodek Katowice Poland


07.05.2005 Torwar Warsaw Poland


08.05.2005 Kipsala Hall Riga Latvia


09.05.2005 Saku Arena Tallinn Estonia


10.05.2005 Hartwall Areena Helsinki Finland


12.05.2005 Globe Arena Stockholm Sweden


13.05.2005 Spektrum Oslo Norway


14.05.2005 Haukelandshallen Bergen Norway


15.05.2005 Scandinavium Gothenburg Sweden


16.05.2005 Forum Copenhagen Denmark


17.05.2005 Forum Horsens Denmark


20.05.2005 The Point Dublin Ireland


21.05.2005 Odyssey Belfast Ireland


22.05.2005 Playhouse Edinburgh Scotland


23.05.2005 City Hall New Castle UK


24.05.2005 Cardiff International Arena Cardiff Wales


25.05.2005 Brighton Centre Brighton UK


26.05.2005 MEN Arena Manchester UK


30.05.2005 Royal Albert Hall London UK


31.05.2005 Royal Albert Hall London UK



June 2005



01.06.2005 Royal Albert Hall London UK


02.06.2005 Royal Albert Hall London UK


03.06.2005 Royal Albert Hall London UK


04.06.2005 NEC Birmingham UK


05.06.2005 Le Zénith Lille France


06.06.2005 Kolnarena Cologne Germany


07.06.2005 Waldbühne Berlin Germany


08.06.2005 Leipzig Arena Leipzig Germany


10.06.2005 Fila Forum Milan Italy


11.06.2005 Villa Pisani Stra Italy


12.06.2005 Palazzetto dello Sport Florence Italy


13.06.2005 Palazzetto dello Sport Rome Italy


14.06.2005 Arena Flegrea Naples Italy


15.06.2005 Palazzetto dello Sport Reggio di Calabria Italy


16.06.2005 Old Billingsgate Market London UK (private Deutsche Bank gig)


24.06.2005 NTELOS Pavillion Portsmouth USA


25.06.2005 Mann Center Philadelphia USA


26.06.2005 Wolf Trap Filene Centre Vienna USA


28.06.2005 Performing Arts Center Newark USA


29.06.2005 Radio City Music Hall New York USA


30.06.2005 Pines Theatre Florence USA



July 2005



01.07.2005 Bank of America Pavilion Boston USA


02.07.2005 Place des Arts Montreal Canada


03.07.2005 National Arts Centre Ottawa Canada


05.07.2005 Molson Amphitheatre Toronto Canada


07.07.2005 John Labatt Centre London Canada


08.07.2005 Meadowbrook Amphitheatre Rochester Hills USA


09.07.2005 Fraze Pavillion Kettering USA


12.07.2005 Chastain Park Amphitheatre Atlanta USA


13.07.2005 Ryman Auditorium Nashville USA


14.07.2005 Murat Theatre Indianapolis USA


15.07.2005 Auditorium Amphitheatre Chicago USA


16.07.2005 Milwaukee Theatre Milwaukee USA


17.07.2005 Orpheum Theatre Minneapolis USA


19.07.2005 Red Rocks Denver USA


20.07.2005 Abravanel Hall Salt Lake City USA


21.07.2005 The Joint Las Vegas USA


22.07.2005 The Greek Theatre Los Angeles USA


23.07.2005 The Greek Theatre Berkeley USA


24.07.2005 Copley Symphony Hall San Diego USA


27.07.2005 The Mountain Winery Saratoga USA


28.07.2005 Britt Festivals Amphitheater Jacksonville USA


29.07.2005 Arlene Schnitzer Hall Portland USA


30.07.2005 Chateau Ste Michelle Winery Portland USA


31.07.2005 Queen Elizabeth Theatre Vancouver Canada