ALL THE ROADRUNNING TOUR 2006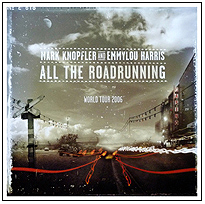 Tour line-up:
Mark Knopfler

Guitar, vocals
Emmylou Harris

Guitar, vocals
Guy Fletcher

Keyboards, vocals
Richard Bennett

Guitar

Glenn Worf

Bass, vocals

Danny Cummings

Drums

Matt Rollings

Keyboards, accordion

Stuart Duncan

Violin

In January and February 2003, Mark Knopfler and Emmylou Harris recorded songs for their duet album in Nashville. Several years later, the album All the roadrunning was released on 24th April 2006. After promotional work and rehearsals, a little tour visited several European countries followed by a small leg in Canada and the USA. Besides Emmylou Harris, the tour band is basically the same as the one from the Shangri-La tour in 2005, with the addition of Stuart Duncan on violin.
Advertisement poster for the tour: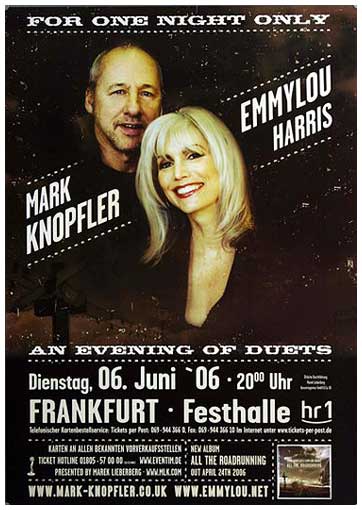 Official recordings made during this tour

Concert
Bootleg release
Official release

Verona

(03.06.2006)

Los Angeles

(28.06.2006)

Concert
Bootleg release
Official release

Los Angeles

(28.06.2006)


► Total concerts played: 23



May 2006



26.05.2006 Forest National Brussels Belgium


27.05.2006 Forum Copenhagen Denmark


28.05.2006 Color Line Arena Hamburg Germany


30.05.2006 Globe Arena Stockholm Sweden


31.05.2006 Spektrum Oslo Norway



June 2006



02.06.2006 Hallenstadion Zurich Switserland


03.06.2006 Arena Verona Italy


05.06.2006 Ahoy Rotterdam The Netherlands


06.06.2006 Festhalle Frankfurt Germany


08.06.2006 Wembley Arena London UK


09.06.2006 Men Arena Manchester UK


10.06.2006 Point Theatre Dublin Ireland


12.06.2006 Zenith Paris France


13.06.2006 Palau Sant Jordi Barcelona Spain


19.06.2006 Molson Amphitheatre Toronto Canada


21.06.2006 Dar Constitution Hall Washington USA


22.06.2006 Radio City Music Hall New York USA


23.06.2006 Bank of America Pavilio Boston USA


25.06.2006 Charter One Pavilion at Northerly Chicago USA


26.06.2006 Orpheum Theatre Minneapolis USA


28.06.2006 Gibson Amphitheatre Universal City USA


29.06.2006 Santa Barbara Bowl Santa Barbara USA


30.06.2006 Greek Theatre-U.C. Berkeley Berkeley USA