KILL TO GET CRIMSON TOUR 2008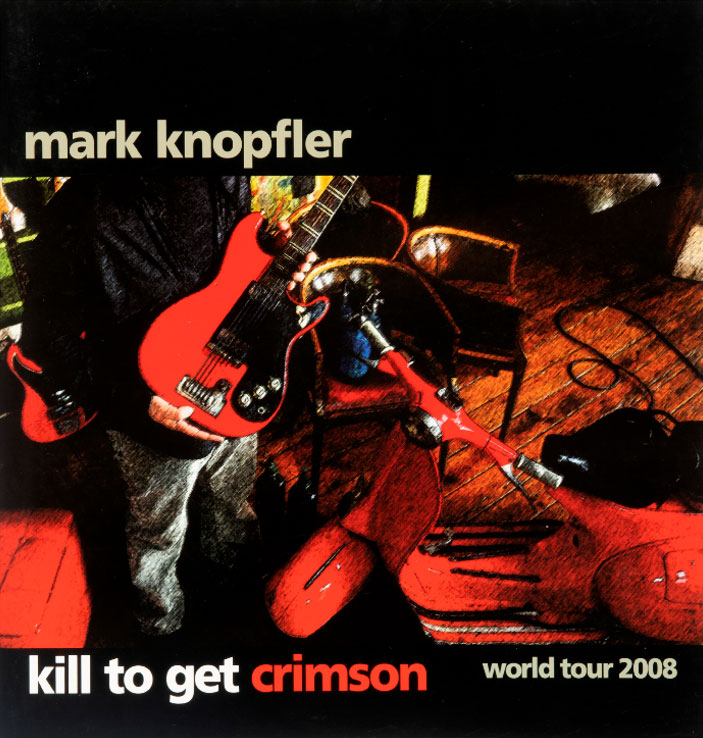 Tour line-up:
Mark Knopfler

Guitar, vocals
Guy Fletcher

Keyboards, vocals

Richard Bennett

Guitar

Glenn Worf

Bass, vocals

Danny Cummings

Drums
Matt Rollings

Keyboards, accordion

John McCusker

Fiddle, cittern, whistle

After rehearsals between 2nd and 14th March 2008 in London, Mark started the Kill to get crimson tour on 29th March 2008 in Amsterdam. John McCusker joined the band to play fiddle, cittern and whistle. On the tour, Mark Knopfler played six successive concerts at the Royal Albert Hall. Each of these six shows was in aid of a charity. Mark made a donation each night to a specific charity and the charity was able to make a pre-show speech and organize collections in the hall in order to generate funds. The charities were: Kidney Research UK (25th May), Barnado's (26th May), Amref (27th May), Great Ormond Street Children's Hospital (28th May), Trinity Hospice (29th May) and Starlight (30th May). On 28th and 29th May, Joe Brown was a special guest performing Picture of you and Donegan's gone. Unfortunately, no official recordings were made during this tour.

Advertisement poster for the tour: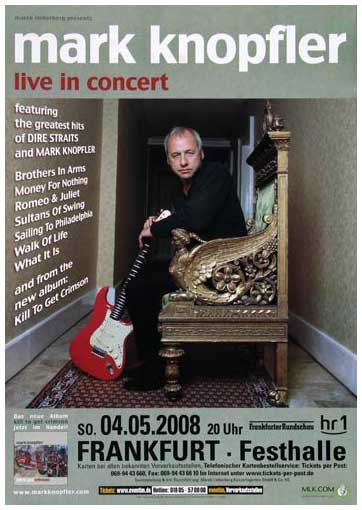 ► Total concerts played: 94



March 2008



29.03.2008 Heineken Music Hall Amsterdam The Netherlands


30.03.2008 Heineken Music Hall Amsterdam The Netherlands


31.03.2008 Ahoy Rotterdam The Netherlands



April 2008



02.04.2008 Palau St. Jordi Barcelona Spain


03.04.2008 Palacio de Deportes Madrid Spain


04.04.2008 Campo Pequeno Lisbon Portugal


05.04.2008 Granada Coliseo Atarfe Spain


07.04.2008 Zénith Toulouse France


08.04.2008 Zénith Nantes France


09.04.2008 Bercy Paris France


10.04.2008 Zénith Strasbourg France


11.04.2008 SAP Arena Mannheim Germany


12.04.2008 Messehalle Erfurt Germany


14.04.2008 Hallenstadion Zurich Switzerland


15.04.2008 Datchforum Milan Italy


16.04.2008 Palabam Mantova Italy


17.04.2008 Palaonda Bolzano Italy


19.04.2008 Forum Copenhagen Denmark


20.04.2008 Spektrum Oslo Norway


21.04.2008 Vestlandshallen Bergen Norway


22.04.2008 Löfbergs Lila Arena Karlstadt Sweden


23.04.2008 Hovet Stockholm Sweden


25.04.2008 Hartwall Arena Helsinki Finland


26.04.2008 New Ice Arena St. Petersburg Russia


27.04.2008 Olympiski Arena Moscow Russia



May 2008



02.05.2008 Torwar Warsaw Poland


03.05.2008 Velodrom Berlin Germany


04.05.2008 Festhalle Frankfurt Germany


05.05.2008 Color Line Arena Hamburg Germany


06.05.2008 Arena Leipzig Germany


07.05.2008 Schleyerhalle Stuttgart Germany


09.05.2008 Tui Arena Hannover Germany


10.05.2008 König Pilsener Arena Oberhausen Germany


11.05.2008 Sazka Arena Prague Czech Republic


12.05.2008 Papp László Sportarena Budapest Hungary


13.05.2008 Stadthalle Vienna Austria


14.05.2008 Olympiahalle Munich Germany


16.05.2008 NEC Birmingham UK


17.05.2008 MEN Arena Manchester UK


18.05.2008 Playhouse Edinburgh Scotland


19.05.2008 RDS Dublin Ireland


20.05.2008 Odyssey Arena Belfast Ireland


21.05.2008 City Hall Newcastle UK


22.05.2008 International Arena Cardiff UK


24.05.2008 Brighton Centre Brighton UK


25.05.2008 Royal Albert Hall London UK


26.05.2008 Royal Albert Hall London UK


27.05.2008 Royal Albert Hall London UK


28.05.2008 Royal Albert Hall London UK


29.05.2008 Royal Albert Hall London UK


30.05.2008 Royal Albert Hall London UK



June 2008



01.06.2008 Augustenborg Castle Sřnderborg Denmark


02.06.2008 Arena Cologne Germany


03.06.2008 Forest National Brussels Belgium


04.06.2008 Rockhal Luxembourg Luxembourg


06.06.2008 Palalottomatica Rome Italy


07.06.2008 Adriatic Arena (BPA Palas) Pesaro Italy


08.06.2008 Villa Manin Codroipo Udine Italy


09.06.2008 Dom Sportova Zagreb Croatia


10.06.2008 Arena Belgrade Serbia


11.06.2008 Culture Palace Sofia Bulgaria


13.06.2008 Kuruçesme Arena Istanbul Turkey


15.06.2008 Lycabetus Theatre Athens Greece


24.06.2008 Red Rocks Amphitheatre Morrison USA


25.06.2008 Abravanel Hall Salt Lake City USA


26.06.2008 The Joint at the Hard Rock Hotel and Casino Las Vegas USA


27.06.2008 The Greek Theatre Los Angeles USA


28.06.2008 Greek Theatre Berkeley USA


29.06.2008 Britt Pavilion Jacksonville USA



July 2008



01.07.2008 Arlene Schnitzer Concert Hall Portland USA


02.07.2008 Chateau St. Michelle Winery Woodinville USA


03.07.2008 Orpheum Theatre Vancouver Canada


04.07.2008 Prospera Place Kelowna Canada


05.07.2008 Jack Singer Concert Hall Calgary Canada


07.07.2008 Northern Alberta Jubilee Auditorium Edmonton Canada


08.07.2008 Sid Buckwold Theatre Saskatoon Canada


09.07.2008 Conexus Centre of the Arts Regina Canada


11.07.2008 Centennial Concert Hall Winnipeg Canada


12.07.2008 Orpheum Theatre Minneapolis USA


13.07.2008 Chicago Theatre Chicago USA


15.07.2008 Ryman Auditorium Nashville USA


16.07.2008 Fraze Pavilion For The Performing Arts Kettering USA


17.07.2008 Molson Amphitheatre Toronto Canada


18.07.2008 National Arts Centre Ottawa Canada


19.07.2008 Bank of America Pavilion Boston USA


20.07.2008 Landmark Theatre Syracuse USA


22.07.2008 The Filene Center Vienna USA


23.07.2008 Rumsey Playfield New York USA


25.07.2008 Performing Arts Center Newark USA


26.07.2008 Mann Center for the Performing Arts Philadelphia USA


27.07.2008 Ovens Auditorium Charlotte USA


29.07.2008 Chastain Park Amphitheatre Atlanta USA


30.07.2008 Ruth Eckerd Hall Clearwater USA


31.07.2008 Jackie Gleason Theater Miami Beach USA