GET LUCKY TOUR 2010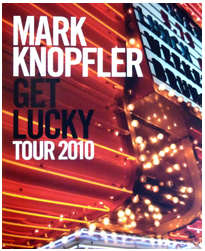 Tour line-up:
Mark Knopfler

Guitar, vocals
Guy Fletcher

Keyboards, vocals
Richard Bennett

Guitar
Glenn Worf

Bass, vocals
Danny Cummings

Drums
Matt Rollings

Keyboards, accordion
Tim O'Brien

Fiddle, mandolin
Mike McGoldrick

Flute, uilleann pipes, whistle
John McCusker

Fiddle, cittern, whistle

After rehearsals in the middle of March 2010, Mark started the Get Lucky tour on 8th April 2010 in Seattle. Two new band members were added: Tim O'Brien and Mike McGoldrick. Tim only played on the USA and Canadian leg of the tour and was replaced by John McCusker on the European leg. Early in the tour, Mark got a serious back injury which made it almost impossible for him to stand up during the shows. Instead of cancelling the tour, Mark decided to sit on a stool for the rest of the tour. Phil Cunningham played accordion on the Get Lucky album and gratefully accepted Mark's offer to come and play a few tunes at the show in Glasgow.

On this tour, audio soundboard recordings were made by Simfy Live which could be bought as a souvenir on USB stick right after the shows or as digital downloads on their website. When the downloads came available after the Get Lucky tour, Simfy released 50 shows, including just one (out of six) from the Royal Albert Hall, 30th May 2010. In June 2014, these soundboards came available again for download, this time by Bleecker Street Entertainment. Surprisingly, now four extra recordings were added, all from the Royal Albert Hall: 31st May, 1st June, 2nd June and 3rd June. For some reason, only the last show from London was not released.

Click here for a nice picture of the complete crew from the Get Lucky tour.
Advertisement poster for the tour: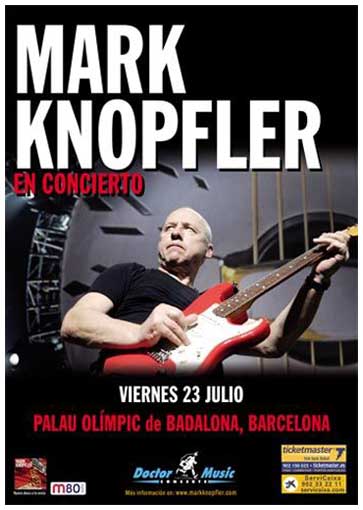 Official recordings made during this tour

Concert
Bootleg release
Official release

Lucca

(10.07.2010)


Concert
Bootleg release
Official release

Simfy Live recordings

(54x)


► Total concerts played: 87



April 2010



08.04.2010 Moore Theatre Seattle USA


09.04.2010 Queen Elizabeth Theatre Vancouver Canada


10.04.2010 Keller Auditorium Portland USA


11.04.2010 Hult Center Eugene USA


13.04.2010 Paramount Theatre Oakland USA


14.04.2010 Wells Fargo Center Santa Rosa USA


15.04.2010 Pechanga Resort Temecula USA


16.04.2010 Pantages Theatre Los Angeles USA


17.04.2010 Pantages Theatre Los Angeles USA


18.04.2010 Dodge Theatre Phoenix USA


20.04.2010 The Buell Theatre Denver USA


21.04.2010 Midland Theatre Kansas City USA


22.04.2010 Fox Theatre St Louis USA


23.04.2010 Chicago Theatre Chicago USA


24.04.2010 Riverside Theater Milwaukee USA


25.04.2010 State Theatre Minneapolis USA


27.04.2010 Michigan Theater Ann Arbor USA


28.04.2010 Center for the Arts Buffalo USA


29.04.2010 Massey Hall Toronto Canada


30.04.2010 Salle Wilfrid-Pelletier Montreal Canada



May 2010



01.05.2010 MGM Grand at Foxwoods Mashantucket USA


02.05.2010 Warner Theatre Washington USA


04.05.2010 Orpheum Theatre Boston USA


05.05.2010 Count Basie Theatre Red Bank USA


06.05.2010 United Palace Theatre New York USA


07.05.2010 Tower Theater Upper Darby USA


08.05.2010 Circus Maximus Theater Atlantic City USA


09.05.2010 The Palace Theatre Albany USA


19.05.2010 O2 Arena Dublin Ireland


20.05.2010 Odyssey Arena Belfast Northern Ireland


21.05.2010 Glasgow SECC Glasgow UK


22.05.2010 Metro Radio Arena Newcastle UK


23.05.2010 LG Arena Birmingham UK


25.05.2010 MEN Arena Manchester UK


26.05.2010 CIA Cardiff UK


27.05.2010 Brighton Centre Brighton UK


28.05.2010 BIC Windsor Hall Bournemouth UK


30.05.2010 Royal Albert Hall London UK


31.05.2010 Royal Albert Hall London UK



June 2010



01.06.2010 Royal Albert Hall London UK


02.06.2010 Royal Albert Hall London UK


03.06.2010 Royal Albert Hall London UK


04.06.2010 Royal Albert Hall London UK


06.06.2010 Lotto Arena Antwerp Belgium


07.06.2010 Festhalle Frankfurt Germany


08.06.2010 Rockhal Luxembourg Luxembourg


09.06.2010 Palais Omnisport Bercy Paris France


11.06.2010 Under Broen Middelfart Denmark


12.06.2010 Helsinborg Castle Helsinborg Sweden


13.06.2010 Norwegian Wood Festival Oslo Norway


14.06.2010 Vestlandhallen Bergen Norway


16.06.2010 Color Line Arena Hamburg Germany


17.06.2010 TUI Arena Hannover Germany


18.06.2010 O2 World Berlin Germany


19.06.2010 Arena Leipzig Germany


20.06.2010 Lanxess Arena Cologne Germany


22.06.2010 König-Pilsener Arena Oberhausen Germany


23.06.2010 SAP Arena Mannheim Germany


24.06.2010 Schleyerhalle Stuttgart Germany


25.06.2010 Königsplatz Munich Germany


26.06.2010 O2 Arena Prague Czech Republic


28.06.2010 Heineken Music Hall Amsterdam The Netherlands


29.06.2010 Heineken Music Hall Amsterdam The Netherlands


30.06.2010 Heineken Music Hall Amsterdam The Netherlands



July 2010



02.07.2010 Hal Stulecia Wroclaw Poland


03.07.2010 Stadthalle Vienna Austria


04.07.2010 Papp László Sportarena Budapest Hungary


09.07.2010 Piazzale Camerini Padova Italy


10.07.2010 Piazza Napoleone Lucca Italy


12.07.2010 Arena Santa Giuliana Perugia Italy


13.07.2010 Cavea Auditorium Rome Italy


14.07.2010 Arena Civica Milan Italy


15.07.2010 Montreux Jazz Festival Montreux Switzerland


16.07.2010 Moon & Stars Festival Locarno Switzerland


17.07.2010 Feste Marienberg Würtzburg Germany


19.07.2010 Salle des Étoiles Monte Carlo Monaco


20.07.2010 Salle des Étoiles Monte Carlo Monaco


21.07.2010 Théâtres Romains de Fourvičre Lyon France


22.07.2010 Nimes Arena Nimes France


23.07.2010 Palau Olimpic de Badalona Barcelona Spain


24.07.2010 Plaza de Toros Murcia Spain


25.07.2010 Cordoba Guitar Festival Cordoba Spain


27.07.2010 Campo Pequeno Lisbon Portugal


28.07.2010 Multiusos Fontes do Sar Santiago Spain


29.07.2010 Las Ventas Bullring Madrid Spain


30.07.2010 Vista Alegre Bullring Bilbao Spain


31.07.2010 Music Festival Gredos (Avilia) Spain