EUROPEAN TOUR 2011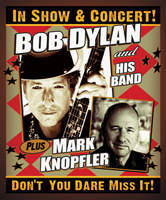 Tour line-up:
Mark Knopfler

Guitar, vocals
Guy Fletcher

Keyboards, vocals
Richard Bennett

Guitar
Glenn Worf

Bass, vocals
Ian Thomas

Drums
Jim Cox

Piano, accordion
Mike McGoldrick

Flute, uilleann pipes, whistle
John McCusker

Fiddle, cittern, whistle

While in the midst of the recording sessions for Mark's seventh solo album Privateering, Mark got the invitation to go on tour with Bob Dylan. Mark felt that an opportunity such as this was too good to miss so the recording sessions were a bit delayed to do this duo-tour. Mark's association with Dylan dates back to 1979 when he played on Dylan's Slow train coming sessions and then produced Bob's acclaimed 1983 release Infidels. Basically, the concerts turned out to be a Mark Knopfler set of about 70 minutes, then a stage changover followed by a set of Bob Dylan. Interaction between Mark and Bob was limited to Mark playing a few songs with Bob on several shows. The line-up for Mark's band was changed a bit again: Danny Cummings left and was replaced by Ian Thomas. And since the ear-problem of Jim Cox was finally over, he was asked to join the band again on piano and accordion, replacing Matt Rollings. Unfortunately, no official recordings were made during this tour.
Advertisement poster for the tour: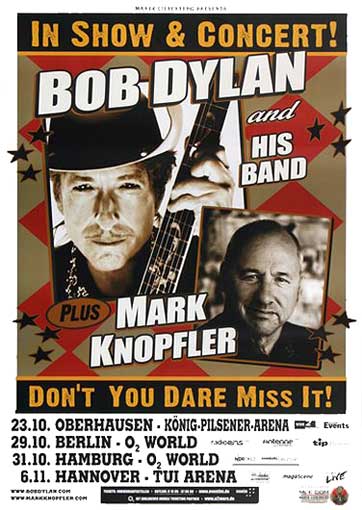 ► Total concerts played: 33



October 2011



06.10.2011 O2 Arena Dublin Ireland


08.10.2011 Braehead Arena Glasgow Scotland


09.10.2011 Braehead Arena Glasgow Scotland


10.10.2011 MEN Arena Manchester UK


11.10.2011 Capital FM Arena Nottingham UK


13.10.2011 Motorpoint Arena Cardiff Wales


14.10.2011 Windsor Hall BIC Bournemouth UK


16.10.2011 Zénith Lille France


17.10.2011 Palais Omnisports de Bercy Paris France


19.10.2011 Sportspaleis Antwerp Belgium


20.10.2011 Ahoy Rotterdam The Netherlands


21.10.2011 Rockhal Luxembourg Luxembourg


23.10.2011 König-Pilsener-Arena Oberhausen Germany


25.10.2011 SAP Arena Mannheim Germany


26.10.2011 Olympiahalle Munich Germany


27.10.2011 Arena Leipzig Germany


29.10.2011 O2 World Berlin Germany


31.10.2011 O2 World Hamburg Germany



November 2011



02.11.2011 Jyske Bank Boxing Herning Denmark


03.11.2011 Malmö Arena Malmö Sweden


04.11.2011 Globe Stockholm Sweden


06.11.2011 TUI Arena Hannover Germany


07.11.2011 Arena Nuremburg Germany


08.11.2011 Olympia Hall Innsbruck Austria


09.11.2011 PalaFabris Padova Italy


11.11.2011 Nelson Mandela Forum Florence Italy


12.11.2011 Palalottomattica Rome Italy


14.11.2011 Mediolanum Forum Milan Italy


15.11.2011 Arena Geneva Switserland


16.11.2011 Hallenstadion Zurich Switserland


19.11.2011 HMV Hammersmith Apollo London UK


20.11.2011 HMV Hammersmith Apollo London UK


21.11.2011 HMV Hammersmith Apollo London UK


▲ Back to index