TRACKER TOUR 2015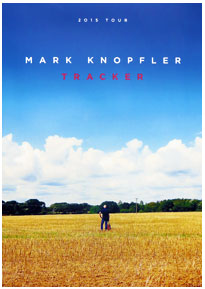 Tour line-up:
Mark Knopfler

Guitar, vocals
Guy Fletcher

Keyboards, vocals
Richard Bennett

Guitar
Glenn Worf

Bass, vocals
Ian Thomas

Drums
Jim Cox

Piano, accordion
Mike McGoldrick

Flute, uilleann pipes, whistle
John McCusker

Fiddle, cittern, whistle
Nigel Hitchcock

Saxophone

Ruth Moody

Guitar, vocals

On 16th September 2014, the first official annoucement was made for the Tracker tour 2015. Rehearsals for the tour started on 27th April 2015. The band rehearsed for nine days and then moved to Elstree Studios, a film soundstage north of London for full production rehearsals on stage with lights and sound. Elstree Studios is home to some of the top shows on British television today. Known as the birthplace of Star Wars, some of the most famous films in the world have been produced at Elstree Studios; the Indiana Jones and Star Wars trilogies, Superman, and many more. With a height of 50ft, Elstree's George Lucas stages 1 and 2 are perfect for accommodating a full size stadium tour. These stages are one of the tallest in Europe and benefit from superb supporting facilities ranging from 5 star dressing rooms, wardrobe and make-up facilities to modern production offices and ample car parking. Combined with on site catering, 24/7 security, generous loading in and out areas and just 20 minutes from the heart of London, it's no surprise Elstree Studios is the number one choice amongst tour managers and promoters. Mark and band completed their production rehearsals in the 'George Lucas Stage' at Elstree Studios. On 12th May, the band did a full dress rehearsal in the Elstree Studios for the winners of a competition that was held on Amazon and other sites for an audience of about 300 people. John McCusker posted a few photos of the stage.

The tour line-up is the same as 2013,

Nigel Hitchcock and Ruth Moody joined the band from the start of the tour up and until Amsterdam.

Nigel rejoined the band in Munich for the rest of the European leg. In the USA, Ruth was present at some of the shows and Nigel was part of the band from Berkeley (18th September) onwards. Nice setlist surprises later in the tour were She's gone / Your latest trick and On every street.

All of the European shows of the tour were recorded again by the German company Bleecker Street Entertainment by professional sound engineers using multi-track audio technology. The audio soundboard recordings could be bought in the on-line shop as a souvenir on unique metal USB concert sticks based on the shape of three different guitars, which Mark actually plays in concert, complete with matching case. If you pre-ordered all three models (regardless of which concert), you received a matching flight case which fits all three guitars. Besides the metal USB sticks, the concerts were also made available as MP3 and FLAC (lossless audio) download. In the USA, various shows were unfortunately not recorded; Las Vegas, Los Angeles, Santa Barbara, Ann Arbor, Niagra Falls, Philadelphia and Washington. Guy Fletcher said about that: "That's usually due to venues requiring some kind of exorbitant fee for the privilege."
Italian advertisement for the show in Lucca: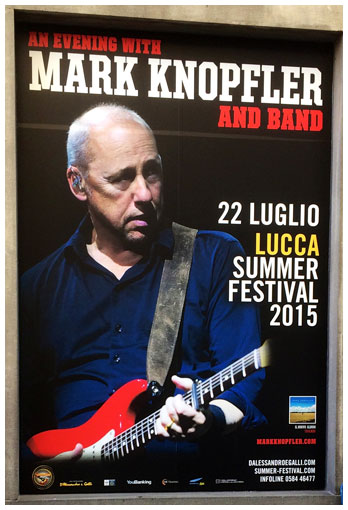 Official recordings made during this tour

Concert
Bootleg release
Official release

Lucca

(22.07.2015)

| | | |
| --- | --- | --- |
| Concert | Bootleg release | Official release |
| | | |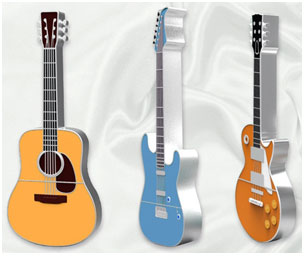 Concert
Bootleg release
Official release
Bleecker Street Entertainment

recordings

(80x)

► Total concerts played: 87



May 2015



15.05.2015 3Arena Dublin Ireland


16.05.2015 Phones 4 You Arena Manchester UK


17.05.2015 Motorpoint Arena Sheffield UK


19.05.2015 SSE Hydro Arena Glasgow Scotland


20.05.2015 Metro Radio Arena Newcastle UK


22.05.2015 O2 Arena London UK


23.05.2015 LG Arena Birmingham UK


25.05.2015 Royal Albert Hall London UK


26.05.2015 Royal Albert Hall London UK


28.05.2015 Mediolanum Forum Assago (Milan) Italy


29.05.2015 Palais Nikaïa Nice France


31.05.2015 Schloss Salem Germany


June 2015



01.06.2015 Hallenstadion Zurich Switserland


02.06.2015 Zenith Paris France


03.06.2015 Zenith Paris France


05.06.2015 Sportpaleis Antwerp Belgium


06.06.2015 Ziggo Dome Amsterdam Holland


08.06.2015 DNB Arena Stavanger Norway


09.06.2015 Bergen Calling Festival Plenen Bergen Norway


10.06.2015 Norwegian Wood Festival Oslo Norway


12.06.2015 Trondheim Festival Sverresborg Arena Trondheim Norway


13.06.2015 Botaniska Trädgården Uppsala Sweden


14.06.2015 Tivoli Gardens Copenhagen Denmark


16.06.2015 O2 World Hamburg Germany


17.06.2015 Westfalenhalle Dortmund Germany


19.06.2015 Zollhafen Nordmole Mainz Germany


20.06.2015 SAP Arena Mannheim Germany


21.06.2015 Lanxess Arena Cologne Germany


July 2015



04.07.2015 Luitpoldpark Bad Kissingen Germany


05.07.2015 Hans-Martin-Schleyer-Halle Stuttgart Germany


07.07.2015 TUI Arena Hannover Germany


08.07.2015 O2 World Berlin Germany


09.07.2015 Arena Leipzig Leipzig Germany


11.07.2015 Olympiahalle Munich Germany


12.07.2015 Castle Clam Klam Austria


13.07.2015 Arena Krakow Poland


14.07.2015 Steinbruch St Margarethen Austria


16.07.2015 Guitar en Scene Festival Stade des Burgondes Saint-Julien-en-Genevois France


17.07.2015 Sion sous les Etoiles Plaine de Tourbillon Sion Switserland


18.07.2015 Anfiteatro Camerini Piazzola Sul Brenta (Padova) Italy


20.07.2015 Collisioni Festival Piazza Colbert Barolo (Cuneo) Italy


21.07.2015 Auditorium Parco della Musica Cavea Rome Italy


22.07.2015 Lucca Summer Festival Piazza Napoleone Lucca Italy


24.07.2015 Pirineos Sur Festival Huesca Lanuza Spain


25.07.2015 Hoyos del Espino Festival Avila Spain


26.07.2015 Olympic Stadium of Sevilla Sevilla Spain


28.07.2015 Cool Jazz Festival Parque dos Poetas Oeiras (Lisbon) Portugal


29.07.2015 Multiusos Fontes do Sar Santiago Spain


31.07.2015 Poble Espanyol Barcelona Spain


September 2015



10.09.2015 Queen Elizabeth Theatre Vancouver Canada


11.09.2015 Michelle Winery Chateau Ste Woodinville USA


12.09.2015 Michelle Winery Chateau Ste Woodinville USA


13.09.2015 Keller Auditorium Portland USA


15.09.2015 Red Butte Garden Amphitheatrehe Salt Lake City USA


16.09.2015 The Colosseum Caesar's Palace Las Vegas USA


18.09.2015 Greek Theatre UC Berkeley Berkeley USA


19.09.2015 The Dolby Theatre Los Angeles USA


20.09.2015 Santa Barbara Bowl Santa Barbara USA


21.09.2015 Humphrey's Concerts By The Bay San Diego USA


23.09.2015 Red Rocks Ampitheatre Morrison USA


25.09.2015 Austin City Limits Live At Moody Theater Austin USA


26.09.2015 Majestic Theatre Dallas USA


28.09.2015 Arvest Bank Theatre at The Midland Kansas City USA


29.09.2015 Orpheum Theatre Minneapolis USA


30.09.2015 Milwaukee Riverside Theater Milwaukee USA

October 2015



02.10.2015 Chicago Theatre Chicago USA


03.10.2015 Murat Theatre at Old National Centre Indianapolis USA


04.10.2015 Michigan Theater Ann Arbor USA


06.10.2015 Massey Hall Toronto Canada


07.10.2015 Place Des Arts - Wilfrid Pelletier Theatre Montreal Canada


09.10.2015 Orpheum Theatre Boston USA


10.10.2015 Grand Theatre at Foxwoods Casino Mashantucket USA


11.10.2015 The Palace Theater Albany USA


13.10.2015 Heinz Hall Pittsburgh USA


14.10.2015 Fallsview Casino Resort Niagra Falls Canada


16.10.2015 Count Basie Theatre Red Bank USA


17.10.2015 Academy of Music Philadelphia USA


18.10.2015 Warner Theatre Washington USA


20.10.2015 Beacon Theatre New York USA


21.10.2015 Beacon Theatre New York USA


22.10.2015 Durham Performing Arts Center Durham USA


24.10.2015 Chastain Park Ampitheater Atlanta USA


25.10.2015 Performing Arts Center North Charleston USA


27.10.2015 Saint Augustine Ampitheatre Saint Augustine USA


28.10.2015 King Center for the Performing Arts Melbourne USA


30.10.2015 Ruth Eckerd Hall Clearwater USA


31.10.2015 Au Rene Theater at the Broward Center Fort Lauderdale USA