SPECIAL PERFORMANCES 1997 - 2020
In between the main tours, Mark Knopfler played on various special events. Some of these can be found in the section Special performances 1986-1990, and in this section special performances from the past-Dire Straits era can be found.

25.06.1997
Mark Knopfler played at the Ryman Auditorium, Nashville, USA during the Chet Atkins Musician Days - Witness History. Mark and Chet played The next time I'm in town.

The screenshots below are taken from a YouTube video.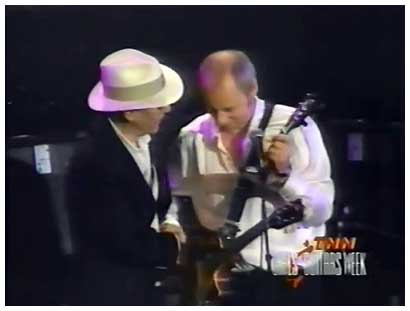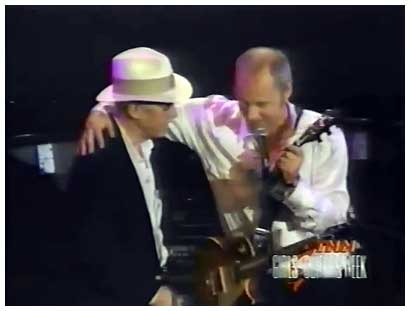 And here are some pictures from eu.tennessean.com: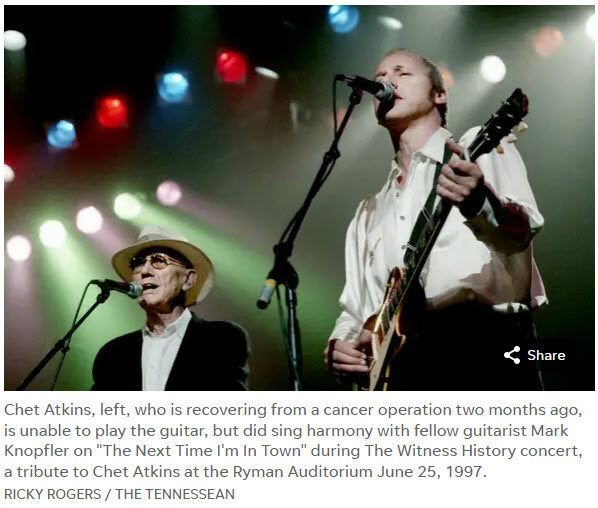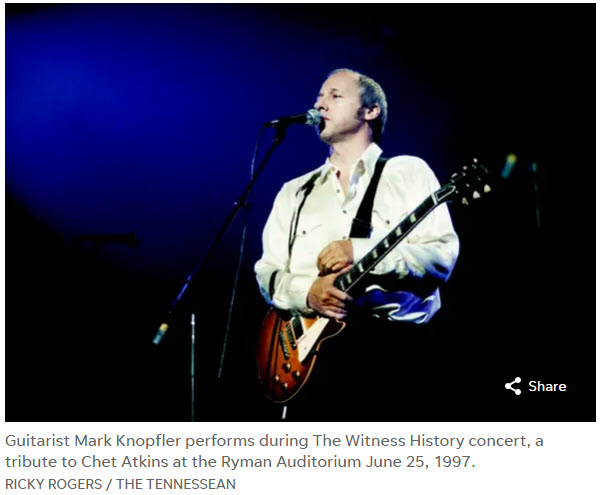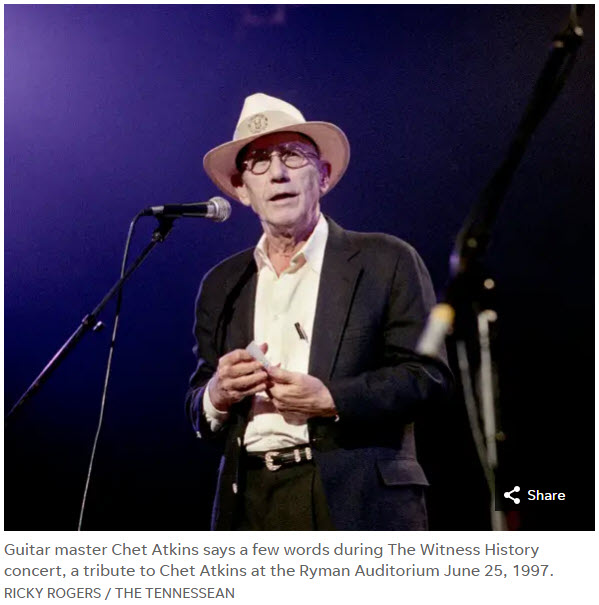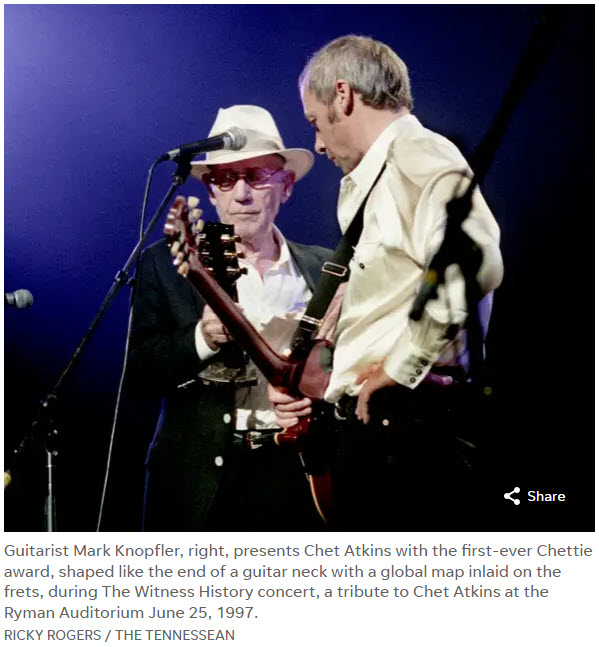 15.09.1997
Some of rock music's biggest stars performed at a benefit concert in London to raise money for the volcano-ravaged Caribbean island of Montserrat. The concert has been organised by Sir George and Lady Martin together with Harvey Goldsmith to raise funds for the victims of the Soufriere volcano on the island of Montserrat which has been in a continuous state of eruption since July 1993. The explosion in June 1997 killed 19 people and rendered 1500 homeless. Beatles producer George Martin, who has a luxury home and recording studio on the island, hopes to raise at least £500,000. Mark Knopfler was one of the artists that evening. Mark played three of his own songs Wild theme, Brothers in arms and Money for nothing. He also played a wonderful version of Layla together with Eric Clapton and also plays on the Paul McCartney set.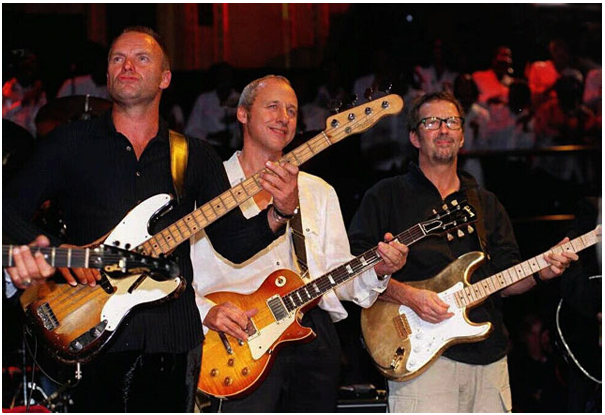 24.06.1998
Mark Knopfler Ryman Auditorium, Nashville, USA during the Chet Atkins Musician Days - Witness History II : The Outlaw Years.

During the whole show, Mark was part of the band and played several songs himself at the end:

Blue train (Marty Stuart)
Are you sure Hank done it this way (Marty Stuart)
I walk the line (Travis Tritt)
I've always been crazy (Waylong Jennings)
Sunday morning coming down (Kris Kristofferson)
Rainy day woman (Waylon Jennings and Mark Collie)
I ain't living long like this (Waylong Jennings and Mark Collie)
Hello darlin (Brenda Lee)
Crazy (Brenda Lee)
Tennessee stud (Gilllian Welch and David Rawlings)
Acony bell (Gillian Welch and David Rawlings)
Amanda (Gillian Welch and David Rawlings)
Don't take your love to town (John Anderson)
Just to satisfy you (John Anderson)
When It comes to you (John Anderson and Mark Knopfler)
Setting me up (Mark Knopfler)
I still miss someone (Mark Knopfler)
Two skinny kids (Mark Knopfler)
Romeo and Juliet (Mark Knopfler)
Sultans of swing (Mark Knopfler)
The next time I'm in town (Mark Knopfler and Chet Atkins)


More information here: Witness II Review from The Tennessean - June 26, 1998
See also two small articles here and here.

During this show, Chet presented Mark with a beautiful Gibson Country Gentleman guitar, to thank him for making the show happen.

Some pictures taken at the show: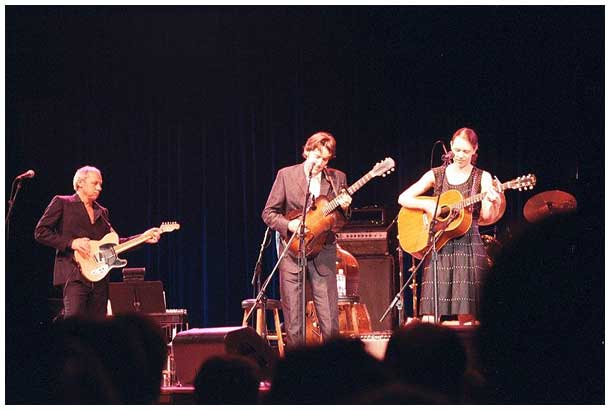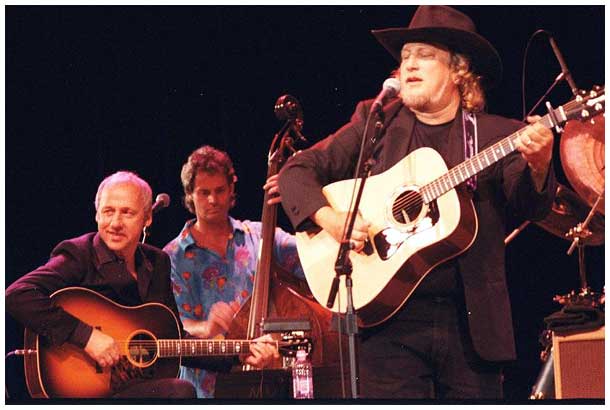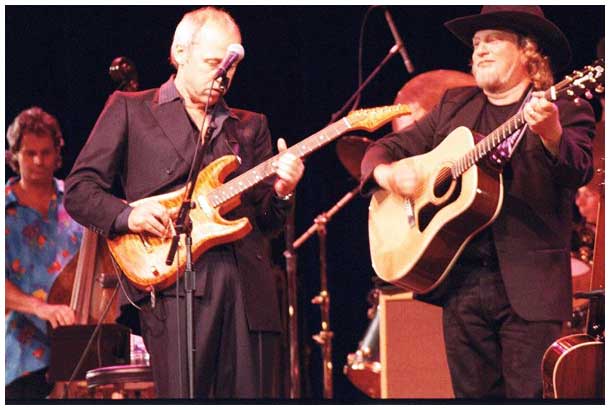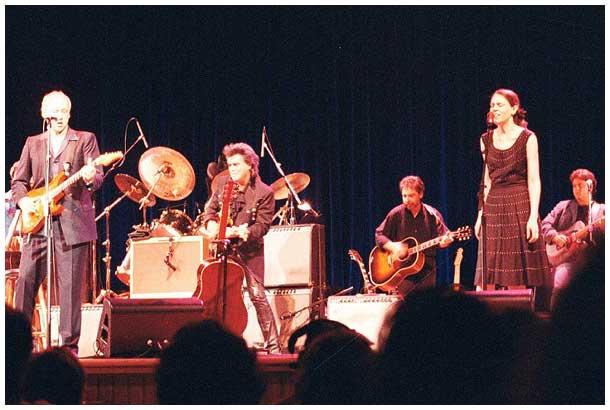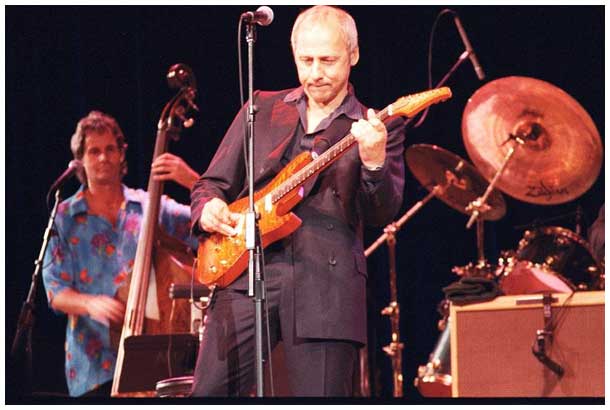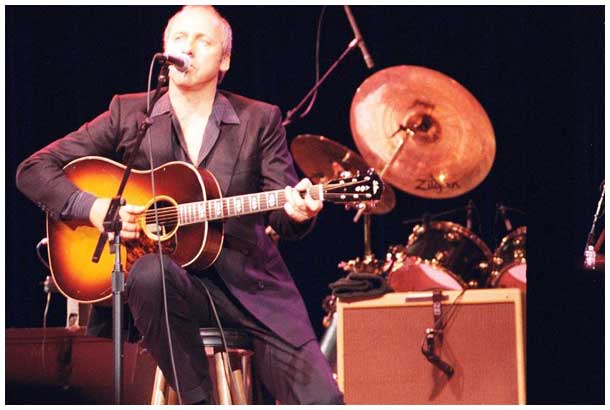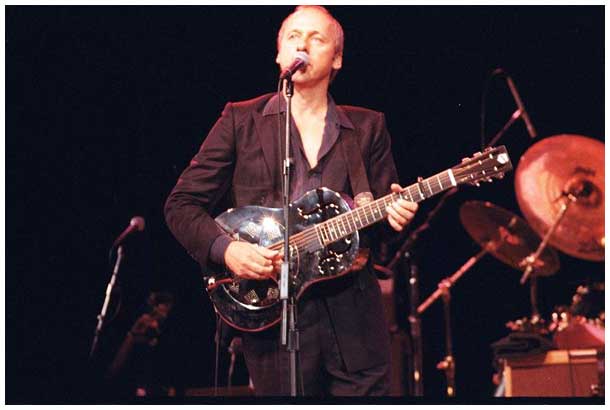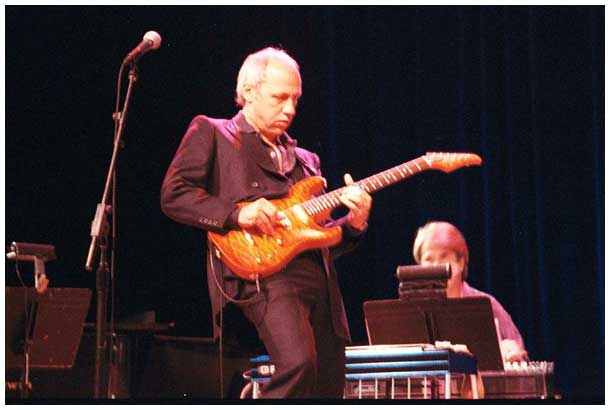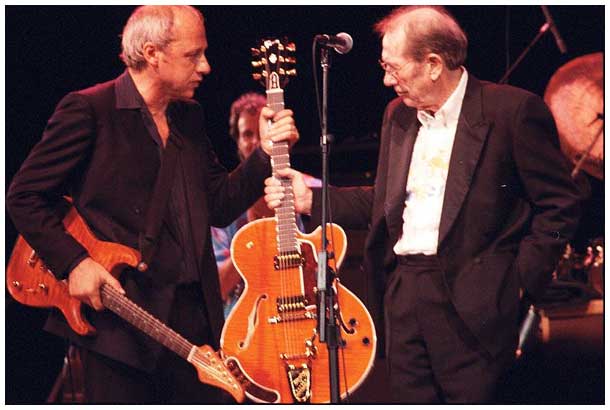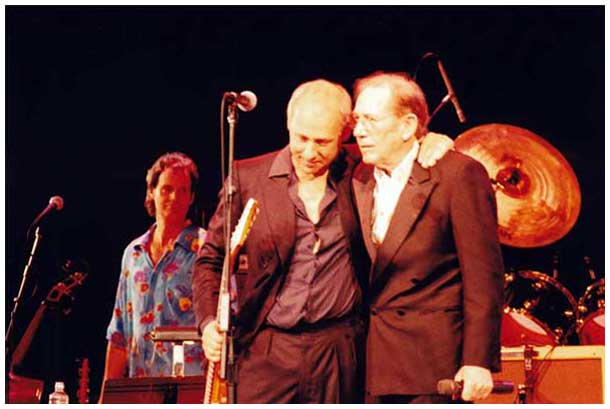 25.06.1998
Mark Knopfler Blair School of Music, Vanderbilt University, Nashville, USA. Master Sessions.
Mark played the famous "Master sessions" which is on a bootleg The Master Sessions - Nashville 1988, with unreleased songs Two skinny kids and It's been a while.

A fan who visited both the show on the 24th June and the Master Sessions on 25th June:
The Master Session was fantastic, too. The whole band was there. Chet was there. Sonny Landreth was in the audience. Mark talked at length about his musical influences and song writing style and approach. On the subject of "copying" styles, Mark talked at length about building a musical vocabulary based on people you listen to, researching music history and going back and listening to the music of the 1920's to today. His idea is to take that music and make something of your own. When he records something that sounds like a "Shadows" song or and Everly Brothers song, it is intended as the most sincere form of flattery and never an attempt to profit by trying to sound like someone else. Mark has repeatedly show he has his own style of music and shame on anyone who thinks he would "steal" someone else's music.


On Friday 26th June 1998, Ed Bicknell was a speaker at the Music Marketing seminair at Tomkats, Broadway, USA. Mark Knopfler was not there, but a fan attended the seminair and wrote a short review with some interesting stories told by Ed.





29.06.1998
On 29th June 1988, Mark Knopfler played at the Bluebird Cafe, Nashville, USA. It is a place that is known for showcasing music by the best songwriters and "undiscovered" talent that Nashville has to offer. Glenn Worf had a gig there every Monday with the band "Mike Henderson and the Bluebloods." Rumors were flying that Mark would show up to support Glenn, so the place was packed. Sure enough, Mark was with the band and played for the entire show, which was over three hours. Mark didn't play any Dire Straits or solo material, they only played Bluebloods songs.





09.07.1998
One day before the small 1998 tour of The Notting Hillbillies started in Birmingham, a charity show was played in aid of Sue Harris Bone Marrow Fund at the Emperial War Museum, London, UK.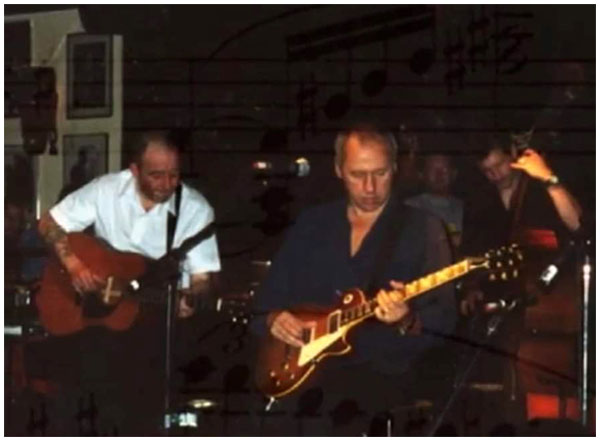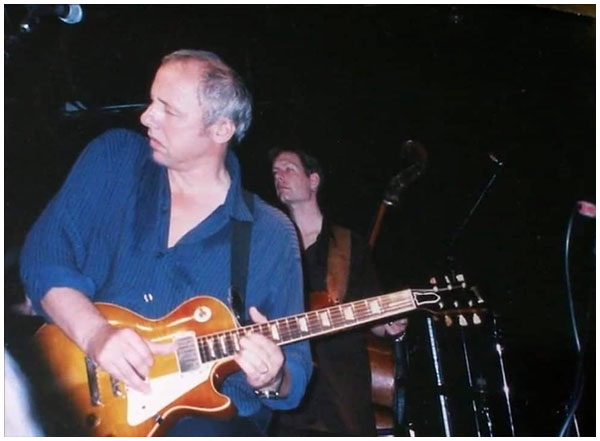 23.09.1998
Ed Bicknell (manager of Dire Straits and Mark Knopfler until 31st August 2000) is a founder-member and former Vice-Chairman of the International Managers Forum (IMF) which exists to deal with industry-wide matters where they affect artists and their management. In September 1998 Ed was presented with the prestigious Peter Grant Lifetime Achievement Award at the IMF's annual British Music Roll of Honour. The Notting Hillbillies performed as a surprise appearance for Ed's award at the Hilton Hotel, London, UK.





19.06.1999
Mark Knopfler, John Illsley, Alan Clark and Guy Fletcher reunited as Dire Straits for one last time on 19th June 1999 with Ed Bicknell on drums, playing five songs including a performance of Chuck Berry's Nadine for John Illsley's wedding in Beaulieu, UK.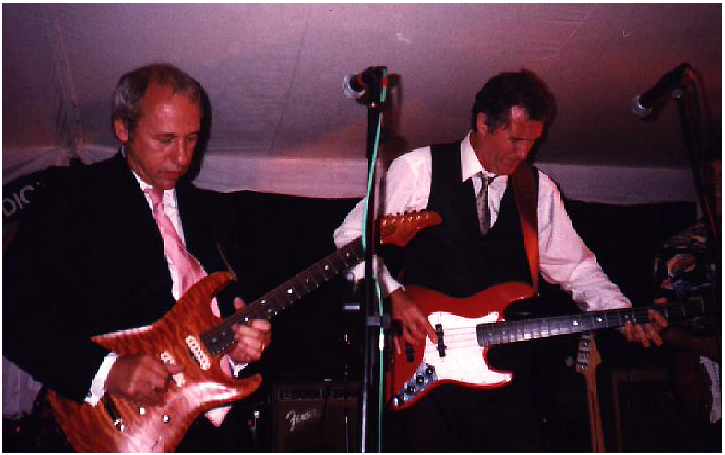 In an interview with Rolling Stone (14th December 2017) John Illsley answers a question about this special performance:
How did you coax the band back together at your wedding in 1999? It's the only time you've played together since 1992.
We didn't really. It was just Mark. He got up and played a bit with the band. I had this group of Irish musicians that I'd been playing around with for a bit. They were providing a bit of Irish music and I got up a did a few things with them. And then Mark got up a did a few things with them. It was a simple as that, really. There was nothing predetermined at all. I just made sure there was a proper guitar he could play and be able to use and an amplifier he could use. I just said, "Do you want to get up and do something?" If he'd said "not really" I would have said, "OK, fine. I'll just carry on and play some Dire Straits songs for you." Just joking. But he said he'd love to and he got up.



26.10.2001
Mark Knopfler was a special guest on the show of Paul Brady at Vicar Street, Dublin, Ireland. Mark joined Paul Brady and Bonnie Raitt on stage. Mark came out for the sixth song of the night and having asked to be able to play as much as possible he remained on stage over an hour until the final encores.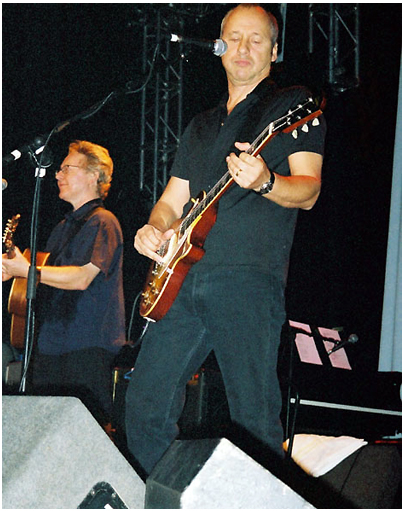 Songs on which Mark Knopfler played guitar:

Nothing but the same old story
Baloney again (Mark Knopfler vocals)
Done with Bonaparte (Mark Knopfler vocals)
The game of love
You're the one
Trick or treat
Dimming of the day
Oh what a world
Crazy dreams
The world is what you make it
The lakes of Pontchartrain
The homes of Donegal


06.03.2003
Mark has won a lifetime achievement award in the 2003 Edison Awards (category Pop) at the Heineken Music Hall, Amsterdam, The Netherlands. He received this award during a live show which was broadcasted on Dutch radio station Radio 538 and commercial TV-station SBS6.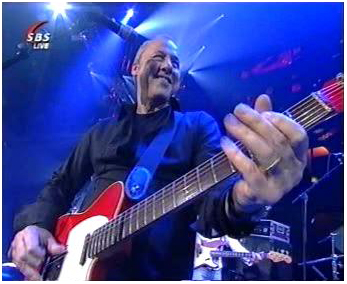 Setlist:

Walk of life
Devil baby
What it is


Line-up:

Mark Knopfler: guitars/vocals
Guy Fletcher: keyboards
Danny Cummings: drums
Robbie McIntosh: guitars
Bobby Valentino: violin
Geraint Watkins: accordion and keyboards

21.09.2003
The Great North Run is the second largest half marathon in the world, taking place annually in the Northeast of England each September. Participants run between Newcastle upon Tyne and South Shields in England. The run was devised by former Olympic 10,000 m bronze medallist and BBC Sport commentator Brendan Foster. The first Great North Run was staged on 28 June 1981, when 12,000 runners participated. By 2011, the number of participants had risen to 54,000. For the first year it was advertised as a local fun run; now it has become one of the biggest running events in the world, and the biggest in the UK. Mark Knopfler played a "playback" version of Local Hero at the start of the race at the Millenium Bridge, Newcastle, 21st September 2003.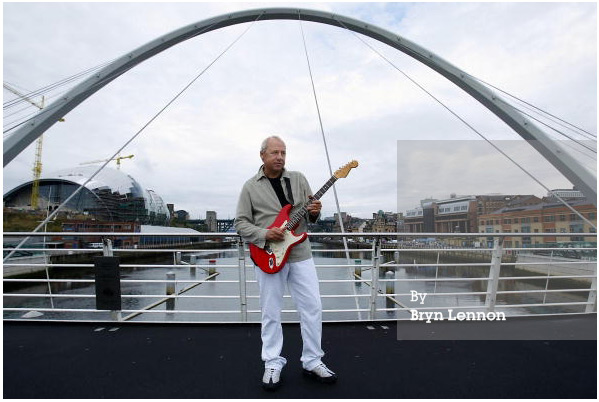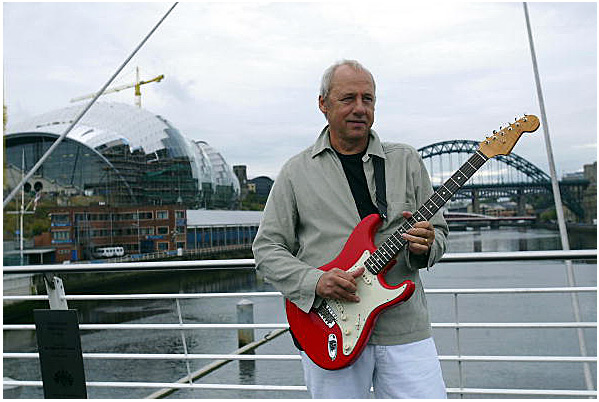 Below a picture taken during the run. From left to right:
Brendan Foster, Mark Knopfler and Alistor Campbell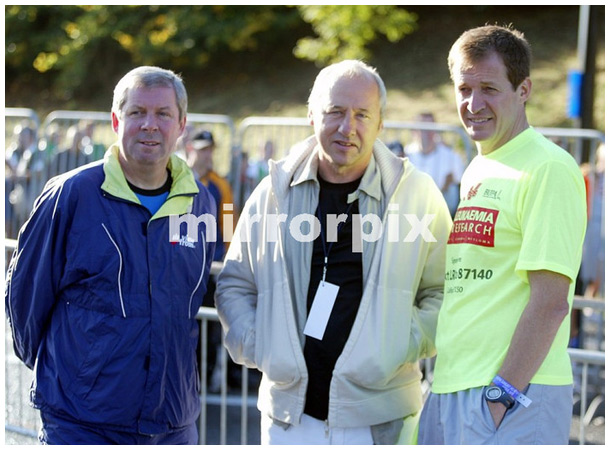 John Motson and Mark Knopfler start the race: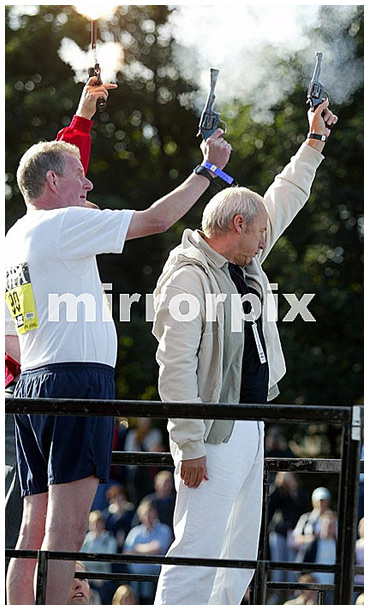 12.11.2003
Bill Wyman (former Rolling Stones bass player) and the Rhythm Kings played at the Royal Albert Hall 2003 with various guest musicians. Mark Knopfler was one of the guest musicians, playing guitar on three non-Knopfler songs and in between he performs his own song Baloney again. This was the first concert for Mark after his motor cycle accident on 17th March 2003.

Songs that featured Mark:

Baloney Again (Mark on vocals)
Any way the wind blows
Muleskinner blues
Tear it up

The right picture was taken during the rehearsals for the show: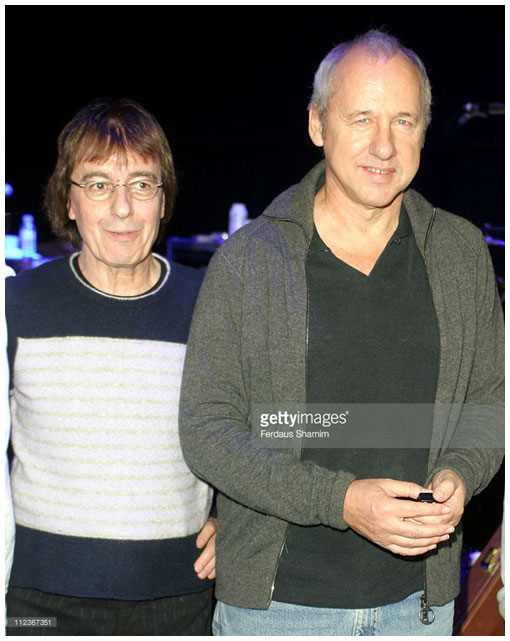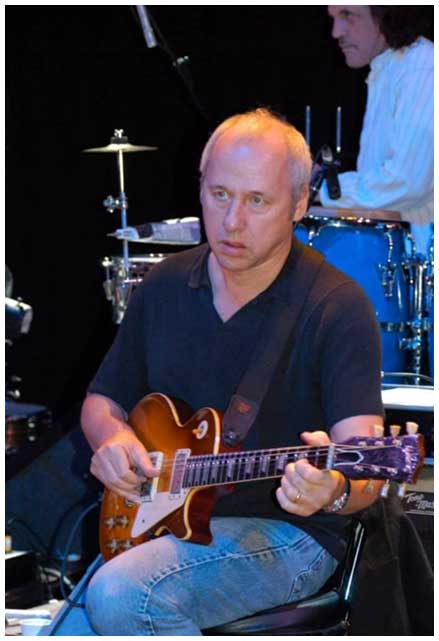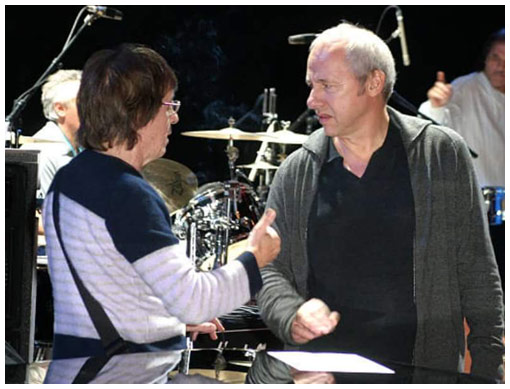 21.06.2004
Mark Knopfler performed two songs at the Lonnie Donegan Tribute show at the Royal Albert Hall, London, UK on the 21st June 2004. The first song was a Lonnie Donegan song, Darlin' Corey, with Mark Knopfler, Joe Brown and Lonnie's band. Mark was joined by Joe Brown alone for Donegan's gone, a song about Lonnie from the then forth-coming Shangri-La album.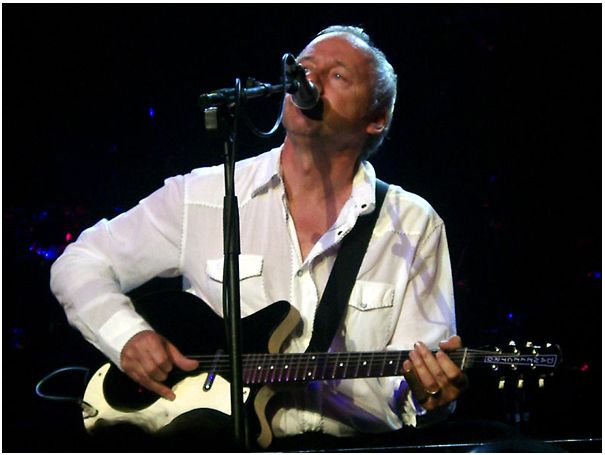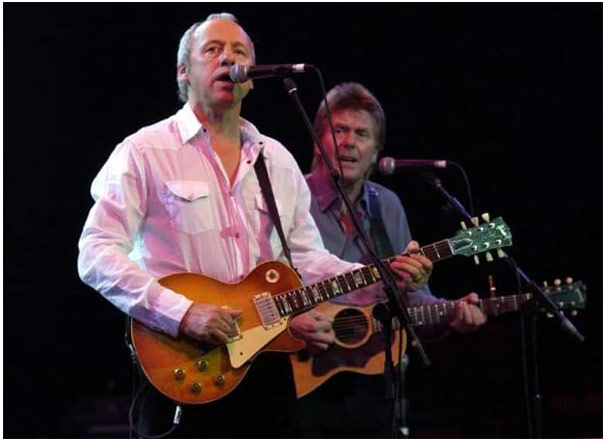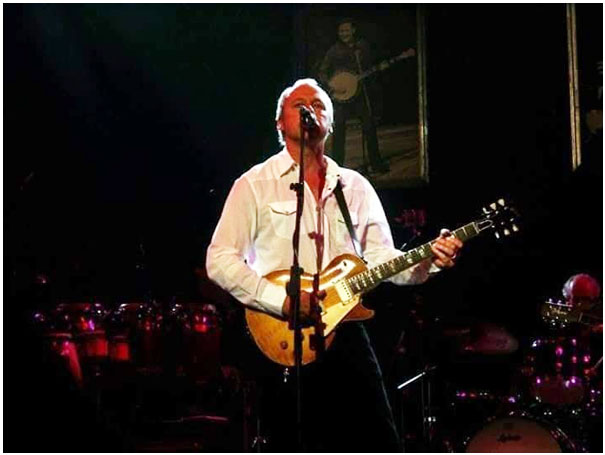 Nice picture of Mark together with Roger Daltrey: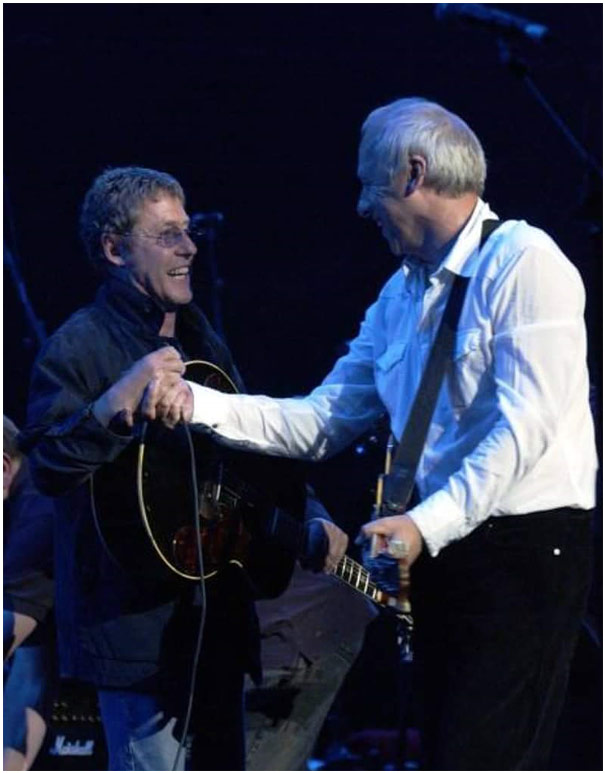 xx.12.2004
On 5th July 1954, guitarist Scotty Moore, bass player Bill Black and a young man from Tupelo, Mississippi, by the name of Elvis Aaron Presley recorded That's all right at the Memphis Recording Service – and the world was never to be the same again. Now, in another music city's most celebrated studio, Moore and a clutch of Rock & Roll's most famous sons pay tribute to that young man and the music he brought to live. Mark Knopfler played two tracks. Mark and Scotty were joined by Graeme Broad on drums, Bill Wyman on bass and Albert Lee on guitar. They played Blue moon of Kentucky and Baby let's play house. Recorded at Abbey Road studios, London, UK, December 2004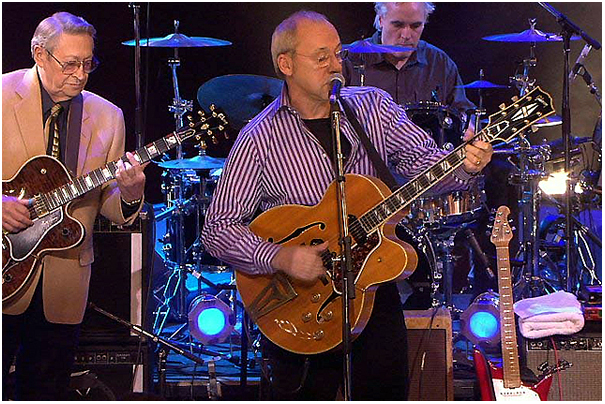 12.01.2005
On 12th January 2005, Mark Knopfler played Going Home at the opening of Alan Shearer's bar at St. James's Park. Mark was joined by Alan Clark on keyboards. Going Home is the unofficial anthem of football club Newcastle United.
See here for an internet article two days before the opening: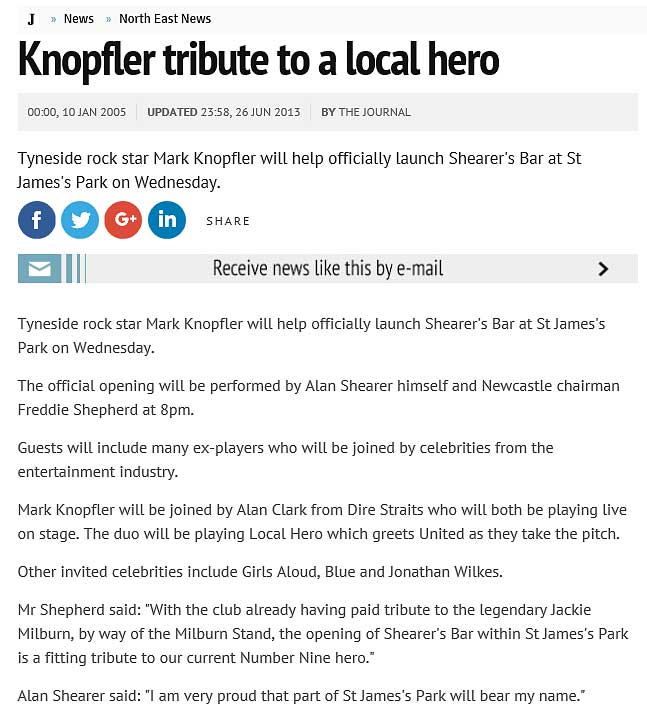 Mark Knopfler and Alan Shearer: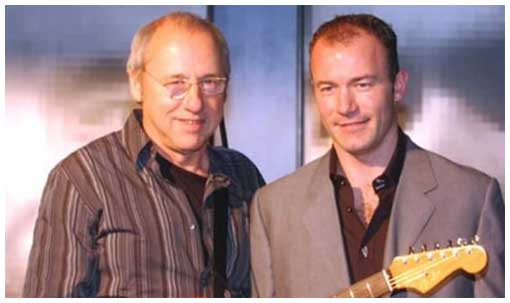 Mark during his performance: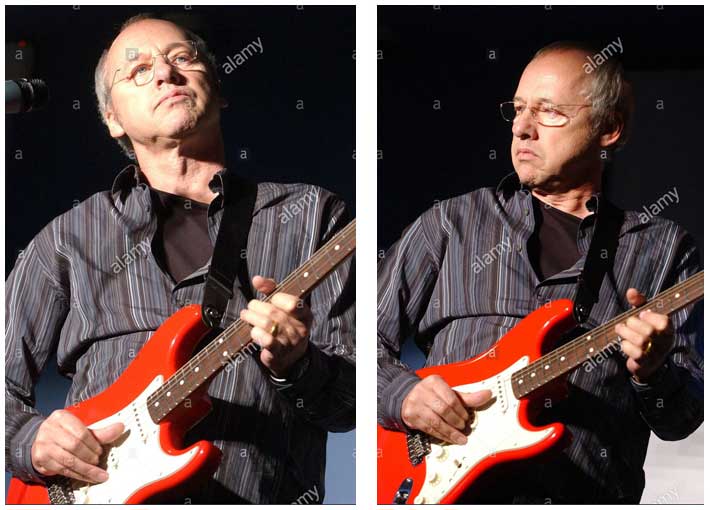 09.03.2006
On 9th March 2006, Mark Knopfler made a special appearance at a charity event, raising £20,000 in the process. The star-studded gala in aid of Starlight Children's Foundation was hosted by comedian and playwright Ben Elton, and raised enough funds to fulfill the dreams of one hundred seriously and terminally ill children. The event took place at the London Hilton on Park Lane hotel, London, UK. Eighteen year old James Mayley was invited along to the evening to have his Starlight wish granted. James, a devoted Knopfler fan, has spent the last two years fighting a Ewing's sarcoma. His wish was for a hot rod red, left-handed Stratocaster guitar. His day took an exciting and unexpected turn when his hero presented the guitar in person! Knopfler then took to the stage in front of the 650-strong audience with an electron blue Standard Stratocaster guitar, raising £20,000 for Starlight Children's Foundation. The song he played on this guitar was Wild theme from his Local hero soundtrack. The event, named The Starlight Ball, was a resounding success, raising over £300,000 for Starlight's seriously and terminally ill children.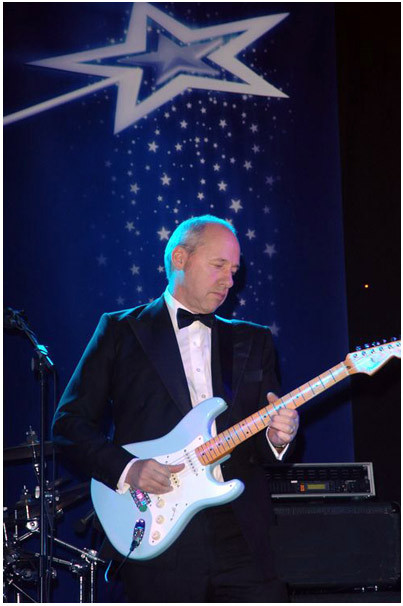 20.09.2006
Mark Knopfler performed an intimate and "acoustic" (without a drummer) benefit concert for a sold out crowd at Boothbay Harbor's Opera House on 20th September 2006. All proceeds from this sell-out concert were used to benefit The Opera House Challenge, a fundraising effort with a goal of $500.000 and an approaching deadline of 30th September 2006. The show managed to raise above $150.000 for the Opera House fund. Apart from the fact that this was a unique charity concert, it also features various songs that Mark never performed live before and after this show.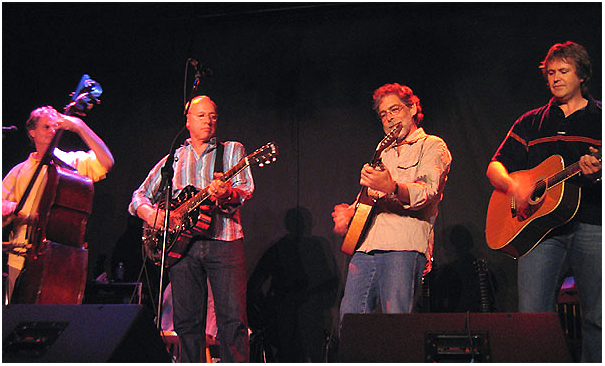 Setlist:

Done with Boneparte
Sailing to Philadelphia
Donegan's gone
Rüdiger
The trawlerman's song
Romeo and Juliet
Song for Sonny Liston
Marbletown
Devil baby
Baloney again
Postcards from Paraguay
Whoop de doo
All that matters
A place where we used to live
Wild theme
If this is goodbye

Line-up:

Mark Knopfler: guitars/vocals
Guy Fletcher: keyboards
Richard Bennett: guitar
Glenn Worf: bass






03.06.2007
Mark Knopfler appeared at the Hay-on-Wye Literary Festival in Wales on 3rd June 2007. Mark was on stage for around an hour, interviewed by Matthew Evans. Accompanied by Guy Fletcher, Mark spoke of his career in music and played some live music.
Setlist:

Donegan's gone (excerpt)
Secondary Waltz
Rüdiger (excerpt)
Sailing to Philadelphia (excerpt)
Romeo and Juliet (excerpt)
Going home
Song for Sonny Liston


Line-up:

Mark Knopfler: guitars/vocals
Guy Fletcher: keyboards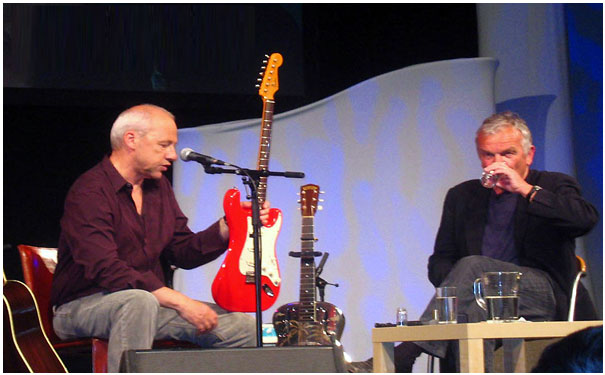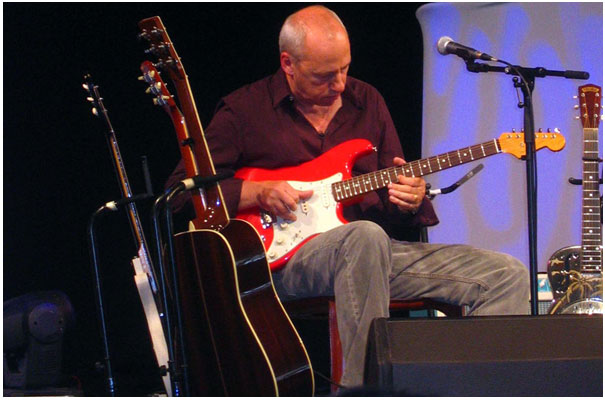 24.09.2008
Mark Knopfler was among the guests appearing at Joe Brown's 50th Anniversary Celebration Concert at the Royal Albert Hall in London on the 24th of September. Mark and Joe played Darling Corey, Donegan's gone and A picture of you.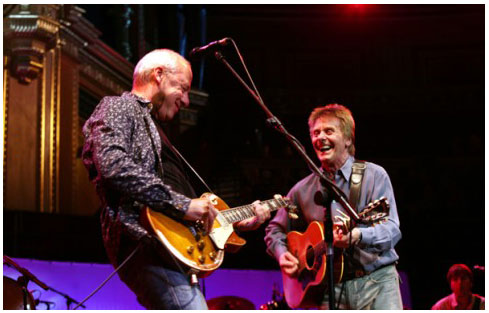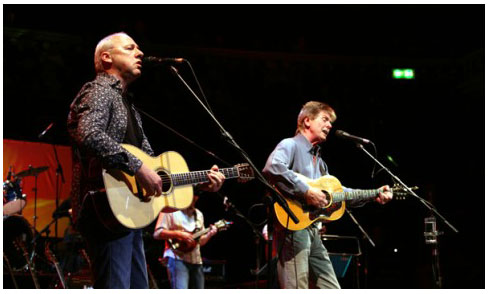 xx.10.2008
I have no proof that this concert actually took place, but according to a person on Facebook, Mark Knopfler played a special concert for the Australian Ian Gowrie-Smith in in Estcourt, South Africa in October 2008. Gowrie-Smith, who made his multibillion-dollar fortune developing pharmaceutical and mining companies, owns a number of commercial and residential properties in Australia and overseas. A self-confessed property romantic who admits to making some investment decisions based on how he felt at the time, Gowrie-Smith's property holdings include some unique investments, such as a palace in the city centre of Lithuania and a game reserve with trout fishing in South Africa. In an interview Ian says:
"I was celebrating my 60th birthday with a group of friends in a game reserve in Africa, and we had no Wi-Fi or phone connection for the whole time. Nobody could reach us to tell us the financial world was in a meltdown and that the global financial crisis was underway. We were blissfully unaware the markets were crashing down."

According to another article on the internet, the party was held at the lodge and attended by 120 family members and friends. And according to the Facebook source, Mark Knopfler and band (unsure who, but he recalls John Illsley was there too) played for five (!) hours, which is something I find pretty hard to believe, but who knows...

11.11.2009
The Royal British Legion organised an event called Silence in the Square, which aims to achieve a re-instatement of the traditional two minute silence held at 11 am on the 11th of November in remembrance of the fallen in the two twentieth-century World Wars and other conflicts. In 2008 the event drew 10.000 participants for a very moving ceremony involving performances, readings and an invitation to the public to scatter poppies on the water of the fountains in central London's Trafalgar Square. Mark Knopfler, with members of Only men aloud and the Trevor Roberts School choir, performed Remembrance day in Trafalgar Square shortly before 11 am, 11th November 2009.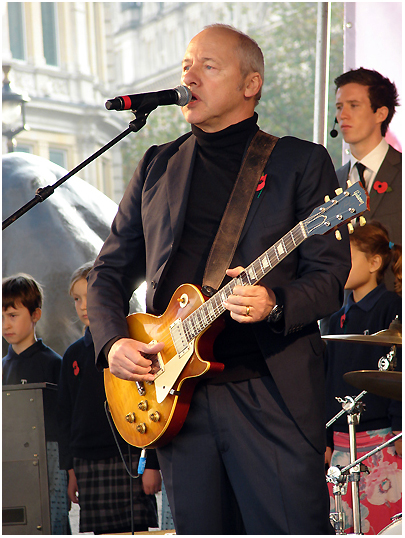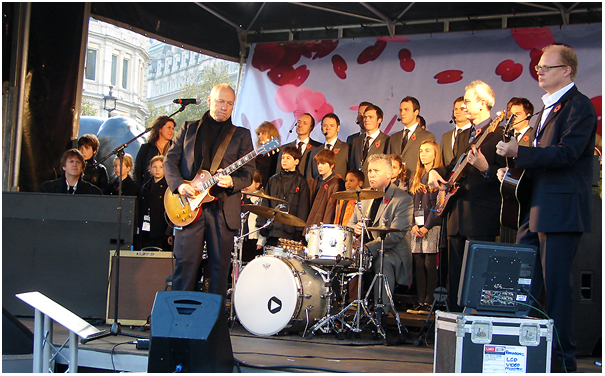 Line-up:

Mark Knopfler: guitars/vocals
Guy Fletcher: keyboards
Luke Brighty: guitar
Dudley Philips: bass
Danny Cummings: drums

07.02.2010
Mark Knopfler was in Newcastle for a surprise appearance in the annual Sunday for Sammy concerts at the City Hall. A star-studded spectacular featuring the cream of North East talent performing music and comedy in memory of Sammy Johnson to raise funds for the next generation of performers. It's ten years since the first Sunday for Sammy show was staged at Newcastle City Hall to celebrate the life of Geordie actor Sammy Johnson following his sudden death in 1998. Since then, the bi-annual show has gained legendary status and the cast list has featured the cream of North East stage, screen and musical talent. This is the fifth in a series of bi-annual sell out shows, featuring music, stand-up comedy and sketches, the concert celebrated northern wit and everything Geordie. The audience was delighted by a surprise appearance by Geordie legend Mark Knopfler who said "It's a delight to be part of such a wonderful event – made special because it's part of coming home". Knopfler, as he was referred to by the cast, was the anchor of the three-hour show's running joke. Mark comes to the stage several times, playing around 30 seconds his well known songs Walk of life, Sultans of swing and Money for nothing, before being thrown off the stage by a variety of North East celebrities. Tim, his actress wife Denise Welch and footballing legend, Alan Shearer (who appeared via a pre-recorded segment on the giant screen which flanked the stage) all took their turns to dismiss his tuneful efforts, before telling him to: "Play your hit, man!". After the third telling-off, Mark thrilled every Geordie in the place by playing the anthemic Going home with the help of the accomplished North East-soaked house band behind him.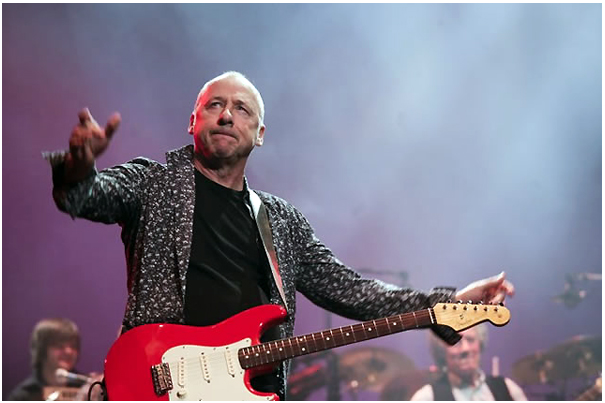 19.05.2011
On the 19th May 2011, Mark Knopfler played a special private charity gig before an invited audience at the newly opened Corinthia hotel in London. The event was in aid of Mariella Frostrup's The Gender Rights & Equality Action Trust (GREAT). GREAT aims to foster gender equality and raise awareness and funds to support grass roots gender equality projects in Africa and beyond. Among the highlights of the evening was the auction of Mark's guitar which he used on his performance. The guitar was sold for a very impressive £75,000!

Setlist:

Sailing to Philadelphia
Romeo and Juliet
Get lucky
Song for Sonny Liston
Marbletown
Wild theme

Line-up:

Mark Knopfler: guitars/vocals
Guy Fletcher: keyboards
Luke Brighty: guitar
John McCusker: fiddle, flute
Danny Thompson: bass

28.03.2012
Mark Knopfler played as a guest musician on a concert of Steve Phillips and The Rough Diamonds at the Grosvenor Hotel, Robin Hood's Bay, North Yorkshire, UK on 28th March 2012. The show was (partly) recorded for the documentary Guitar stories.
Unsure which songs were played by Mark but at least Can't be satisfied and Will you miss me.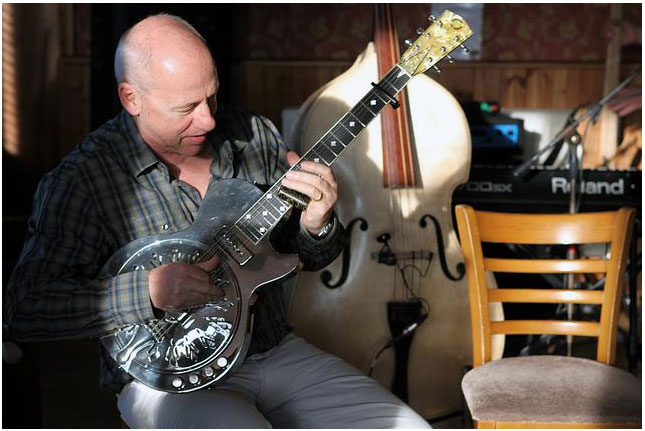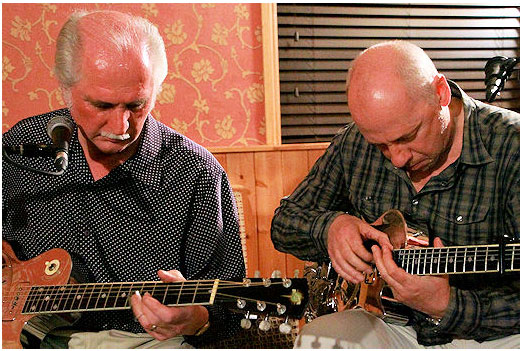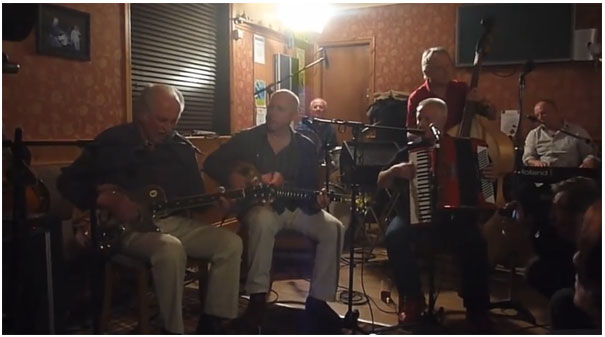 06.09.2012
Land Rover's first ever 'hybrid' is part of the new fourth generation Range Rover line-up which was given a celebrity rock-star reception at a special gala launch in London's Richmond Park on a day which saw Jaguar Land Rover and Honda announce new investments totalling nearly £700 million in their British factories. Dire Straits pop musician and Range Rover owner Mark Knopfler was leading the celebrations with a concert to 500 guests.
Setlist:

Walk of life
Sailing to Philadelphia
Romeo and Juliet
Sultans of swing
Brothers in arms
Money for nothing
So far away
Going home

Line-up:

Mark Knopfler: guitars/vocals
Guy Fletcher: keyboards, vocals
Richard Bennett: guitar
Glenn Worf: Bass, vocals
Ian Thomas: drums
Nigel Hitchcock: saxophone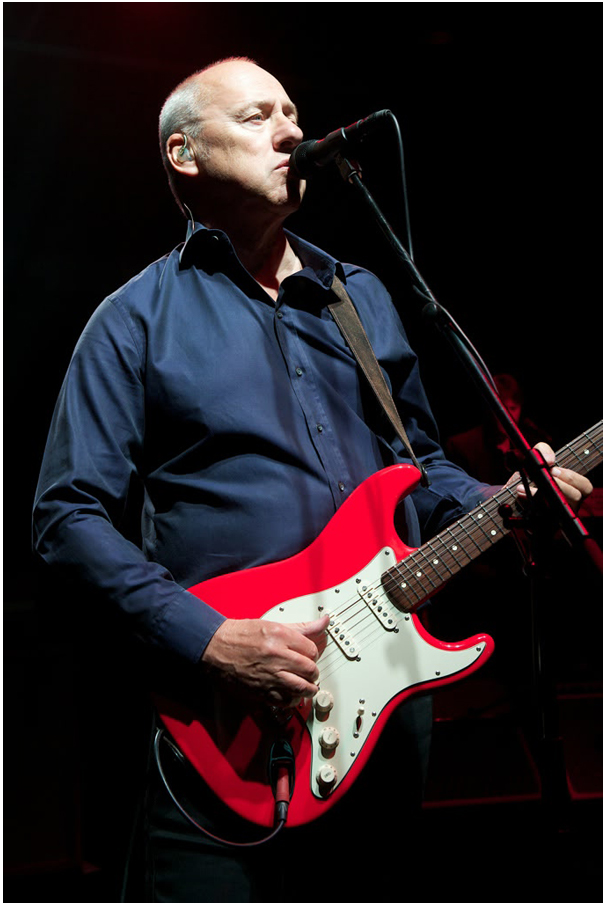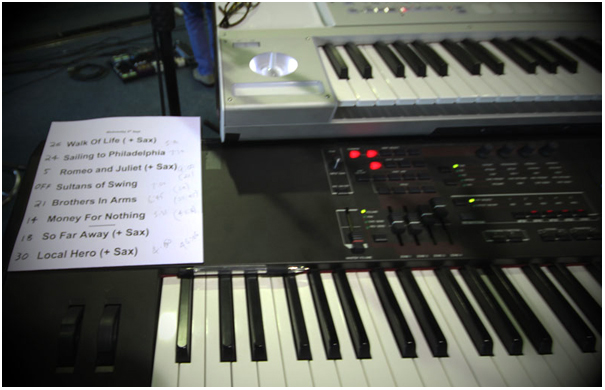 The performance of Mark for Range Rover was related with the fact that Mark choose the latest Range Rovers to have the band driven all across Europe for the Privateering tour.
Not much later, Range Rover launched a website to promote both the latest Range Rover as well as Mark's Privateering album. They also have an add in the Privateering tourbook, nice sponsering!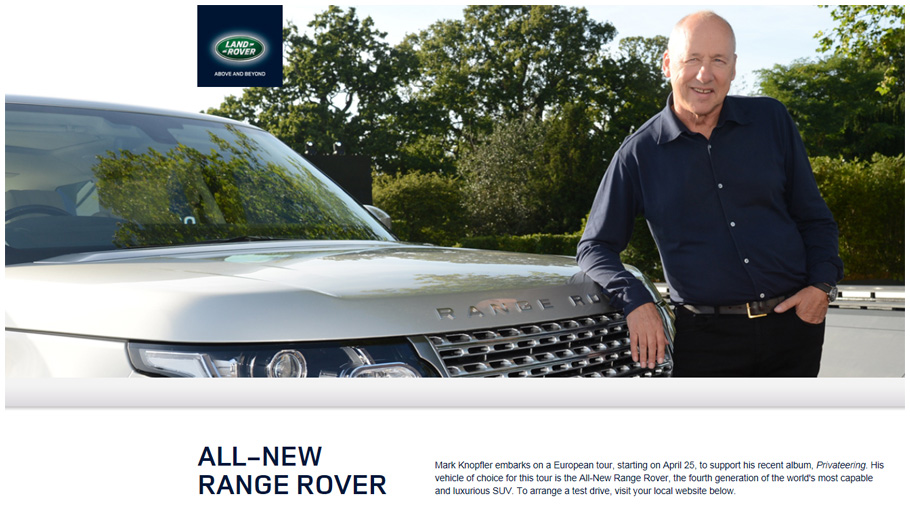 25.09.2012
Mark played a showcase at Music Bank, London for lucky winners of a variety of competitions run in various non-UK countries by local labels and promoters.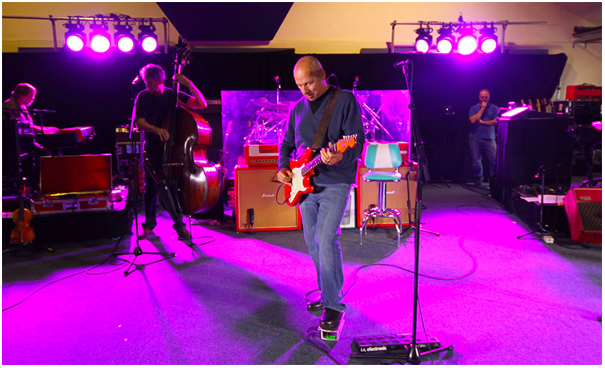 Setlist:

What it is
Corned beef city
Yon two crows
Privateering
Redbud tree
I used to could
Song for Sonny Liston
Daddy's done to Knoxville
Hill farmer's blues
Haul away
Marbletown
Miss you blues
So far away

Line-up:

Mark Knopfler: guitars/vocals
Guy Fletcher: keyboards, vocals
Richard Bennett: guitar
Glenn Worf: Bass, vocals
Jim Cox: piano
Ian Thomas: drums
John McCusker: fiddle, cittern, whistle
Mike McGoldrick: flute, uilleann pipes, whistle

26.09.2012
Mark played a showcase at Music Bank, London for lucky winners of a competetion in conjunction with amazon UK.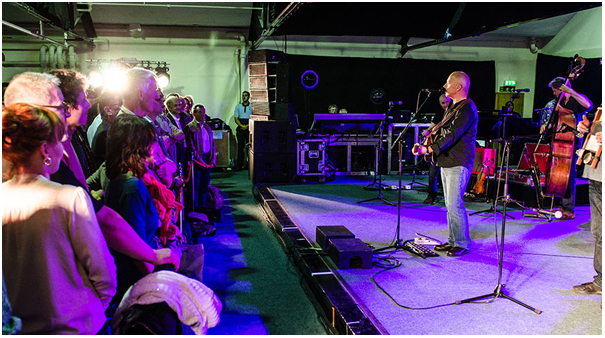 Setlist:

What it is
Cleaning my gun
Hill farmer's blues
Privateering
Redbud tree
I used to could
Song for Sonny Liston
Daddy's gone to Knoxville
Kingdom of gold
Haul away
Marbletown
Brothers in arms
So far away
Line-up:

Mark Knopfler: guitars/vocals
Guy Fletcher: keyboards, vocals
Richard Bennett: guitar
Glenn Worf: Bass, vocals
Jim Cox: piano
Ian Thomas: drums
John McCusker: fiddle, cittern, whistle
Mike McGoldrick: flute, uilleann pipes, whistle

18.02.2013
Mark Knopfler was among numerous celebrities from the worlds of football and entertainment who came together at The Sage in Gateshead to celebrate what would have been the 80th birthday of former Newcastle United and England football manager, the late Sir Bobby Robson. The event raised funds for the Sir Bobby Robson Foundation and the Alan Shearer Foundation. Mark came on stage with Ruby Turner for Ruby's rendition of the classic Try a little tenderness and then joined with the house band to perform Going home.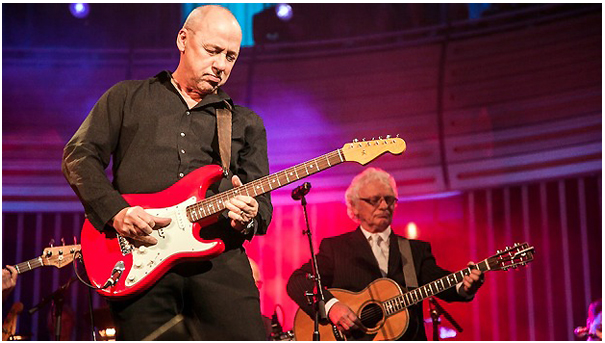 27.09.2013
Mark Knopfler, accompanied by Guy Fletcher, took the stage at the Bridport Arts Centre (Dorset, UK) on 27th September 2013. Polly Gifford, Bridport Arts Centre director, hosted the event and explored Mark's varied career. She said: "I'm thrilled to have the opportunity of talking on stage to global rock star Mark Knopfler about song writing and his amazing career, in aid of our building fund. We're very grateful to Mark for giving his time for this special fundraising event." Answering gentle prompts from Polly Gifford, for 90 minutes, Mark talked about his life and career interspersed with excerpts from a handful of his best-known songs: Sailing to Philadelphia, Brothers in Arms, Rüdiger, Romeo and Juliet and Sultans of Swing. Thinking of himself as a songwriter rather than a guitarist, he explained what makes him tick and how songs are like children in that you create them and then they go off and make a life of their own with their audiences.


Line-up:

Mark Knopfler: guitars/vocals
Guy Fletcher: keyboards
Mark Knopfler and Polly Gifford: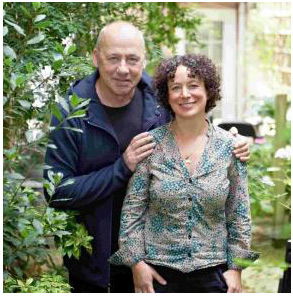 A few fans were lucky enough to meet Mark Knopfler who kindly signed some items. Below a picture of Mark outside by his car (taken by Mandy Anstey) and the three hang-tags of the Fender MK Signature Stratocaster owned by Steve Anstey plus a picture of the real deal.
Steve owns SE00616, SE00860 & SE03805.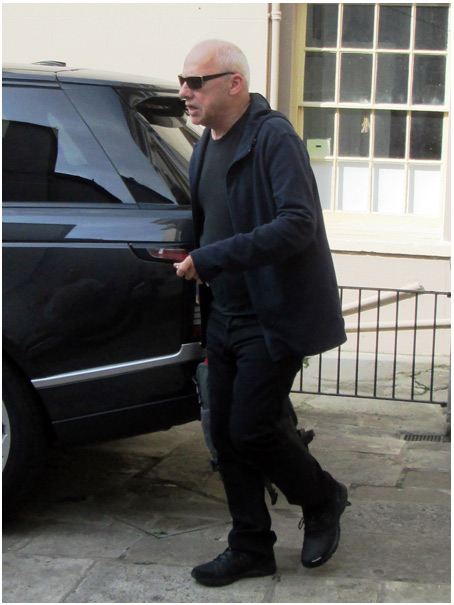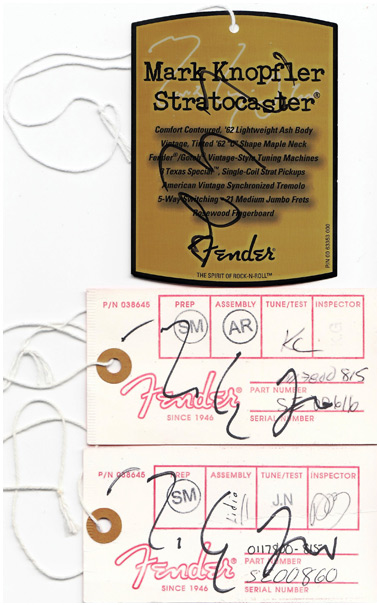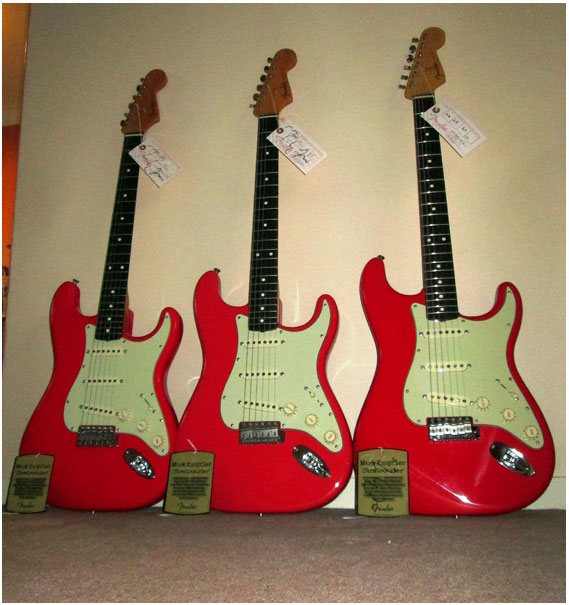 n

And Mark leaving again in his brand new Range Rover: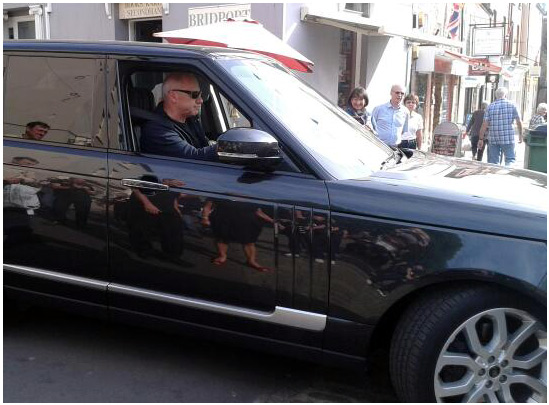 22.10.2013
Mark Knopfler was hired for a private corporate event in Scottsdale, Arizona, USA, 22nd October 2013. Not much details are available, but it is a remarkable performance as it was played just before the start of the small Privateering tour in the USA. Two YouTube videos are available showing Sultans of swing and Brothers in arms. It looks like someone paid a fair amount of money to make this performance possible. Even Guy Fletcher did not want to go into details about this show. When asked about it, he replied: "I am contractually obliged to keep quiet. In the current economic climate, it's prudent for billionaires to keep their lavish party spending under wraps. G."
From what can be seen on the videos, Jim Cox, Mike McGoldrick and John McCusker were not present. Maybe indicating it was a performance of just / mainly Dire Straits songs?
The pictures below are screenshots from the YouTube videos, it is an outdoor show and with drinks from the audience on the stage.
Sultans of swing: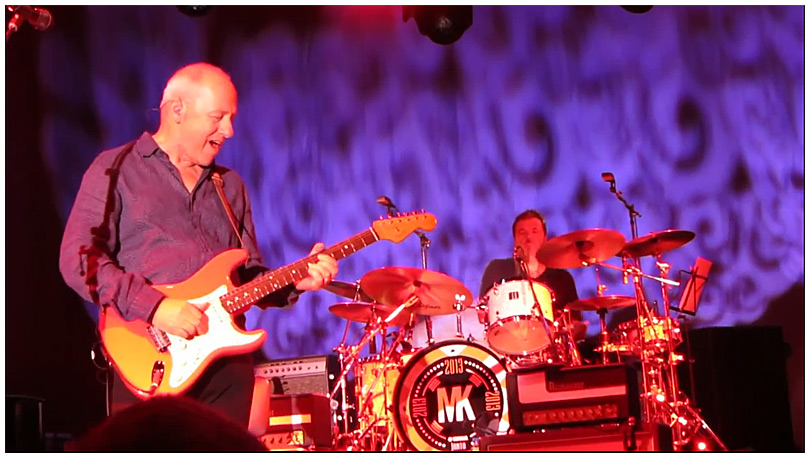 Brothers in arms: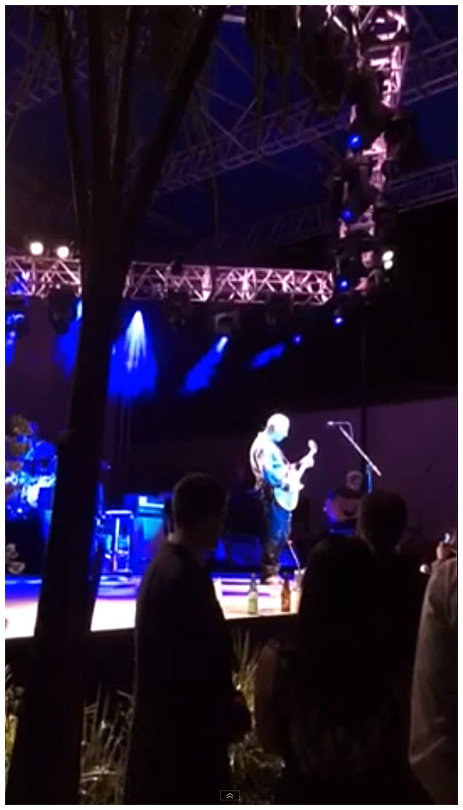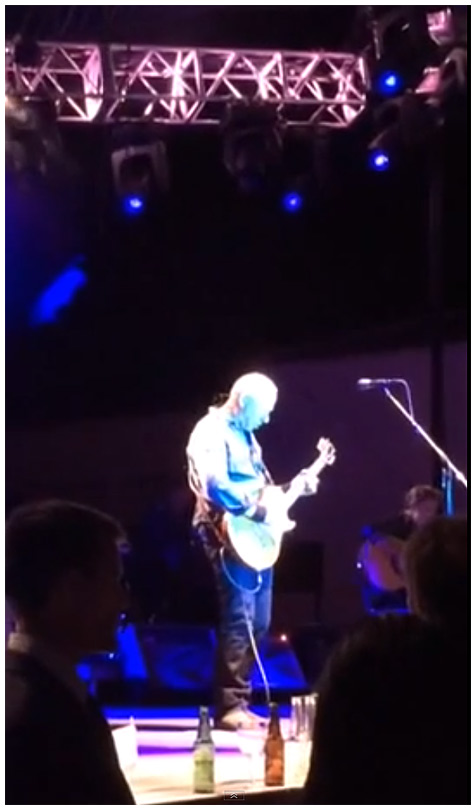 And two photos taken with a photo camera: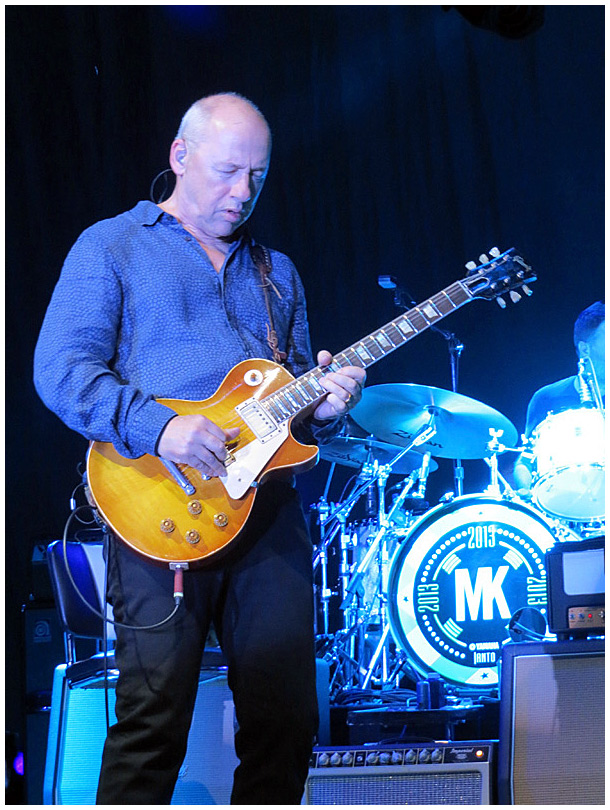 Setlist:


Unknown, apart from:
Sultans of swing
Brothers in arms


Line-up:

Mark Knopfler: guitars/vocals
Guy Fletcher: keyboards, vocals
Richard Bennett: guitar
Glenn Worf: Bass, vocals
Ian Thomas: drums
Nigel Hitchcock: saxophone


04.09.2014
Mark Knopfler played at the ceremony of The Great North Run, Tyneside Quayside, Newcastle, UK on 4th September 2014. The event was organized to celebrate the number of runners in the half-marathon's 33-year history passing the one millionth runner. The actual race was held three days after the ceremonie, on 7th September. Knopfler said: "I'm proud to have been a supporter of this great event from the beginning and am looking forward to being there to play Local Hero once more on September 4 when the Bupa Great North Run gets ready to notch up its millionth finish." Great North Run founder Brendan Foster said: "We're absolutely thrilled. Dire Straits' music was our soundtrack in the early days of the Great North Run and that particular track has now become the Great North Run anthem. What better way to kick-off this world first event?" The ceremony was broadcasted on BBC Two on 7th September, as part of its Great North Run coverage.

Mark Knopfler re-released his anthem as a digital-only download to benefit the Future Fund; Going Home (Theme of the Local Hero), Live 2014. All royalties from the release will be donated to the Future Fund, which supports children's cancer research at the Great North Children's hospital and is currently aiming to raise £5.5m to establish the Newcastle University Centre for Childhood Cancer. Great North Run founder, Brendan Foster said: "We're absolutely delighted that the Great North Run theme tune is being re-released to help raise funds for this fantastic cause. "Mark has always been a great supporter of the event and it's brilliant that over 30 years after its first release, this track is going to reach a new audience and help the Future Fund at the same time."

The version on the opening ceremony was played live. Below a picture of the rehearsal in the afternoon and a picture of the actual peformance: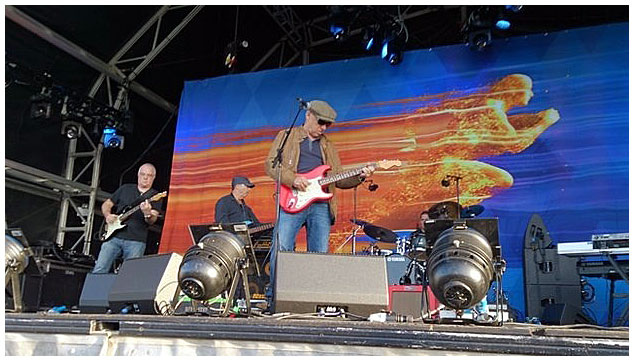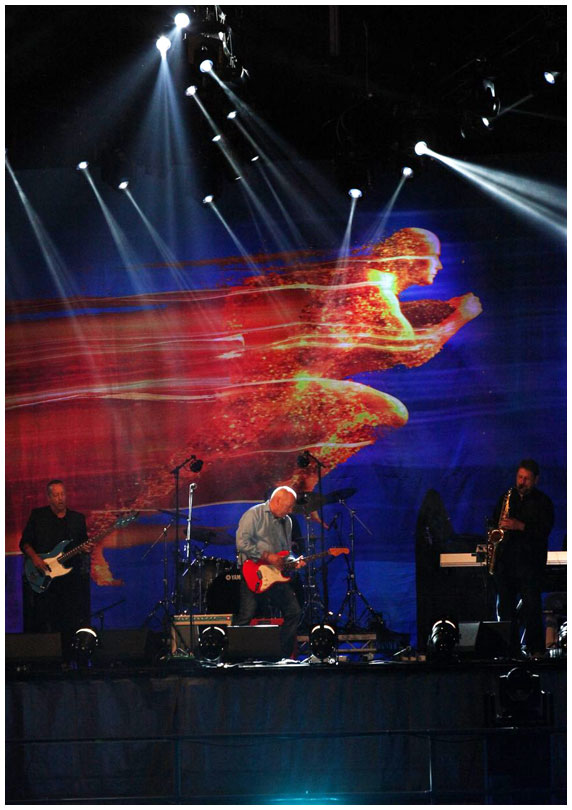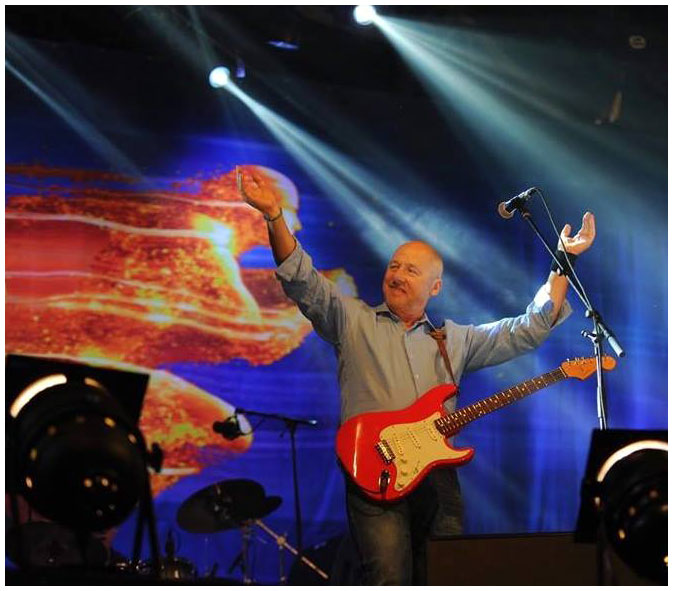 Line-up:

Mark Knopfler: guitars/vocals
Guy Fletcher: keyboards, vocals
Robbie McIntosh: guitar
Dave Bronze: bass
John Roberts: drums
Nigel Hitchcock: saxophone

28.10.2014
Mark Knopfler has played a guitar version of the Last Post in tribute to the 17,000 Northumberland Fusiliers who died in the First World War. Recorded in Mark´s own British Grove Studios, London, UK.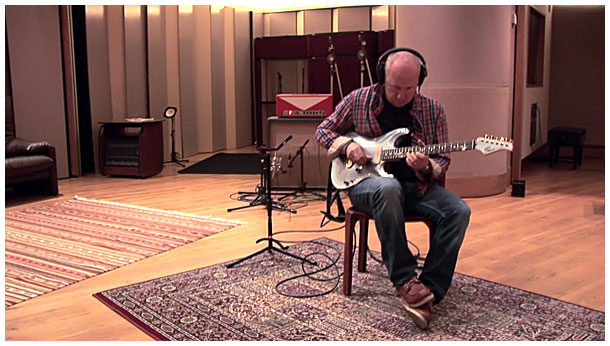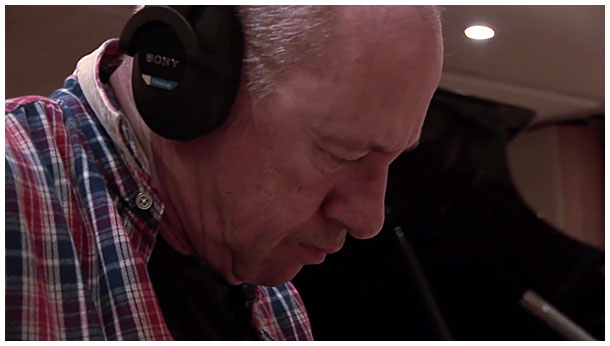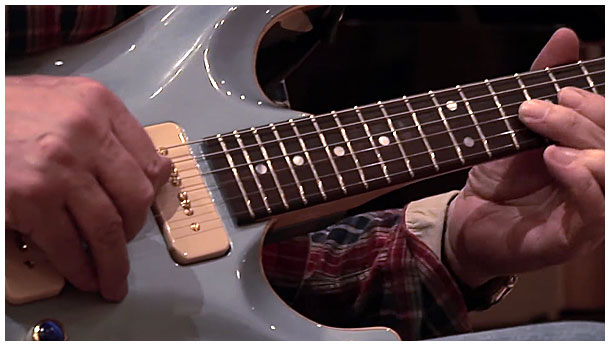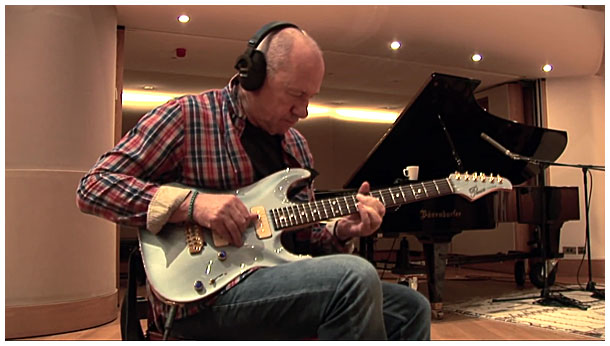 28.11.2014
It was standing room only at ArtsEd when a rock legend dropped by for an informal music session which left Sixth Form students and staff buzzing. Former Dire Straits frontman and ArtsEd parent, Mark Knopfler, thrilled the audience in a packed Andrew Lloyd Webber Foundation Theatre when he played songs from his 35-year career, chatted about his songwriting techniques and recounted a few stories of a life on the road, gigging in just about any country you'd care to mention. Accompanied by long-time collaborator and keyboardist Guy Fletcher, his manager Paul Crockford, and surrounded by five guitars, Mark played a number of his famous tunes, including Brothers in arms, Money for nothing, Sailing to Philadelphia and Rüdiger and Romeo and Juliet. It's not all been money for nothing though for the man who's come a long way since his early days on the pub and club scene in the North East, as he was keen to stress to the aspiring students preparing for a life in entertainment. "You've got to really want to do this," was Mark's advice. "To want it so much nothing will stop you. You know, when you're playing at some gig in Spain with food poisoning, you've really got to want to be there." To further emphasise his point, Mark shared a moment from his early days when he was hitching from a gig in Penzance back to Newcastle – on a snowy Christmas Day. His last lift had left him on a motorway ramp with half his journey still to go and no prospect of getting home soon. "Nothing was moving, no cars, nothing. I was completely alone but I told myself, 'well, this is what you wanted, you chose this.'"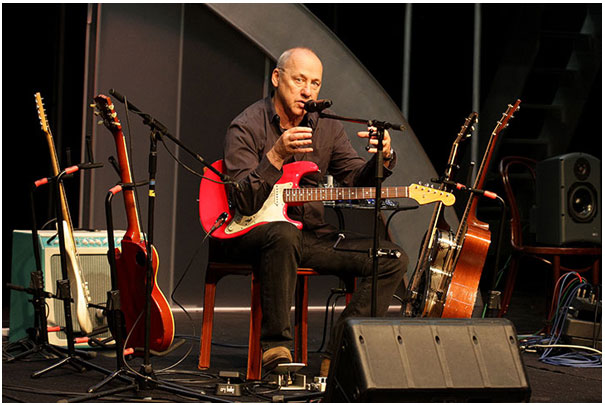 15.04.2015
Mark Knopfler did a performance at the world premiere of the new Volkswagen Transporter T6 at the AutoRAI in Amsterdam.

An article on the internet wrote: Automotive world premiere with glamorous history and fantastic guitar-rock concert: at an impressive gala motoring event attended by around 500 guests from 30 countries, Volkswagen Commercial Vehicles today unveiled the new generation T series in Amsterdam. The informative part is followed by emotion: Mark Knopfler, multiple Grammy winner and founder of the legendary rock group Dire Straits, performes at the launch of the sixth generation of the T series! Incidentally: like the 'Bulli', the cult musician is 65 years old – but precisely like the former still going strong and more in demand than ever: Knopfler's new album 'Tracker' is at number one in the charts in Germany and in the top three in Europe. The global star (136 million records sold) shows at once why he is one of the world's best electric guitarists: it is the start of a unique concert by the 'King of the Guitar', featuring one global hit after another: Walk of Life, So far away, Sultans of Swing… The guests sing along to his rock anthems, wave lighters in the air- having a once in a life- time moment. A classic performer of the modern era making his mark - like the T series sixth generation!
On the 16th April 2005, Guy Fletcher wrote on his forum:
"The liaison with VW will benefit the tour greatly, with ground transportation of the highest standard."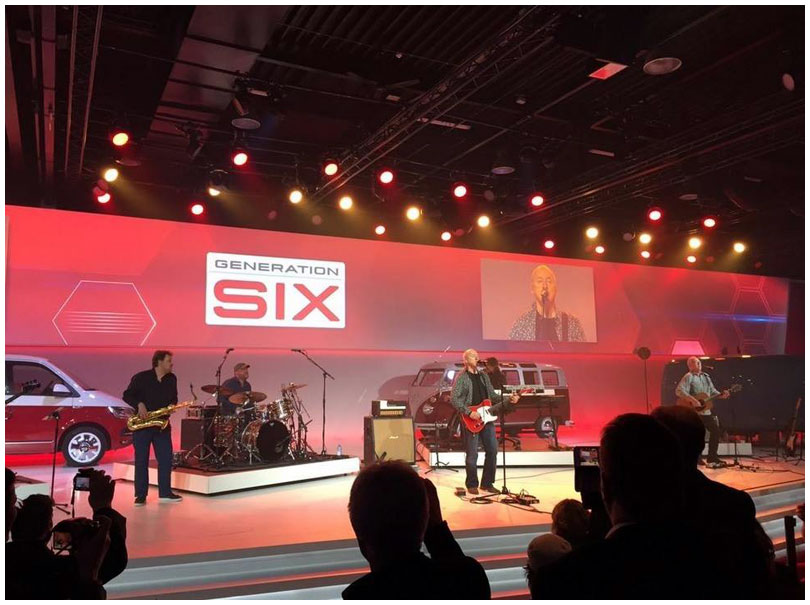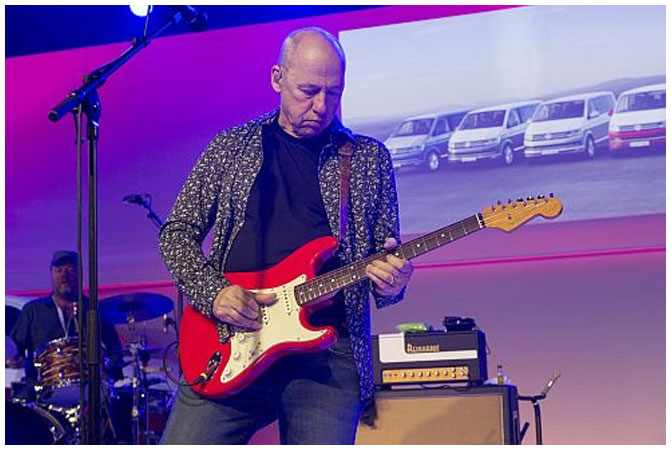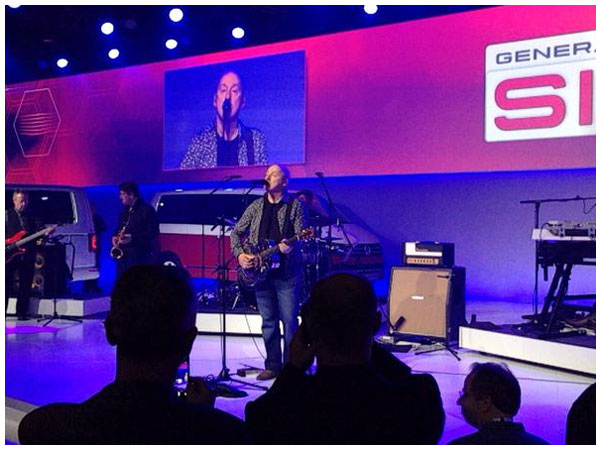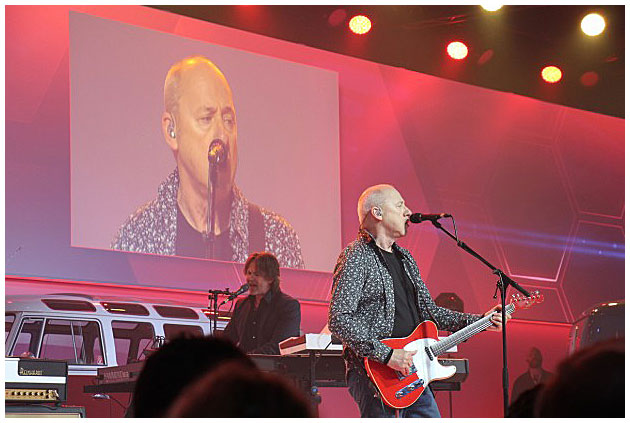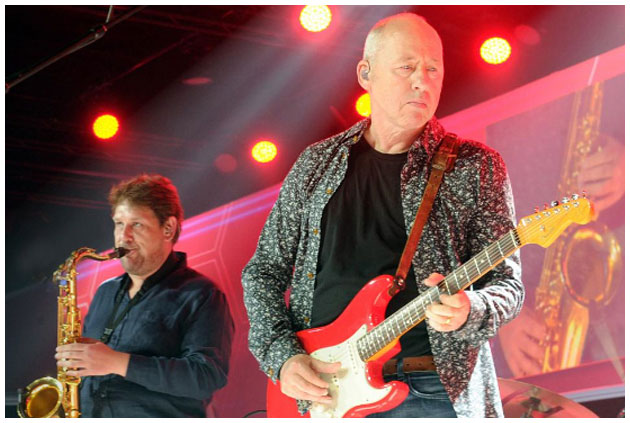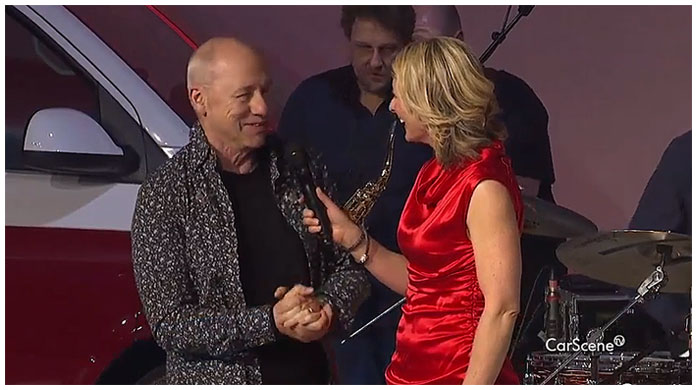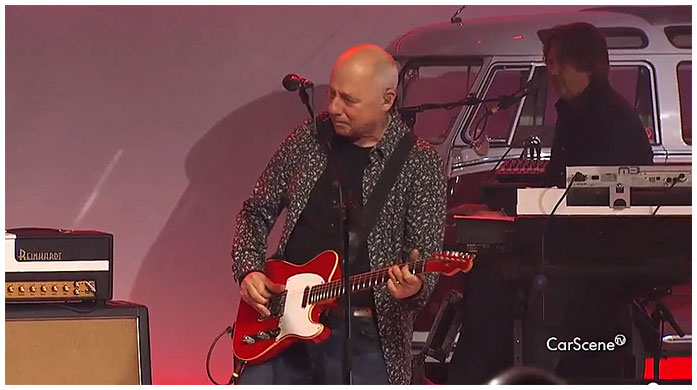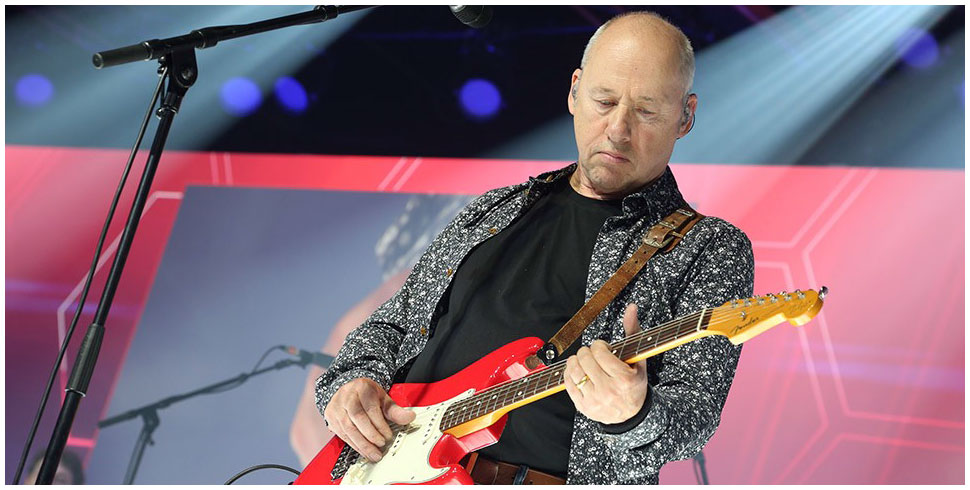 Setlist:



Walk of life
Romeo and Juliet
Sultans of swing
Your latest trick
So far away
Going home

Line-up:

Mark Knopfler: guitars/vocals
Guy Fletcher: keyboards, vocals
Robbie McIntosh: guitar
Dave Bronze: bass, vocals
Ian Thomas: drums
Nigel Hitchcock: saxophone


12.05.2015
Mark played a special concert at the Elstree Studios, London as a final rehearsal for the Tracker tour that started 3 days later. It was for an audience of about 300 people, all lucky winners of a competetion in conjunction with Amazon and other sites.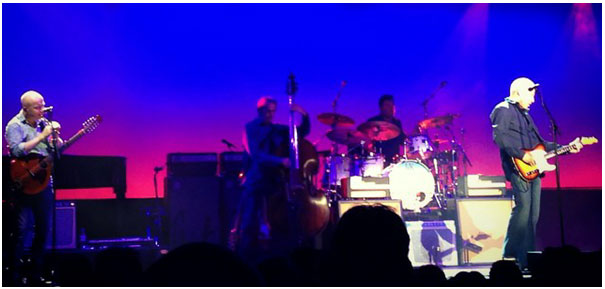 Setlist:

Broken bones
Corned beef city
Privateering
Father and son
Hill farmer's blues
Kingdom of gold
Seattle
Skydiver
Terminal of tribute to
I used to could
Romeo and Juliet
Sultans of swing
Mighty man
Postcards from Paraguay
Marbletown
Telegraph Road
Wherever I go (with Ruth Moody)
Our shangri-la (with Ruth Moody)
Going home

Line-up:

Mark Knopfler: guitars/vocals
Guy Fletcher: keyboards, vocals
Richard Bennett: guitar
Glenn Worf: Bass, vocals
Jim Cox: piano
Ian Thomas: drums
John McCusker: fiddle, cittern, whistle
Mike McGoldrick: flute, uilleann pipes, whistle
Ruth Moody: guitar, vocals

14.04.2016
The Royal College of Music was delighted to welcome legendary guitarist and songwriter Mark Knopfler for an exclusive masterclass for RCM students, staff and invited guests. Best known as lead singer and guitarist for the renowned British rock band Dire Straits, but also as songwriter, producer and film composer, Mark gave a fascinating insight into his own approach to performance, song writing and composition, recording and guitar playing. He was joined on the stage of the RCM's Britten Theatre by a stellar line-up of commercial rock, pop, jazz and folk musicians, and delighted the captivated audience with a number of his own solo hits. The audience included many RCM composition students who, as part of their course, have the option to study song writing in pop music. The RCM's composition faculty offers an eclectic range of module options, preparing students for diverse portfolio careers. The RCM Composition for Screen course in particular attracts the most talented young film composers from all around the world, with many former students now scoring the biggest movies in Hollywood and Europe.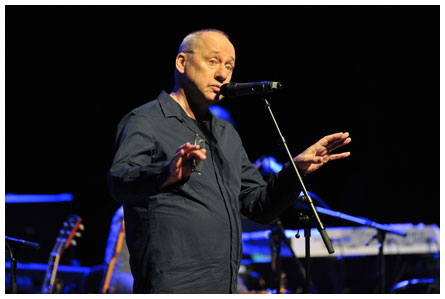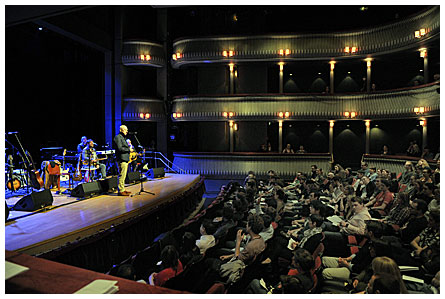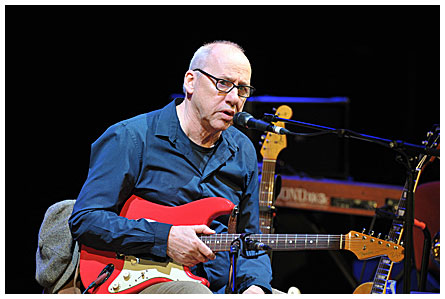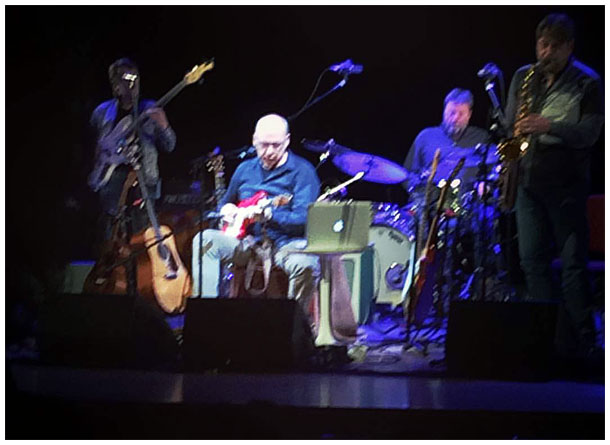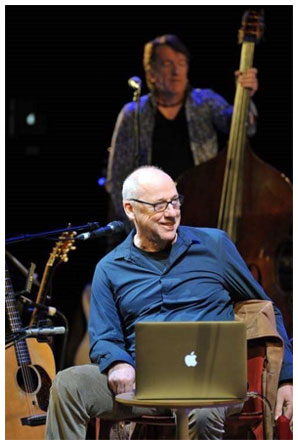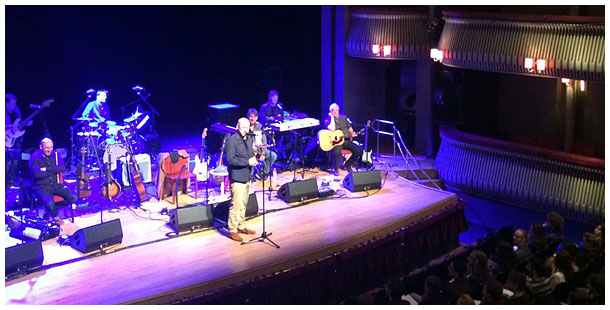 Setlist:

Sailing to Philadelphia
Laughs and jokes and drinks and smokes
She's Gone
Your latest trick
Going Home

Line-up:

Mark Knopfler: guitars/vocals
Guy Fletcher: keyboards, vocals
Robbie McIntosh: guitar
Ewan Vernal : bass
Ian Thomas: drums
John McCusker: fiddle, cittern, whistle
Mike McGoldrick: flute, uilleann pipes, whistle
Nigel Hitchcock: saxophone


27.04.2016
John McCusker was presented with the Good Tradition Award at the BBC Radio 2 Folk Awards. Mark Knopfler joined John and his band to play Haul away at the awards ceremony at the Royal Albert Hall. Also in the band was Mike McGoldrick and Phil Cunningham.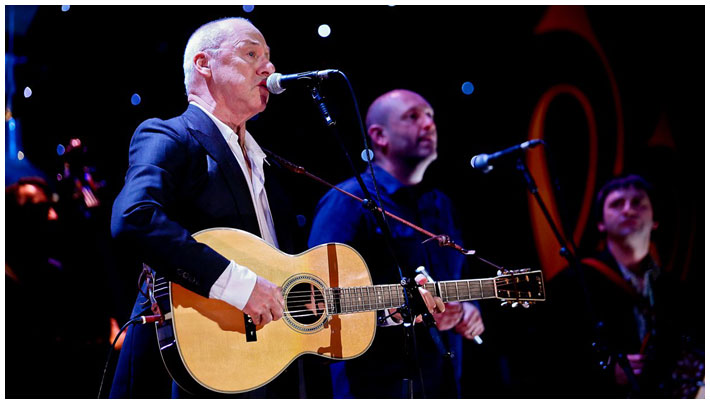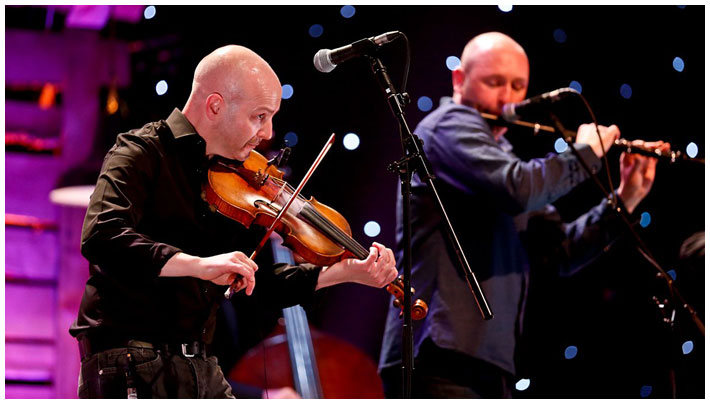 02.07.2016
Mark Knopfler was one of the performers at the Chalke Valley History Fest 2016. It was a combination of a performance and a presentation. Various book covers were shown large on the screen above and behind Mark, which were the the inspiration of particular songs in tone and context. Rick Stroud was the linkman talking with Mark Knopfler between the songs.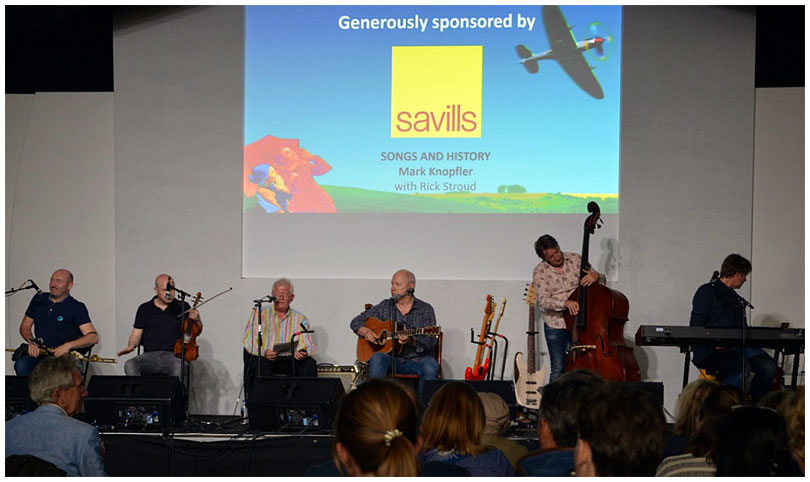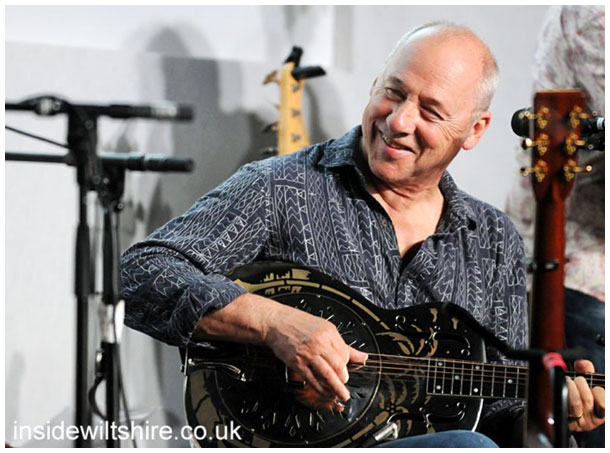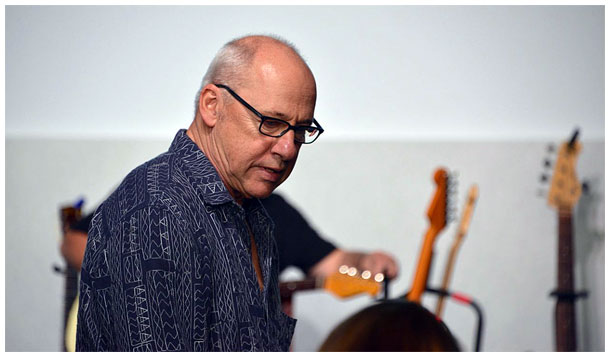 Setlist:

Privateering
Haul away
Mighty man
Sailing to Philadelphia
Done with Bonaparte
Occupation blues
Piper to the end

Line-up:

Mark Knopfler: guitars/vocals
Guy Fletcher: keyboards, vocals
Ewan Vernal : bass
John McCusker: fiddle, cittern, whistle
Mike McGoldrick: flute, uilleann pipes, whistle


28.10.2016
As part of London's three-day Blues Fest, Mark Knopfler was one of many guests appearing with Bill Wyman's Rhythm Kings at London's Indigo at the O2 on the 28th of October in celebration of Bill's 80th birthday. Joe Brown joined Mark for Donegan's Gone and Mark performed Song for Sonny Liston and then there was the premiere of a new song called Playtime Deluxe. Mark used the new Gibson Mark Knopfler 1958 Les Paul for that track aswell.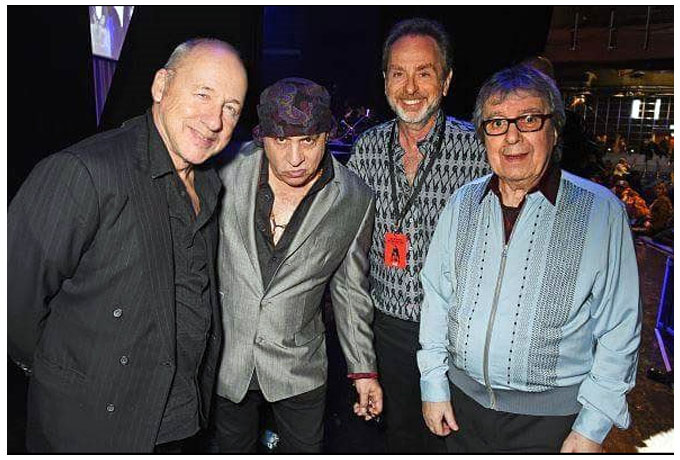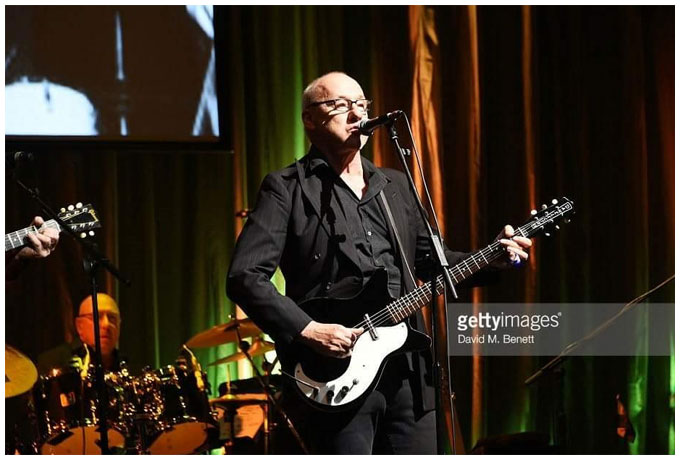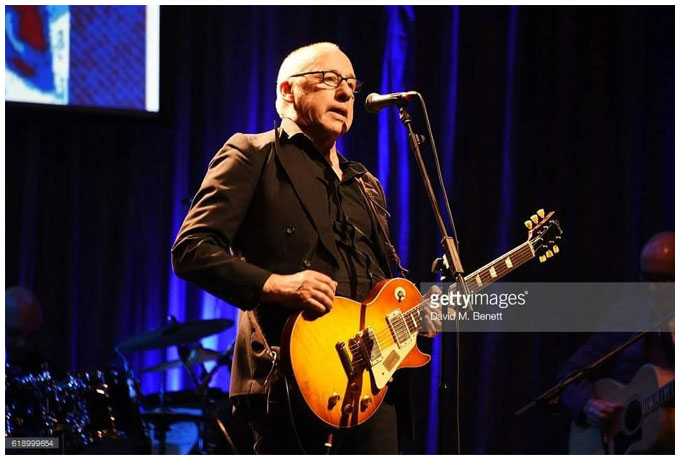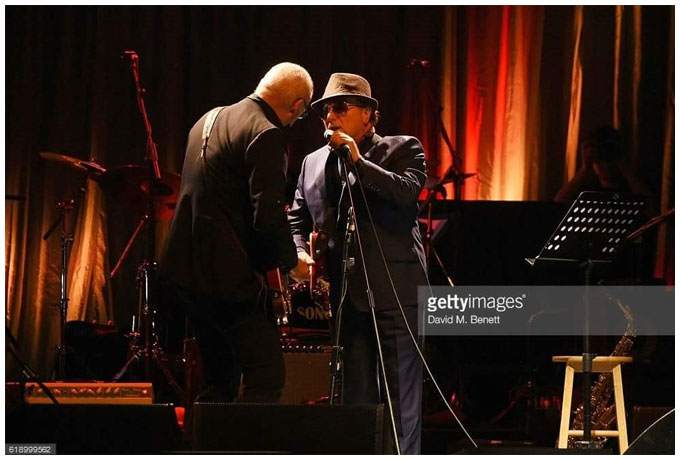 The complete setlist of the show: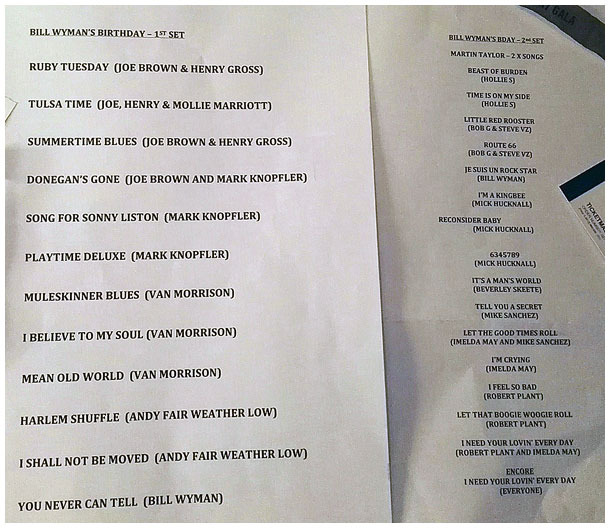 Picture taken during the rehearsals for this show: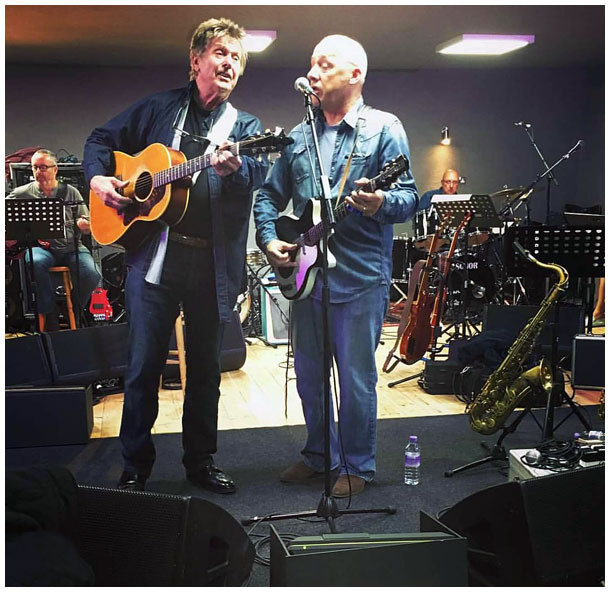 Songs on which Mark Knopfler played:

Donegan's gone
Song for Sonny Liston
Playtime Deluxe
Muleskinner blues


Line-up:

Andy Fair-weather Low: guitar
Terry Taylor: guitar
Guy Fletcher: keyboards
Henry Spinetti: drums
Graham Broadon: drums
Dave Bronze: bass
Geraint Watkins: piano
Mike Sanchez: piano
Frank Mead: horns
Nick Payn: horns
Beverley Skeete: backing vocals
Sara Skeete: backing vocals
Bill Wyman: bass

Specials guests: Joe Brown, Mark Knopfler, Van Morrison, Hollie Stephenson, Bob Geldof, Mick Hucknell, Imelda May and Robert Plant.

07.02.2018
Mark did a small performance at Queen's Gate School, South Kensington, London, UK. It was for an independent girls (4-18 years of age) day school. Lucky students!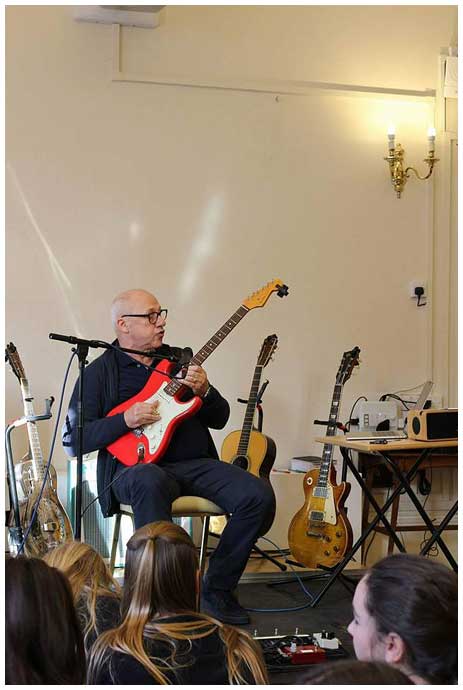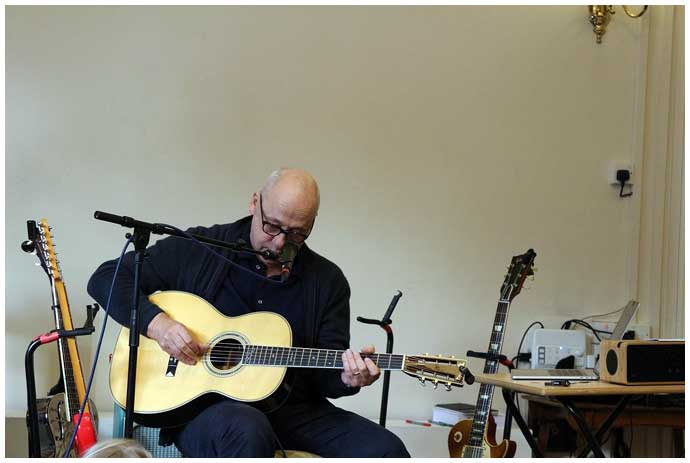 13.09.2020
The 2020 edition of the (40th) Great North Run on 13 September 2020 was a virtual event. Runners traditionally set off to Mark's Going Home and Mark has recorded a new version especially for the occasion which participants could hear in the viRACE app. The run was broadcasted on BBC 1 TV starting at 10.30 am and featured a performance by Mark Knopfler and Guy Fletcher at the Britsh Grove Studios, London.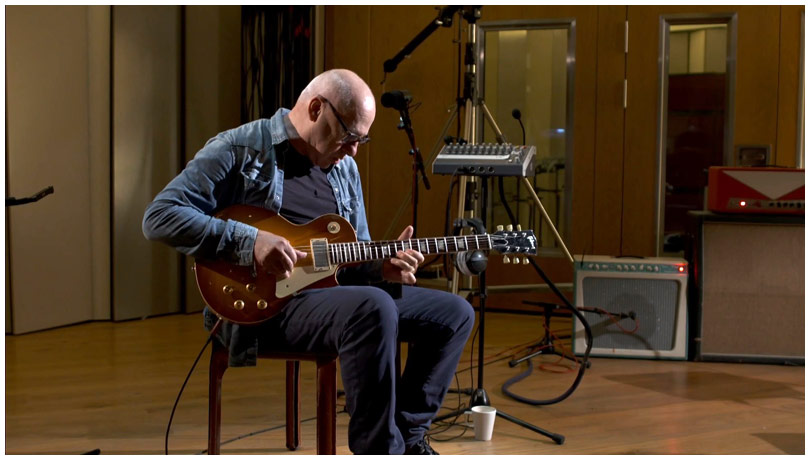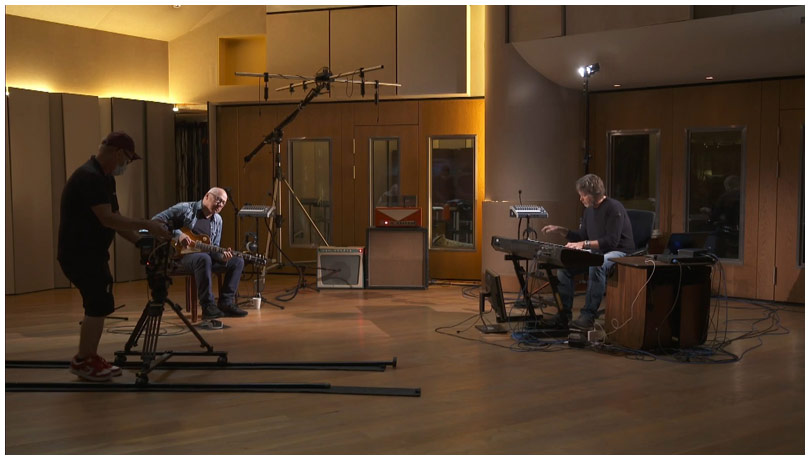 17.10.2020
Mark Knopfler and Guy Flecther performed Wild Theme on Saturday 17th October 2020 at Goodwood Road & Racing SpeedWeek in honour of the late Formula One racing driver, Sir Stirling Moss. Sterling Moss passed away on 12th April 2020.
Click here to see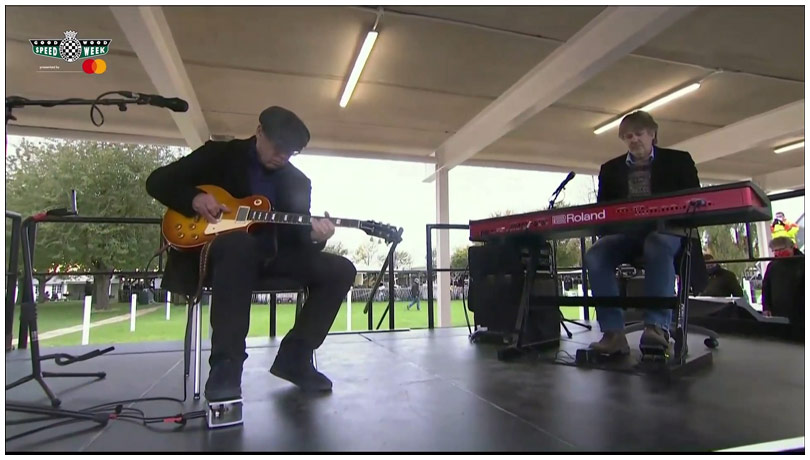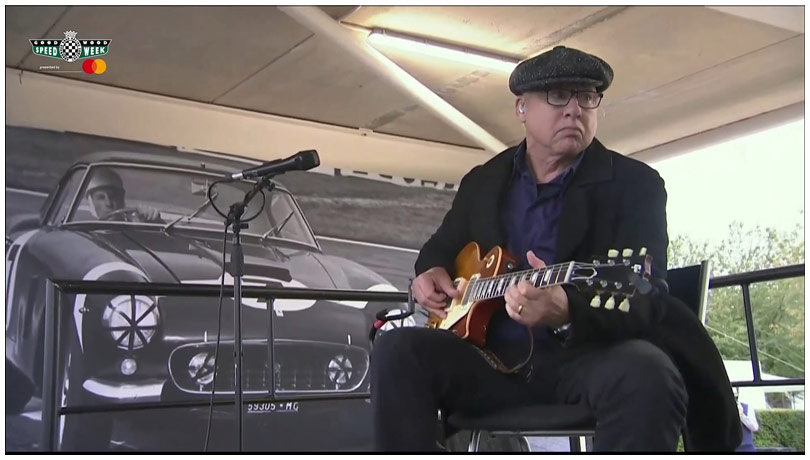 Mark Knopfler and Sterling Moss together on the race track at Goodwood Revival, Goodwood, England, 20-21 September 2009: