SPECIAL PERFORMANCES 1983 - 1991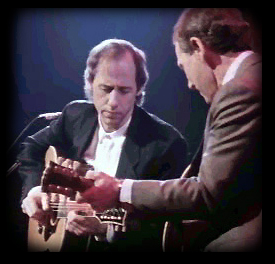 After the immense Brothers in arms world tour, Mark Knopfler needed a break. An uncertain period lay ahead for the fans as Mark never spoke about the intention to reform Dire Straits again. The years that came were filled with film scores and various (mainly charity) concerts of which one really stood out: the concert for Nelson Mandela's 70th birthday tribute at Wembley Stadium which was broadcasted worldwide and viewed by 600 million people! To be fully prepared as the major act of that day, Dire Straits decided to play two special concerts in Hammersmith Odeon, London. These two concerts were played on 8th and 9th June 1988, just before the big Nelson Mandela concert. The management of Dire Straits had decided that tickets would only be available for members of the Dire Straits Information Service. Tickets were just 10 Pounds each and the money went towards the costs of putting on the Wembley show, so more money could be given to the charities. Jack Sonni was still in the USA because his wife just gave birth to two baby daughters, so he was not available for the rehearsals and concert and was replaced by none other than Eric Clapton.

Below an overview of the various shows during this period and details of the line-up of that unforgettable show at Wembley Stadium 1988.
Official recordings made during these years

| | | |
| --- | --- | --- |
| Concert | Bootleg release | Official release |
| Hertfordshire (30.06.1990) | | |

| | | |
| --- | --- | --- |
| Concert | Bootleg release | Official release |
| London (20.06.1986) | | |
| London (29.03.1987) | | |
| Nashville (01 & 02.05.1987) | | |
| London (05 & 06.06.1988) | | |
| London (11.06.1988) | | |
| Hertfordshire (30.06.1990) | | |
1983



xx.11.1983 Dingwalls London UK

Additional information: Liz Whatley wrote in the November 1983 D.S.I.S. newsletter:
On Tuesday night, Paul Brady (one of our other artists) played a gig at Dingwalls in London, and Mark got up and played about six songs with him, much to the surprise and delight of the crowd. I think Mark found it a nice change to play in a small club for a change!
Which Tuesday it exactly was in November is still unclear to me.
1986



31.05.1986 The Grove Pub Leeds UK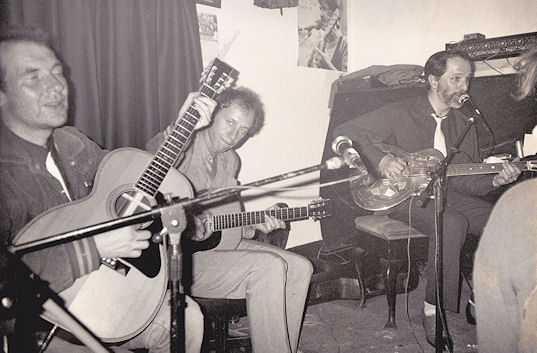 The birth of the Notting Hillbillies - Brendan Croker, Mark Knopfler and Steve Phillips, The Grove, Leeds, 31st May 1986.



20.06.1986 Prince's Trust Rock Gala, Wembley Stadium London UK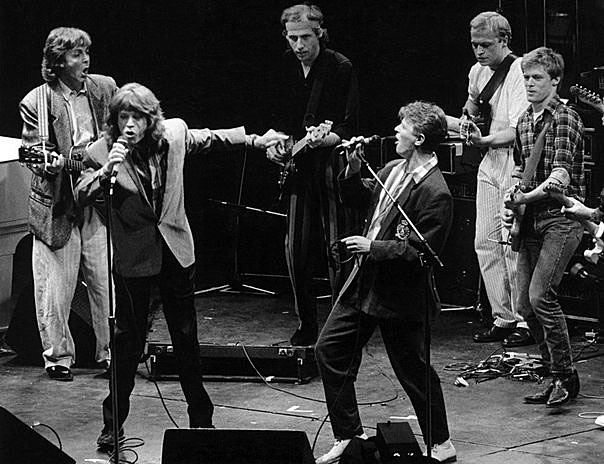 Picture taken at the Prince's Trust Rock Gala 1986:
From left to right: Paul McCartney, Mick Jagger, Mark Knopfler, David Bowie, Mark King and Bryan Adams

Before the show in the presense of Prince Charles and Princess Diana: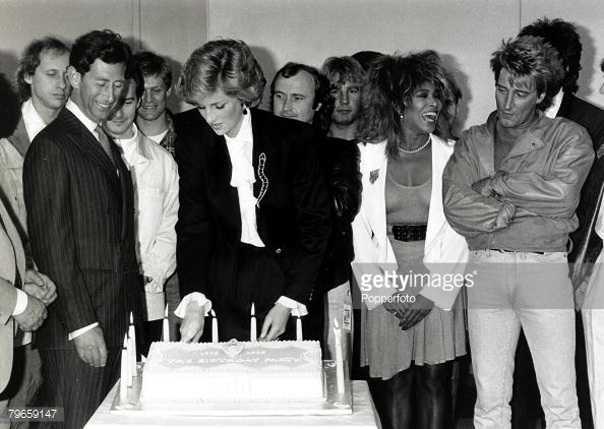 1987



28.03.1987 Secret Policeman's Third Ball, Palladium London UK


29.03.1987 Secret Policeman's Third Ball, Palladium London UK


01.05.1987 AOL Sessions with Chet Atkins, Nashville USA


02.05.1987 AOL Sessions with Chet Atkins, Nashville USA


02.10.1987 Mean Fiddler London UK


20.10.1987 The May Fair Hotel London UK

??.??.1987 Limelight Club, Manhatten, New York, USA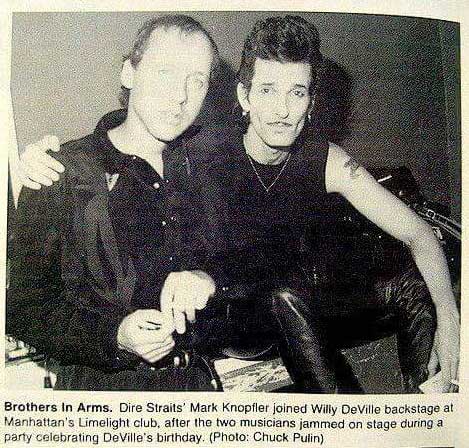 Willy Deville's birthday was on 25th August, so the above mentioned birthday party most likely took place around that date.
Mark and Willy recorded the album Miracle together which was released on 31st October 1987.
1988


xx.02.1988 Le Papillon Corbridge UK
Additional information: Liz Whatley wrote in the March 1988 D.S.I.S. newsletter:
Mark and Brendan met up with Guy and Alan, and they all played at a small restaurant called "Le Papillon" in Corbridge (between Hexham and Newcastle). The restaurant owner is a friend of Mark and Alan. Mark then spent the next few days at Gleneagles in Scotland, taking part in a charity clay-pigeon shoot for racing-driver Jackie Stewart's JPS Team. Apparently he was surprisingly good for a beginner... The preceding text made it clear that the performance took place in February, but it was unclear which day it exactly was.

05.06.1988 Prince's Trust Rock Gala, Royal Albert Hall London UK


06.06.1988 Prince's Trust Rock Gala, Royal Albert Hall London UK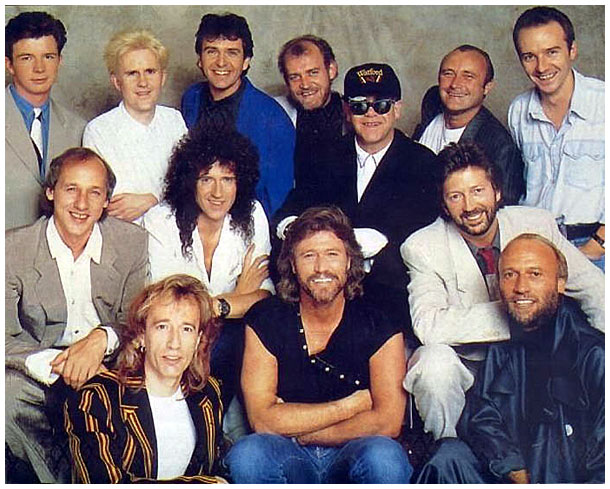 A photo featuring some of the artists that performed at the Prince's Trust Rock Gala 1988:
Rick Astley, Howard Jones, Peter Gabriel, Joe Cocker, Elton John, Phil Collins, Midge Ure,
Mark Knopfler, Brian May, Eric Clapton, Robin Gibb, Barry Gibb and Maurice Gibb (Bee Gees)
NELSON MANDELA 70th BIRTHDAY TRIBUTE: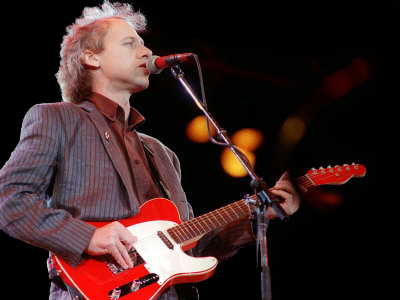 Line-up:
Mark Knopfler

Guitar, vocals
John Illsley

Bass, vocals

Guy Fletcher

Keyboards , vocals

Alan Clark

Keyboards / piano

Eric Clapton

Guitars, vocals

Terry Williams

Drums

Chris White

Saxophone
Pictures taken the warmup gigs (left picture is of the first show):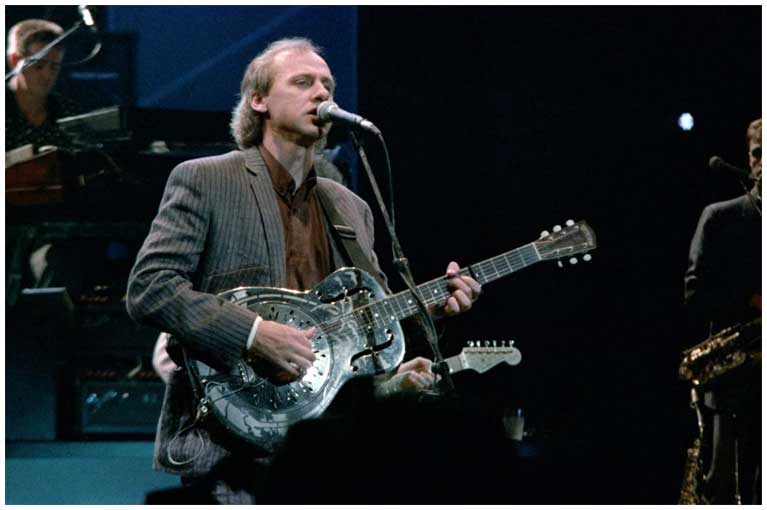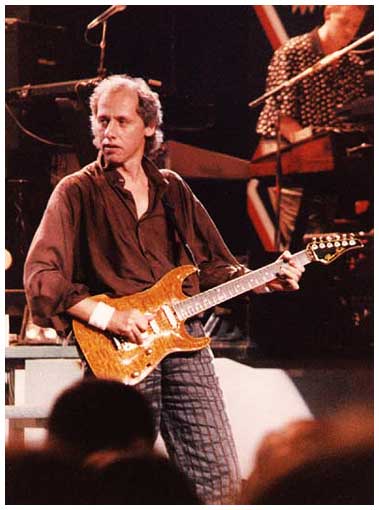 08.06.1988 Hammersmith Odeon London UK


09.06.1988 Hammersmith Odeon London UK


11.06.1988 Mandela 70th Birthday Tribute concert, Wembley Stadium London UK
Click here for a picture before the show featuring Harry Belafonte, Whitney Houston and Mark Knopfler.




1989



06.03.1989 Pontefract Park, Wakefield (Leeds), UK

Additional information: this was a concert from Brendan Croker and 'The 5 O'Clock Shadows with Mark Knopfler and Alan Clark as a special guests. Mark Knopfler's appearance was supposed to be a secret but it wasn't a very well kept one. A cue of about half a mile snaked it's way across Pontefract Park more than an hour before the doors opened. Below a few pictures from that special performance: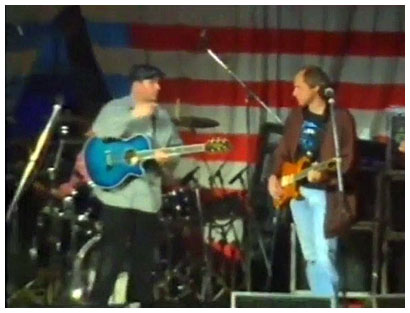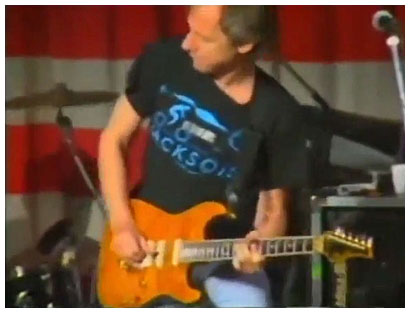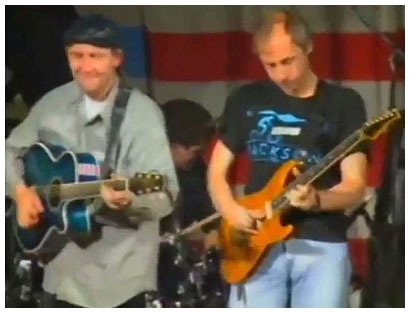 27.04.1989 Natural History Museum, London, UK

Additional information: this was a special performance to raise money for The Lung Foundation charity. It was called the Red Balloon Ball held in the The Dinosaur Room at The Natural History Museum, Kensington, London, UK. Other artists besides Mark Knopfler were David Gilmour, Gary Brooker, Sam Brown, Gary Moore and Chris Rea.

??.05.1989 The Anugraha Centre Egham UK
Additional information: this was a one-off charity concert by Dire Straits, May 1989, exact day unknown. It was a private "invited-guests only show" and the tickets were 125 UK Pounds each! It was done to raise money for the Life Education charity, which helps prevent drug abuse among young kids, and of which John Illsley is a committee member. The evening raised 40,000 UK Pounds! A nice mostly up-tempo set featuring Sultans of swing, Two young lovers, Walk of life, Romeo and Juliet, a calypso version of So far away, Money for nothing, a cover-version of Chuck Berry's hit Nadine and Twisting by the pool.

18.06.1989 Polytechnic, Leeds, UK
Additional information: this was a concert from Brendan Croker and 'The 5 O'Clock Shadows with Mark Knopfler and Eric Clapton as special guests. A few tracks from that performance ended up on a single called EP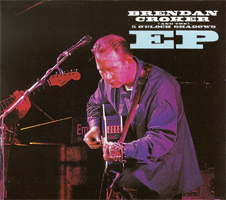 09.10.1989 Mayfair Ballroom Newcastle UK

Additional info: Mark Knopfler lead his supergroup Dire Straits infront of just 700 people at the Mayfair Ballroom, Newcastle. The gala dinner concert was in support of North East Personality of the Year, Joanne Gillespie, 11 years old, who wrote the book 'Brave Heart' about her fight against cancer. The charity raised more than £45,000. Sadly, Joanne died in 1993. The pictures below show Mark playing at the show and Joanne Gillespie (with tongue out) and her sister Sarah together with Dire Straits. Remarkable is that Jack Sonni did not perform with Dire Straits anymore after the Brothers in arms tour, for this show he was replaced by Brendan Croker. Click here for a press release by Immediate.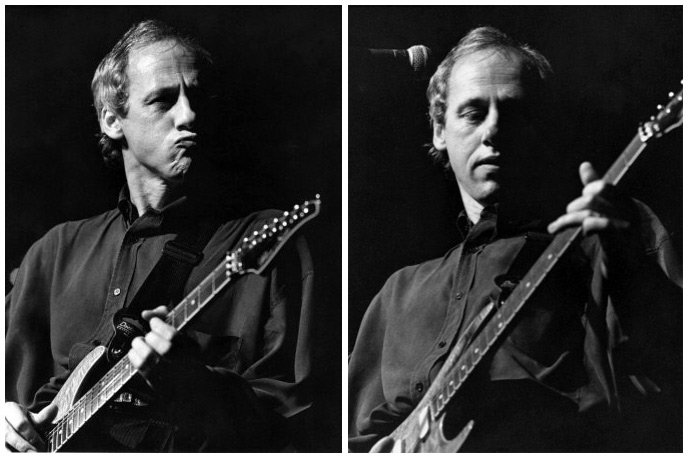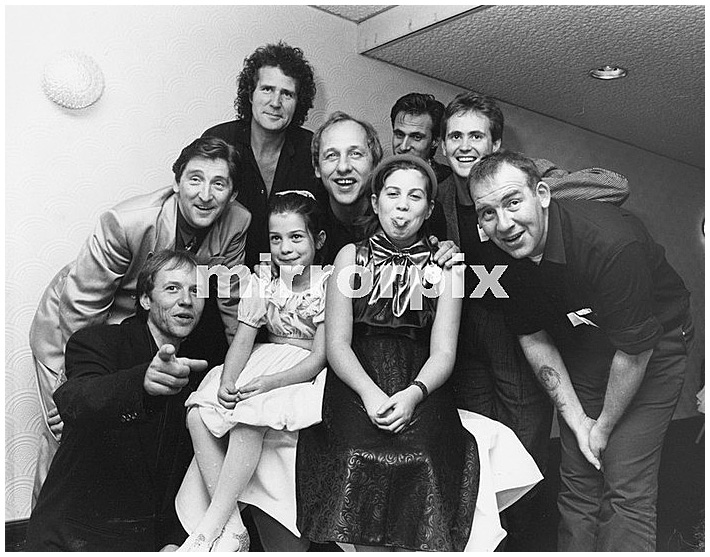 From left to right; Alan Clark, Terry Williams, John Illsley, Sarah Gillespie, Mark Knopfler, Joanne Gillespie, Chris White, Guy Fletcher and Brendan Croker.
The official website from Brave Hearts of the North East mentions:
\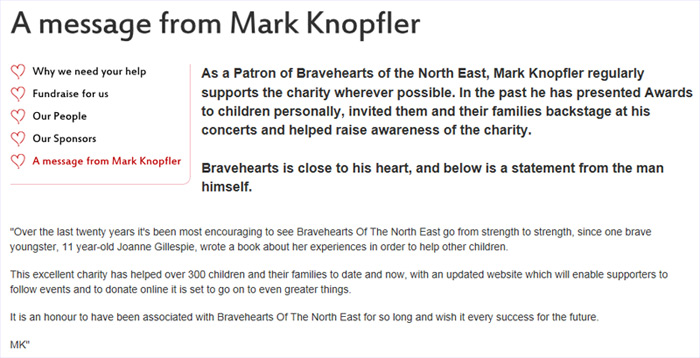 07.12.1989 Abbey Road Studios, London, UK
Roger Scott (23rd October 1943 - 31st October 1989) was a respected British radio disc jockey. He was best known for presenting an afternoon radio show on London's Capital Radio from 1973 until 1988. In June 1988, after fifteen years with Capital, he moved to commercial-free BBC Radio 1. There, he reached a national audience for the first time, presenting a Saturday afternoon show and a late night Sunday show. The Saturday show featured interviews with many artists, including Mark Knopfler. The Sunday shows were featuring 1950's rock'n'roll, soul, classic rock and more contemporary music. Roger Scott's last show was on Sunday 8th October 1989 and he sadly passed away on 31st of that month aged only 46, after a brief battle with cancer. A tribute programme about Roger's life on the air was broadcast by Radio 1 on 4th November 1989, entitled 'Radio, Radio', recorded just a few weeks before his death. On 7th December 1989, various artists gathered to pay a tribute to Roger at the Abbey Road Studios, London, UK. Mark Knopfler and Guy Fletcher are present to play a live version of Feel like going home with Mark on vocals. Mark has a pretty emotional speech, talking about making The Notting Hillbillies album and specially the last song Feel like going home. This song has a very special meaning because Mark wanted Roger to have a listen to it, but sadly passed away before the track was finished and recorded.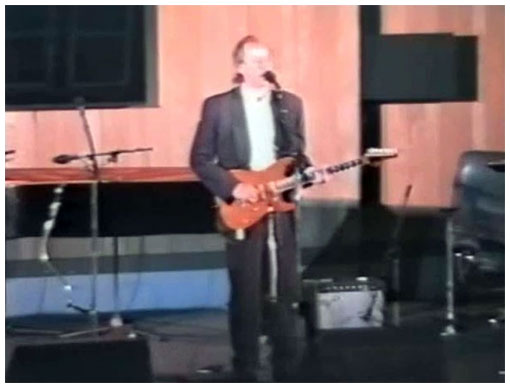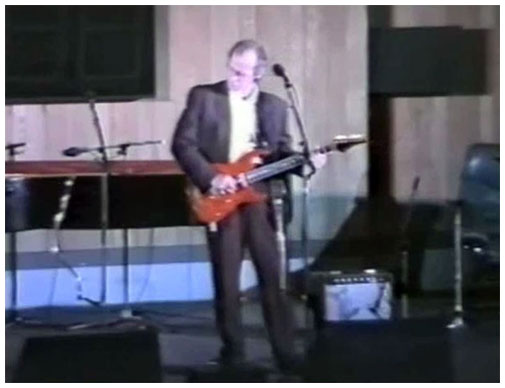 The artists of the memorial concert around a piano with Alan Freeman. Cliff Richard, Chris Rea, Mark Knopfler & Guy Fletcher, Dave Edmunds, Nick Lowe, Mark Germino: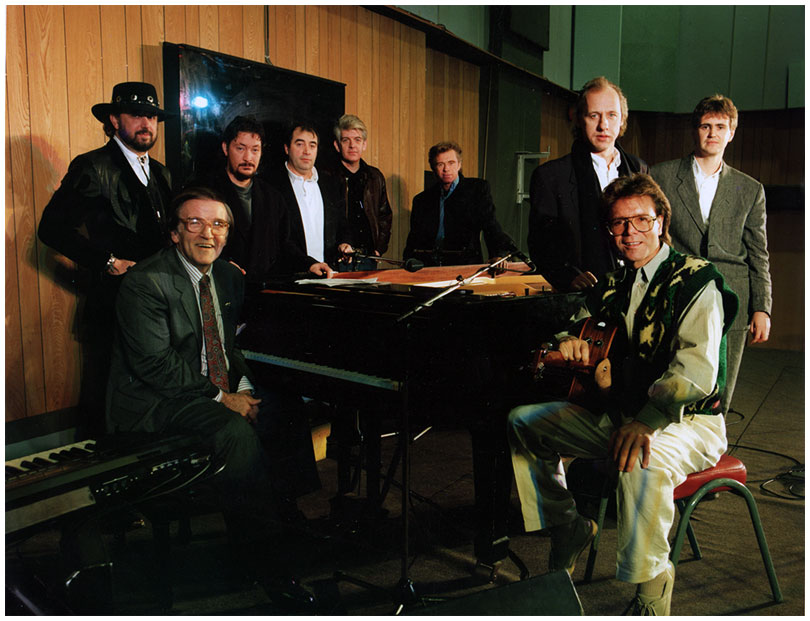 And here an earlier picture of Mark Knopfler, Roger Scott and Randy Newman: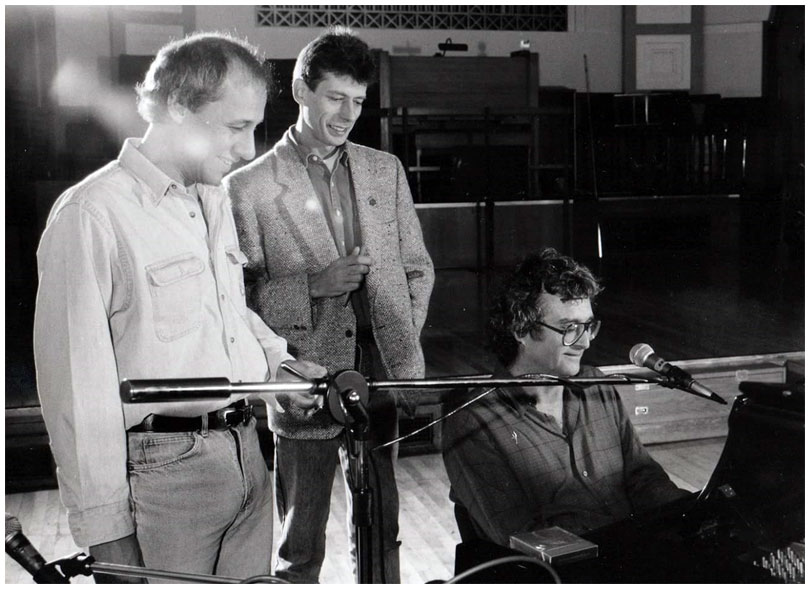 1990



30.06.1990 Knebworth Park Hertfordshire UK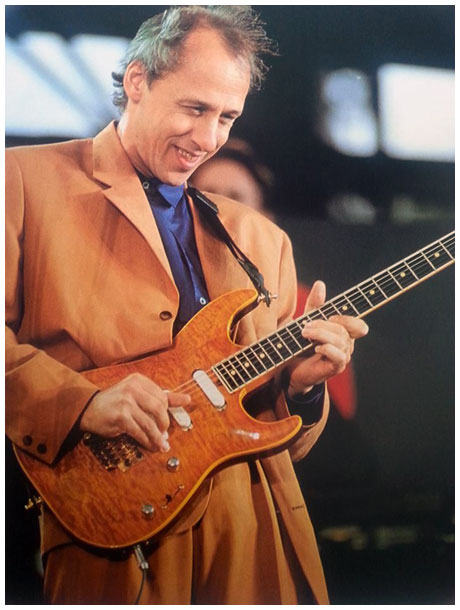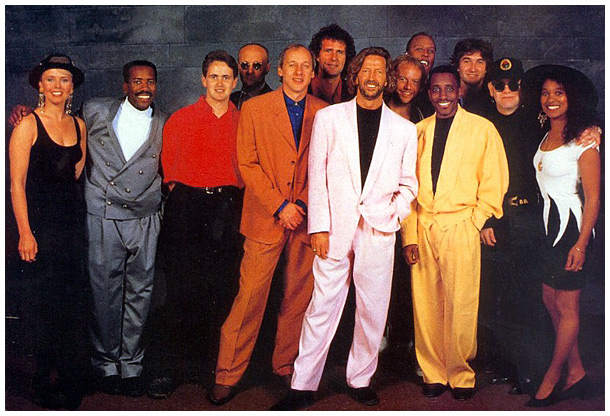 From left to right: Tessa Niles, Nathan East, Guy Fletcher, Ray Cooper, Mark Knopfler, John Illsley, Eric Clapton, Alan Clark, Steve Ferrone, Greg Phillinganes, Phil Palmer, Elton John and Katie Kissoon

Additional info: this was a charity concert in aid of the Nordoff-Robbis Music Theraphy Centre for providing music theraphy for handicapped children and the BRIT School for Performing Arts and Technology. For this historic event gathered 120.000 fans at Knebworth park. Mark Knopfler played three of his own songs with Eric Clapton's band with the addition of Guy Fletcher, Alan Clark and John Illsley: Solid rock, I think I love you too much and Money for nothing. Mark also played on a few tracks for Eric Clapton and Elton John: Pretending, Before you accuse me, Old love, Tearing us apart, Sarifice, Sad songs, Saturday night's all right (for fighting) and Sunshine of your love.


1991



??.??.1991 Unknown location, UK
Somewhere in 1991, Mark Knopfler played guitar on Jeff Sadler's wedding. The pictures below are taken from the official Lindisfarne website.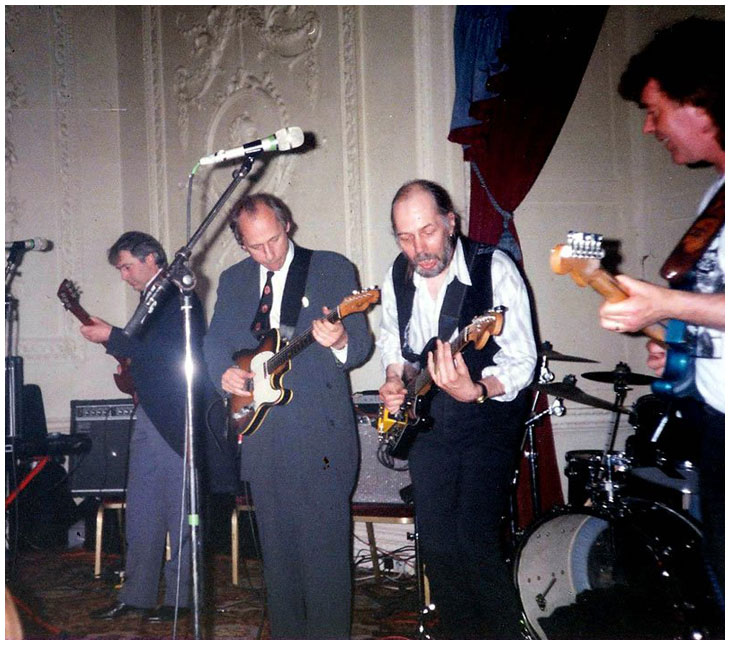 Knocking out a few old blues tunes at Jeff Sadler's wedding. From left to right: Jeff Sadler, Mark Knopfler, Rod Clements, Jed Grimes.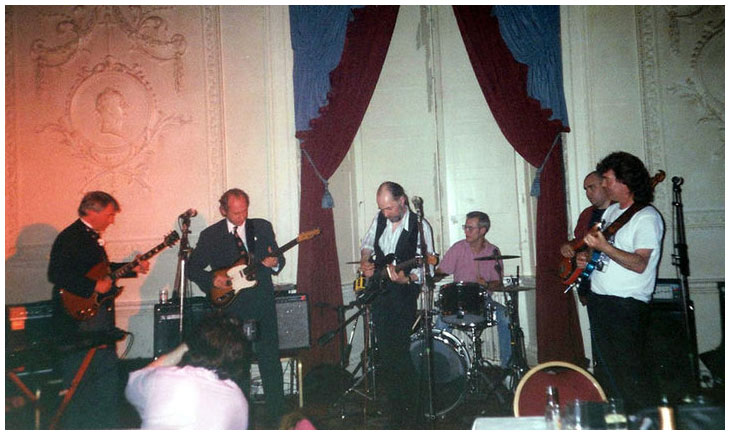 More at the wedding. From left to right: Jeff Sadler, Mark Knopfler, Rod Clements, Ray L, Steve Cunningham and Jed Grimes.
Sadly, nobody had a tape running, so these pictures are the only evidence of this special performance.