GET LUCKY SHOWCASES 2009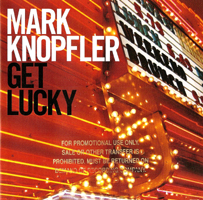 Tour line-up:
Mark Knopfler

Guitar, vocals
Guy Fletcher

Keyboards, vocals
Luke Brighty

Guitar
Dudley Phillips

Bass

John McCusker

Fiddle, cittern, whistle

Danny Cummings

Drums, vocals

To promote his sixth solo album Get lucky, Mark Knopfler played five exclusive showcases which featured mainly songs from his solo repertoire including a couple of songs from the new album which was released on 11th September 2009. The line-up is the same as for the showcases in 2007, but with John McCusker as additional band member. The Prince's Trust concert was filmed and is available on i-Concerts and also broadcasted on the Bio Channel. Before the show, Mark performed a three track acoustic set: Behind with the rent, Secondary waltz and Marbletown which were no part of the broadcast. At the concert of Pallant House Gallery, Mark played one of his own MK signature Strats during the show and this actual guitar has been auctioned on Ebay to raise funds for the gallery. It raised an amazing £6,300. The show at the Bush Hall was a private gig, tickets could only be acquired in a prize draw among those who had pre-ordered Get lucky from Amazon UK. The showcase in Madrid was filmed and has been broadcasted by CyLTV7 on 4th October 2009.
Official recordings made during this tour

Concert
Bootleg release
Official release

Cologne

(29.09.2009)

Concert
Bootleg release
Official release

London

(09.09.2009)

Madrid

(01.10.2009)


► Total concerts played: 5


September 2009



09.09.2009 The Prince's Trust concert, Hurlingham Club London UK


12.09.2009 Private performance for Pallant House Art Gallery Chichester UK


23.09.2009 Amazon exclusive concert, Bush Hall London UK


29.09.2009 WDR2 exclusive concert Cologne Germany



October 2009



01.10.2009 Riff Music/Tierra de Sabor exclusive concert Madrid Spain




▲ Back to index